Former UEFA president Michel Platini arrested over awarding of 2022 FIFA World Cup to Qatar
Michel Platini is reported to have been taken to the premises of the Anti-Corruption Office of the Judicial Police (OCLCIFF) after being detained in Nanterre, a western suburb of Paris.
Michel Platini detained for investigation into FIFA World Cup 2022 awarding to Qatar

Former UEFA president Michel Platini arrested by French officials

French legend Michel Platini arrested in Paris into probe over awarding of 2022 FIFA World Cup to Qatar
Former UEFA president Michel Platini has been arrested in France over the awarding of 2022 FIFA World Cup to Qatar. The French legend was elected in 2007 and served as president until 2015 when he was banned by the FIFA Ethics Committee for a series of breaches. A report from Mediapart in France says the 63-year-old was taken into custody as part of an investigation into the awarding of rights.
Platini's lawyer, William Bourdon, said his client was innocent of all charges and that he was being questioned on "technical grounds."
"His lawyer, William Bourdon, would like to state as strongly as possible that this is not an arrest, but rather being heard as a witness by the investigators within a framework preventing those being questioned and heard from consulting each other during the process," a statement issued on behalf of Bourdon and Platini read.
News agency Reuters said officials with Qatar's World Cup organising committee said they had no immediate comment.
Platini is reported to have been taken to the premises of the Anti-Corruption Office of the Judicial Police (OCLCIFF) after being detained in Nanterre, a western suburb of Paris.
The report also says that Claude Gueant, who formerly advised ex-French president Nicolas Sarkozy as Secretary General, has also been taken in for questioning but not been arrested. Sarkozy's adviser for sports Sophie Dion was also questioned by police, judicial sources confirmed to Reuters. Dion has been detained with Platini. Under French law, suspects can be held for questioning for up to 48 hours.
FIFA, football's governing body, said it was aware of the reports concerning Platini, but said it had no details on the investigation.
FIFA "reiterates its full commitment to cooperating with the authorities in any given country of the world where investigations are taking place in connection with football activities," it said in a statement.
Le Monde newspaper reported prosecutors were particularly looking into a lunch hosted by Sarkozy, nine days before the vote that awarded the cup to Qatar. Platini and Sheikh Tamim Ben Hamad Al Thani, who was Qatar's Prime Minister and is now the country's Emir, were guests at the lunch.
Platini has since acknowledged that he supported Qatar over a rival bid from USA, but said Sarkozy "never asked him to", the newspaper said.
Qatar was named as hosts of the World Cup in December 2010 but there have been a number of controversies regarding their suitability to host a tournament of such a level.
Former FIFA vice-president Jack Warner claimed an e-mail had been publicised amid allegations Qatar had 'bought' the Wold Cup - although the bid team have denied any wrongdoing.
In 2014, Platini admitted holding a secret meeting with disgraced former football official Mohamaed Bin Hammam days before casting his vote for Qatar, with the ex-Asian Football Confederation (AFC) subsequently banned from football for life following an expose by The Sunday Times.
Another investigation by The Telegraph into Platini and Bin Hammam's relationship claimed that the pair met "between 30 and 50 times" while serving on FIFA's executive committee.
Platini was expected to succeed Sepp Blatter as FIFA president in 2016 before both were banned for four years - after initial ban of six years. He was banned for receiving a £1.35m payment from FIFA on Blatter's orders and the ban expired in March earlier this year.
He continues to deny any wrongdoing and is taking legal action over defamation and false accusation.
Platini was on the 1998 FIFA World Cup organising committee, and joined the FIFA executive committee in 2002 until he received his ban.
Further concerns over awarding of World Cup to Qatar have been the poor and inhuman treatment of migrant workers with estimates that up to 4,000 may die before the start of the tournament.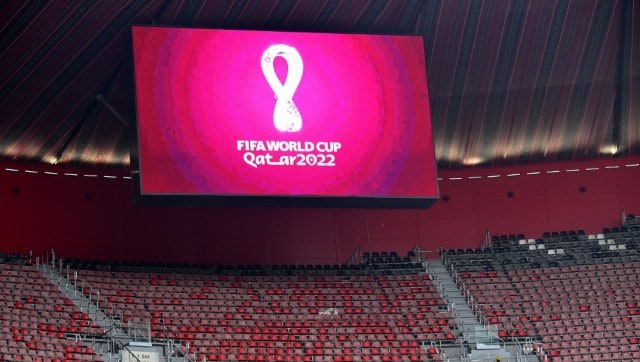 Sports
CEO Nasser al-Khater said Qatar has not been given enough credit for its labour reforms aimed at improving conditions for migrant workers, mostly from South Asia.
Sports
FIFA changed the World Cup qualifying format for the intercontinental playoffs on Friday to be single-leg games at a neutral venue.
Sports
England hammered San Marino 10-0 with captain Kane scoring four times as the Three Lions confirmed their place in the finals of the FIFA World Cup in Qatar next year.