For Harendra Singh, key to successful reign as India's men's hockey team coach lies in accepting inputs from players
Maybe, in the anarchy of Indian hockey, Harendra will create an island of calm with consistency, structure and progression combining intuitively. For a man who believes in attacking, the twin-mantra of possession and pressing would pay him dividends.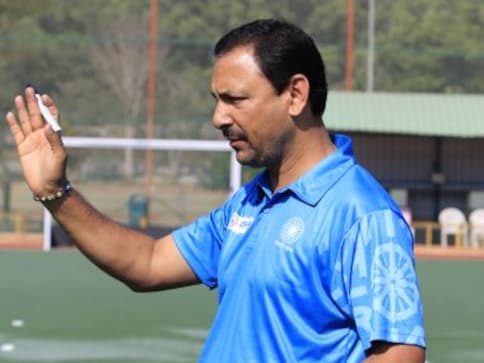 Optimism comes cheap. Or is it pessimism? For a sport that hangs by its own coattails, like a frayed, old shirt hanging on a nail on the wall, not knowing what will drop first, the nail or the shirt, Indian hockey lives on the border, each year a lesson in inconsistency and those fine, temporary eclectic moments like thundershowers on arid land. It's no more a sport for the meek, player or coach, the unpredictability of winning and losing somehow seeping into the very character of both; especially the coach. Thirty-three have perished (since 1980) in trying to conjure the imagination, inventiveness and enterprise that could stitch together an Olympic or World Cup medal. Don't count the years since 1980 our last Olympic Gold, or 1975, our last and only World Cup crown. Decades have been spent weaving dreams; the pessimistic calls it flights of fancy or delusion.
Harendra Singh sits easy, his face lit up with a smile as he looks forward to a few days break after spending a couple of weeks with the Indian national hockey team. The ashes are still to settle after a tumultuous Commonwealth Games where the men's team after two consecutive silver medals settled for the fourth spot. As is the decree in Indian hockey, heads rolled and Harendra found himself in the spot which he always wanted– men's national coach; chief coach no interim or anything else.
Still it's a change of stance from the women's to the men's, a complete change in attitude and probably mind-set. "I have coached under- 14, under -16, under-18, under-21 and the women's team," says Harendra. "Yes, you cannot be aggressive with the women's team. While in the men's team, you cannot be soft. Senior players know their responsibility. Eventually, coaching is trying to find a path where expectations of the coach and players can fructify. It's not just about skills or honing talent. It's also about understanding the thin line between winning and losing."
Harendra is not a poker player. In fact, he has neither played it and nor does he have a clue how it can help. Surprising then, that such a man is now the senior hockey coach. It's a wager that intelligent men would be wary of; risking their reputation to be national hockey coach. The ambition has been there since the 2000 Sydney Olympics and for a man to hold it and keep it burning for almost 18 long years speaks of his passion and zeal. "One thing is good and that is I have worked with these players in the past," he says. "So I know their family background, strength, areas to improve, their mind. I know each every player except the ones who recently joined the camp. And that is a big advantage."
Yet the question that hangs in the air was it's easy to walk out on a women's team that not only showed signs of progression but had a World Cup just around the corner in July? Even though he is perturbed by the question, Harendra doesn't show it.
"For them it was shocking," he admits. "They knew that something was on but didn't expect I will leave. Good thing is that we had a good meeting of 45 minutes and I explained that this happens in the world of sport and changes can happen any time. But you are the professionals and you have to perform; irrespective of who the coach is."
Harendra also speaks of the sadness when he left the team. "It was like a family bonding and we had established that through our win in the Asia Cup and even though we came close but still couldn't get that result at the Commonwealth Games."
But yet, it must have bothered him to leave a team midstream. "It would have bothered me if some outsider has taken the team but Sjoerd Marijne has worked with these girls in the past and now he is continuing," explains Harendra. "I carried it forward when he was first coach of the women's team. I think they are in the right direction and the silver medal at the Asian Champions Trophy only goes to show that they would be a force at the World Cup."
Harendra doesn't appear cool, neither is he inclined to posture. He doesn't have the icy temperament most coaches cultivate or the abrasiveness some develop after years of managing players and weighing success and failure by the numbers on a scoreboard. He still gets excited and that infectious smile spreads like warmth on a dreary day. After spending more than two decades as coach at different levels, the philosophy is still about the challenge. ""I always look for the challenge," he says, his eyes shining like beacons. "Without a challenge nobody can grow. Without risks, you cannot get results. And without results, there is no recognition. In the next six months, we have three big tournaments – Champions Trophy, Asian Games and the World Cup – and I will get good results; that is the challenge."
Speaking about advantages, Harendra believes it's the language. "The coaching philosophy never changes," he explains. "My advantage is that I can speak the same language. I understand the mindset of the Indian players. And I know how to get the best out of them."
Modern sport gets caught between too much coaching and excessive player independence; even over-analysing situations. Harendra wants to negotiate the tricky boundary between player and coach "by taking the players opinion and merging it with his own and finding the best solution." Harendra asks questions of his players, discussing moves, tactics and how best to merge ideas and get the results. "Are we on the same page or are we on a different page?" he asks the players. "If it's different, we will sit again and discuss till a solution is found."
Even though, he may not look that way but Harendra is a multi-layered personality. His playing the team jester, carrying emotion as a calling-card all appear at times too simplistic. But deep down, he prepares and believes in what he does. He is rough around the edges and twenty years down the line, suaveness is the last thing that will afflict him. But he affects players and leaves an impression. At the Dhaka Asia Cup, Varun Kumar during an interview was asked which coach made an impression on him. The answer was prompt: "Harendra Sir!"
Harendra fires up his players and is not averse to playing the nationalistic card and waving the tricolour. "Going to a tournament means standing on the podium," says Harendra. "These players have to be a part of history. Only participating can be done by any player. Why then need 300 days in the camp? It is the responsibility of the players and the coaches to give back to the country. Since 1975 we have not played even the semi-final in a World Cup. So it's time to give back to the nation. Every Indian needs to feel proud."
Harendra understands that goals have been hard to come by and at times, defences have let in a few. "Without putting the score on the board you cannot win matches," he explains.
And just when you raise an eyebrow at the theory, he adds: "For that you have to win the right position, use the right skill to receive the ball, score the goal or pass the ball so others can score. Hockey is how you attack in the opponents circle and defend in your circle. We are working on the problem. I know it is a basic skill. Maybe, they are hasty and move onto the second plan while the first one is in execution. First receive, and then think about the next move."
Comparisons with a Roelant Oltmans or a Terry Walsh are unfair. In fact, both couldn't crack the Olympic or the World Cup podium for India, despite their aura and world class experience. But that won't worry Harendra. He would, however, be wary of being an Indian coach in India. These are turbulent times and winning is the only path to recognition in Harendra's own words. He does know that his failure would be a death knell for Indian coaches. But in that crippling thought, he again finds a challenge. "If everybody is saying that I cannot afford to fail it means they are putting Harendra high up among international coaches. For me it is a compliment and a responsibility. I have to take this dream forward."
Maybe, in the anarchy of Indian hockey, Harendra will create an island of calm with consistency, structure and progression combining intuitively. For a man who believes in attacking, the twin-mantra of possession and pressing would pay him dividends.
Hockey
Veteran goalkeeper PR Sreejesh starred in the shootout which India won 4-3 to notch up their fourth win on the trot at the Birsa Munda Stadium.
Hockey
This was India's second win over Germany in three days and the victory took the Harmanpreet Singh-led side to the top of the table with 17 points from seven matches, ahead of Spain on goal difference.
Hockey
The 24-year-old Hardik beat his illustrious senior players like Manpreet Singh and Harmanpreet Singh to win the coveted award for 2022 named after hockey legend Balbir Singh senior at the fifth Hockey India Annual Awards.