Football for all: Here's all you need to know about FA's implementation of Rooney Rule
When the Football Association of England announced on Tuesday that they will be adopting their own version of the 'Rooney Rule', it was certainly a step towards the right direction.
When the Football Association (FA) of England aannounced on Tuesday that they will be adopting their own version of the 'Rooney Rule', it was certainly a step towards the right direction.
FA's chief executive Martin Glenn said the move would showcase that FA stands for equality and making the sport more inclusive. "The FA wants to become a more inclusive organisation where the workforce more represents the people who play football today," Glenn was quoted saying by BBC.
But what is the Rooney Rule? What does it stand for? Why did the FA implement it now? Let's take a closer look at the rule, the history behind it and some its implications.
What is Rooney Rule?
The Rooney Rule states that sporting organisations must interview a Black, Asian and Minority Ethnic (BAME) applicant when recruiting for senior coaching positions. However, there is no quota or preference given to minorities in the hiring of candidates.
It's not restricted only to sports and other industries implemented the rule with some variations.
The rule was named after Dan Rooney, former owner of the Pittsburgh Steelers and former chairman of the USA's National Football League's (NFL) diversity committee. It was established in 2003 after head coaches Tony Dungy of the Tampa Bay Buccaneers and Minnesota Vikings' Dennis Green were fired the previous year despite having good records with their team.
With regard to FA, the Rooney Rule will be enforced across the entire England set-up. So now, at least one BAME candidate will be interviewed for coaching positions from youth level up to the senior teams. It will be applicable to both men's and women's teams.
The rule will be followed when FA will look for Gareth Southgate's successor as England's senior men's team manager. It is to be noted that the English Football League (EFL) clubs have already introduced their own version of the 'Rooney Rule' on 1 January and it has been applied to roles in their academies since June. The Premier League is to yet to adopt the initiative.
At present, there's only one BAME manager in the Premier League – Brighton's Chris Hughton, and according to November Sports People's Think Tank, only 22 of 482 coaching roles in the top four divisions were held by BAME coaches.
Positives of the rule
Once the Rooney Rule is implemented across the board, the opportunities for BAME candidates will increase. The association's aim of reducing the racial divide in terms of employment is definitely a positive sign. The organisation employs a large number of people, and the rule will cover jobs across all 28 national teams organised under the England flag, including youth and disability squads for men and women.
One incident played a crucial role in FA's implementation of Rooney Rule. In August 2017, Former English women's player Eniola Aluko alleged that national women's team coach Mark Sampson made racist comments about her and spoke at length about his bullying attitude. Sampson was later sacked following evidence of "inappropriate and unacceptable" behaviour with female players in a previous role.
Glenn thinks that the new move will also make it easier to bring out complaints and grievances about issues related to racism .
"The lessons we had to learn from the Eniola Aluko affair was that we did not have the right procedures in place for elite people to raise concerns. But I think more subtly we did not have the right climate in place for people to feel they could raise their concerns easily. These measures address both of those."
English football's anti-discrimination group, Kick It Out, praised the FA for delivering a "watershed moment" that it hopes will spur a wider push to promote BAME coaches.
Will the rule bring real change?
This is something that is being debated upon. The rule might not bring visible change at the top level, as it only states that BAME candidates must be interviewed but it doesn't come with any guarantees for their appointments. It's also a fact that the rule is not bound to Premier League. Even for the EFL clubs, which covers the three tiers below the Premier League, their version of Rooney Rule allows them to make an appointment without holding interviews.
When asked whether Rooney Rule will be able to make significant change and if Premier League clubs will adapt it, Brighton manager Chris Hughton was not sure.
"They are the next stages, and all we want on this subject is for progress to be made. Eventually all we want is to see more black and ethnic coaches involved at the higher levels of the game and anything that can help that, promote that is something very much worthwhile," Hughton said.
Back in 2014, two former Newcastle United players, Kieron Dyer and Titus Bramble, had said they do not believe that the Rooney Rule should be adopted in English football.
"I want to be interviewed because the chairman wants to interview me. I don't want to be interviewed because it's filling a quota," Dyer said.
Bramble voiced similar sentiments: "At the moment, I think the Rooney Rule is a disgrace. I think it's disgraceful that someone might be shortlisted for the job just because of their skin colour."
Find latest and upcoming tech gadgets online on Tech2 Gadgets. Get technology news, gadgets reviews & ratings. Popular gadgets including laptop, tablet and mobile specifications, features, prices, comparison.
Sports
Spurs ended the day on top of the table for the first time in six years as goals from Son Heung-min and Giovani Lo Celso saw off a toothless City at the Tottenham Hotspur stadium.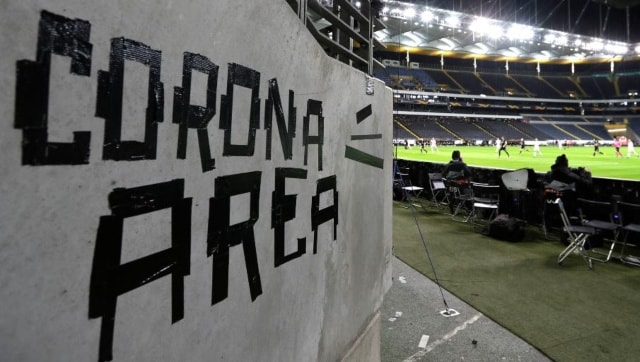 Sports
The association said in a statement that it was informed by UEFA the match "cannot take place" after Swiss health authorities made the decision "to quarantine the entire delegation of the national team of Ukraine."
Sports
Just 48 hours after the resignation of English Football Association chairman Greg Clarke following his offensive comments about the BAME and LGBT communities, Gareth Southgate's side showed no signs of being distracted by the controversy.