Floyd Mayweather willing to fight UFC champion Khabib Nurmagomedov after being challenged by Russian
Floyd Mayweather has stated that a fight between him and UFC champion Khabib Nurmagomedov is quite likely to happen if both parties are willing to come to an agreement.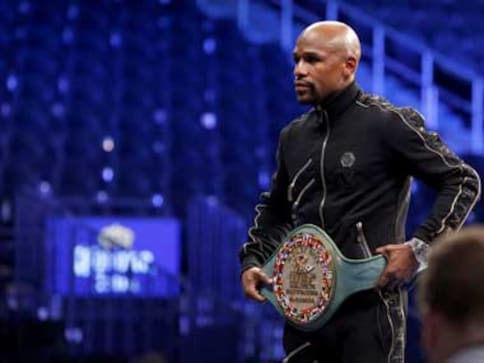 Los Angeles: Former world welterweight boxing champion Floyd Mayweather insisted on Wednesday that he plans to fight mixed martial arts star Khabib Nurmagomedov following the Russian's victory over Conor McGregor.
In comments to the TMZ Sports website, Mayweather was adamant that a fight with Nurmagomedov was "happening" provided it took place in the boxing ring. When, asked by TMZ if a fight with Nurmagomedov would take place, the 41-year-old replied, "oh, we're fighting."
"I'm my own boss. I can't say what's going on on Khabib's end, but on my end we can make it happen," Mayweather said.
Mayweather, who came out of retirement to defeat McGregor in a money-spinning fight in Las Vegas last year, stressed though that any fight with Nurmagomedov would take place under boxing rules. "Who's the A-side? He called me out, so he have to come to my world," Mayweather said.
Mayweather, who boasts a perfect 50-0 record and the unbeaten Nurmagomedov (27-0) would be certain to generate another bumper payday if they do fight. "When I face Khabib, I'm getting a nine-figure payday," Mayweather said, adding, "more than the McGregor fight. Probably $100 million more, guaranteed. It could be somewhere upwards of $110m to $200m guaranteed."
Nurmagomedov is facing possible disciplinary action in Nevada following the stormy end to his victory over McGregor.
The Russian fighter jumped into the crowd immediately after the win to trade blows with members of McGregor's entourage while other members of Nurmagomedov's support leapt into the octagon at T-Mobile Arena to attack the beaten Irish fighter.
Nurmagomedov has also spoken enthusiastically about facing Mayweather.
"Let's go Floyd. We have to fight now: 50-0 versus 27-0. We are two guys who never lose. In the jungle there is only one king. Of course, I am the king because he cannot drop McGregor but I drop him easily. Let's go," said the UFC champion.
Entertainment
The Conjuring: The Devil Made Me Do It earned an estimated $24 million, making it the biggest R-rated opening of the pandemic
Sports
Cornet, currently 63rd in the world, dug deep to seal a 4-6, 6-3, 7-6 (7/5) victory over Spain's two-time Grand Slam winner Muguruza, now ranked 13th, after almost three hours on court.
Sports
Given the fact that the growth of eSports as well as tech advancements, one would never expect problems such as the server crashing during a game between professionals, especially not when money is on the line for them. However, in the last few months, there have been two big tournaments that faced problems.