Floyd Mayweather says he's 'out of retirement' just for bout with MMA star Conor McGregor
Retired unbeaten boxing champion Floyd Mayweather says that when it comes to a possible big-money fight with Irish Mixed Martial Arts (MMA) star Conor McGregor, he is 'out of retirement.'
Los Angeles: Retired unbeaten boxing champion Floyd Mayweather says that when it comes to a possible big-money fight with Irish Mixed Martial Arts (MMA) star Conor McGregor, he is "out of retirement."
In a posting on the MMA website, the 40-year-old American said he wants to face McGregor, 28, in June.
"For Conor McGregor, I'm coming out of retirement, just to fight Conor McGregor," Mayweather told FightHype, according to the posting.
"Today, I'm officially out of retirement for Conor McGregor. We don't need to waste no time. We need to make this... happen quickly. Let's get it on in June."
Mayweather had matched Rocky Marciano's iconic 49-0 unbeaten career record when he walked away from boxing as the welterweight champion in 2015.
Speculation of a Mayweather-McGregor fight has intensified in recent months, with the US star saying he is willing to meet McGregor in a boxing ring.
McGregor, however, is under contract to the Ultimate Fighting Championship (UFC) series, which would have to approve any deal for the bout to happen.
"I don't want to hear no more excuses about the money, about the UFC," Mayweather said. "Sign the paper with the UFC so you can fight me in June. Simple and plain. Let's fight in June. If you want to fight, sign the paperwork, let's do it."
McGregor is on a break for the impending birth of his first child, a son with his long-time girlfriend Dee Devlin, who is due to give birth in May.
Sports
The boxers are accompanied by a rejigged support staff led by High Performance Director Santiago Nieva and newly-appointed head coach Narender Rana with former Commonwealth Games silver-medallist L Devendro Singh among the assistant coaches.
First Cricket News
AIBA received 34 nominations from five confederations, of which 27 were found to be eligible by its ethics committee.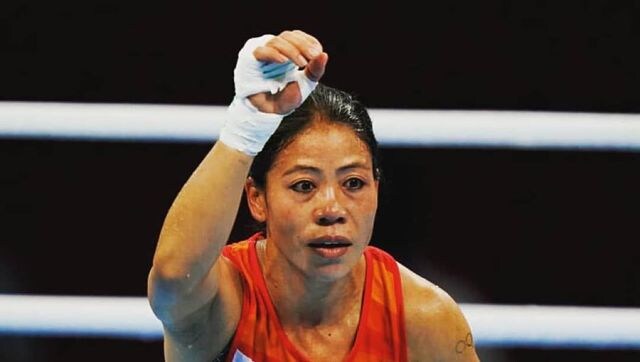 Sports
The 38-year-old, who reached the pre-quarters of Tokyo Olympics before bowing out with a hard-fought loss, is, however, training for the world championships in December.