Floyd Mayweather looked like shadow of himself but still had enough class to put Conor McGregor away
As predicted, Floyd Mayweather rallied to stop Conor Mcgregor late in a fight that was far more fun (and competitive) than it should have been.
Well, that happened.
As predicted, Floyd Mayweather rallied to stop Conor Mcgregor late in a fight that was far more fun (and competitive) than it should have been.
McGregor came out hard and fast. He handily won the first three rounds, throwing punches and attempting to back Mayweather up into the ropes. The Irishman used the excess weight he was carrying to move the American back.
Mayweather was more than happy to play the matador to McGregor's bull, taking his time to study his rival, noting his awkward stance and varied angles.
Mayweather did practically nothing for the first quarter of the fight but most ringside observers knew it was only a matter of time before the supercomputer in his head made a quick study of the Irishman and downloaded his patterns.
They were proven correct.
The fourth round, which could have gone either way, was the turning point. Both landed some punches — though not always on the button — but it was Mayweather who began taking control of the fight.
Mayweather owned the rest of the bout, repeatedly tagging McGregor to the body and head.
McGregor's infamous gas tank failed him yet again.
By the halfway mark he was breathing through his mouth and his face looked drawn.
The referee Robert Byrd stopped the fight in the 10th round. It was right call.  McGregor was tired. His legs were shaky. He was a punch or two away from being on queer street.
There's no sense in having a man take punishment for the sake of a baying, bloodthirsty mob.
McGregor's heart was no match for Mayweather's class.
But having said all that, it is McGregor who will ultimately emerge the victor of the night.
McGregor went 10 rounds with perhaps the best boxer of this era — a huge moral victory — and banked a minimum of $30 million for 30 minutes work. Not a bad way to make a living.
The Irishman wasn't humiliated by Mayweather. In fact, he did more than anyone rightfully expected him to.
While he took some clean punches to the head and body, seems as if the Irishman escaped with most of his faculties intact.
While McGregor demurred when he was asked if he'd ever box again, he'd do well to collect his riches and be on his way.
A bout against middleweights such as Canelo Alvarez or Gennady 'GGG' Golovkin would end in disaster. Both fighter hit way, way harder than Mayweather.
Not only would it fetch McGregor far less money than he's now accustomed to, the end of it would surely entail a hospital visit and a long stay.
The scorecards may have shown the American boxer winning handily — I scored the bout 87-83 in Mayweather's favour — what will make headlines is that "Money" looked like a shadow of himself.
The two-year layoff seemed to have coated the great boxer with a heap of ring rust.
Though some of McGregor's punches were pitty-pat, Mayweather was hit a lot more than he was accustomed to. His radar also seemed to be off. He threw and missed quite a lot.
He would be wise never to return to the ring again.
Given his showing, he'd struggle against the top welterweights and earn a just a fraction of his $100 million purse.
However, given his penchant for profligate spending and his well-publicised tax issues, something tells me this isn't the last we've seen of Money Mayweather.
Sports
Lovlina defeated Chinese Taipei's Chen Nien-chin 4-1 in the last eight bout by split decision.
Sports
Simranjit Kaur (60kg) lost to Thailand's Sudaporn Seesondee in the pre-quarterfinals.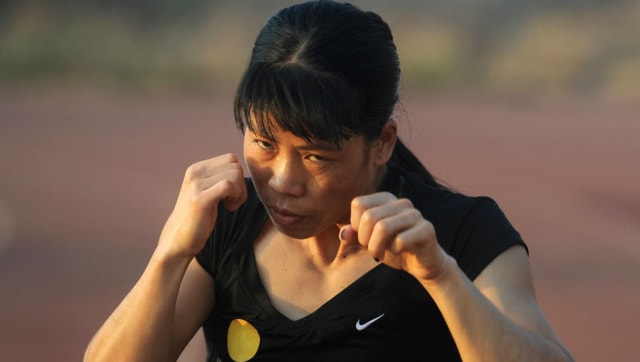 Sports
With the Tokyo Olympics fast approaching, Firstpost takes a quick look at one of India's experienced boxers MC Mary Kom, and charts her journey towards securing Olympic qualification.