First Person: The thrill of being part of the Olympics opening
Dhruv Ruparara played one of the more prominent roles in Danny Boyle's epic opening ceremony. Here, he describes the experience in his own words.
by Dhruv Rupapara
The following blog post is by Dhruv Rupapara, who played a prominent role in the Olympics opening ceremony. Dhruv played one of a group of young boys on a 'lads night out' during a segment in which their friend chases a beautiful girl through an eclectic pop culture trip from the 60's to 2012, culminating in a big thank you to the inventor of the world wide web, Tim Berners-Lee.
This was it, I knew I had to go! The minute I got an email to audition for OOC London 2012 I knew I had to go. Two series of rehearsals, competing with tens of thousands of people who turned up for the auditions and I, with little confidence of making it, at the end of the queue. Dear Lord was I nervous!
Lucky or just brilliant who knows, but I got through and it did not stop there for me.
Danny Boyle worked very closely with all the dancers at the Olympics. He had a vision and he wanted to share it with all the volunteers to make their final performance night, a night in history. When he saw me dancing with other 1400 volunteers, he decided to offer me a special place in his story. I was offered the position of one of the "Dancing Family", making me one of the principal performers.
The Dancing family was a team of ten girls and five boys and we were all given absolute star treatment.
I was admittedly nervous in the beginning, shy, scared and utterly flabbergasted by this amazing once in a lifetime opportunity that I was being offered. I was literally jumping up and down with excitement. Here was a man who won an Oscar tapping on my shoulder and saying, "Dhruv, you are a good dancer. Just do what you do best and you won't be nervous."
When I initially got the briefing of my role I never realized how big it was. Danny made it sound so cool that I never felt the pressure of taking on this huge responsibility. All we had to do was dance with the lead hero in front of 80,000 people in the stadium and 4 billion watching on television across the world. No biggie!
And through it all, it did not feel like I was on my own for even a second. Danny and Kenrick where always with us every step of the way, making us confident, making us perfect and building us as professional performers.
Danny always advised us to enjoy ourselves. His vision was that we were young lads on a night out who knew how to make an entrance and were chasing a beautiful girl with whom our friend was in love with. That's all it was, he said.
We had rehearsed for three months over many days and countless hours, so that on the night it just felt natural.
The whole experience was once in a lifetime for me. Its been days since the ceremony ended and yet the music is still buzzing in my ears.
The stadium felt like my second home and the fellow dancers my Familyyy! (That is not a typo, but that is how we were addressed at the stadium!)
I miss being there, and now that everything is over it feels like it went by in the blink of an eye. As much anticipated the night was, in one corner of my heart I always knew I never wanted it to be over.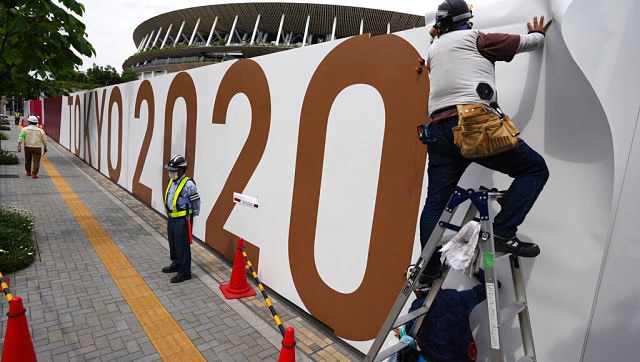 Sports
"We'd like to consult today (with medical experts) about placing 10 prefectures... under quasi-emergency measures," Yasutoshi Nishimura said at the start of a meeting with the advisers.
Sports
With the opening ceremony looming on 23 July, organisers are scrambling to finalise preparations, but the decision on spectators has been left as late as possible.
Sports
With just over a month until the 23 July opening ceremony, organisers are in the home stretch and scrambling to finalise virus rules and get participants vaccinated in time.