FIFA World Cup: The 10 best players not picked by their countries
Here are ten key players who will not be representing their countries at the 2014 FIFA World Cup.
Ten players who won't be travelling with their countries to the World Cup
We've now reached that seemingly interminable wait between the end of the domestic football season and the start of the 2014 FIFA World Cup.
Many of us are looking forward to seeing our favourite teams in action, singling out players who are key to their countries successes on the pitch. Some of them, however, despite being crucial to their teams' chances of success in the past, will not be playing in South America this summer.
Here are ten key players who will not be representing their countries at the 2014 FIFA World Cup.
Landon Donovan (United States)
Jurgen Klinsmann shocked the world of football when he decided to axe the United States' leading goal scorer from the final 23-man squad. In doing so, the veteran German coach had indicated that players would be judged by their form, not their reputation.
In doing so, Klinsmann has surely done away with the services of the player who would've been the USA's trump card in Brazil. Donovan's ability to rescue his team with a goal when they needed it most and his ability to lead his teammates on the pitch made him an immense asset to the Stars and Stripes.
In fact, Donovan holds the record of being the American with the most number of goals in World Cups (five in 12 games), more than Lionel Messi, Zlatan Ibrahimovic and Wayne Rooney have jointly scored in 31 tournament games.
Donovan's decision to take a year-long break from international football last year to focus on his club career would've been seen as a sign of a lack of motivation by Klinsmann, and re-integrating him into the squad at a time when on-field communication needs to be of a telepathic nature would be difficult.
Mario Gomez (Germany)
Gomez himself said he'd experienced the worst season of his life after looking back on his debut season with Fiorentina in Serie A. Despite a paltry return of just four goals in 15 appearances for the Florence outfit, one would have expected the striker to feature in Joachim Low's plans: the 28-year-old played a starring role at Euro 2012 and has 25 goals in 59 games for his country.
Despite recovering from a knee injury, Gomez's poor form and lack of match fitness mean he will not make it to Brazil. Given that this is definitely Miroslav Klose's last tournament in a Mannschaft shirt, Gomez would certainly be next in line to make the centre forward's starting berth his own.
His absence could cost Germany as Klose and Lukas Podolski are the only seasoned strikers in the team. Gomez's physical presence in the box, his anticipation and his aerial ability could well have been used in Brazil.
However, Low's insistence on taking only two out-and-out strikers mean that the Germans will be playing a rather fluid attacking style of football, with the likes of Podolski, Thomas Muller, Marco Reus, Julian Draxler and Andre Schurrle all capable of flitting seamlessly between positions, while still retaining the overall shape of the squad.
Samir Nasri (France)
Nasri had spent the days leading up to Didier Deschamps' announcement of the France squad celebrating his league and cup triumph with Manchester City. He was widely tipped to be a part of the Bleus squad that would be going to Brazil, but Nasri has never had a very good relationship with the rest of his team mates.
Deschamps is a man who is revered in his home nation, and the 1998 World Cup winner was apparently wary of past clashes that ignominiously plagued France in the past.
At Euro 2008, Nasri clashed with William Gallas when the latter said he'd been disrespected by him. Two years ago, at Poland-Ukraine, Nasri was in the centre of a war of words with Hatem ben Arfa and later let loose at a journalist after he was asked of his opinion on France's 2-0 loss at the hands of Spain, for which he received a three-match international ban from the French Football Federation.
Nasri has since featured intermittently for France and has failed to reproduce his club form for his country.
Gael Clichy (France)
While Nasri's exclusion might be somewhat expected, Clichy's absence from the squad is surprising. One cannot help but feel that the Manchester City connection between the two players might be one of the reasons Clichy will not be travelling to Brazil.
Deschamps will not want Clichy telling the rest of his squad mates about the circumstances around Nasri's exclusion and given that the wounds of South Africa are still raw, it might've been best to avoid any connection to Nasri at all.
That being said, Clichy would've been a huge asset in Brazil. Patrice Evra is ageing and his best years are past him, while Lucas Digne has little experience at international level. Clichy is surely the heir to the left-back role for France and this would have been a great learning period for him.
Ashley Cole (England)
Another experienced left-back to miss out on going to Brazil, Cole was personally telephoned by Roy Hodgson as the England manager explained why he wouldn't be going to the World Cup.
A common thread running through many managers' plans here involves preparing for the future by giving young players an opportunity to speed up their learning processes by playing at the World Cup.
Cole has always been exemplary in and England shirt and as one of his nation's most consistent performers, would have been one of the first names to go to Brazil. Not going has exposed him to one of the harshest realities of modern-day football: a player's shelf life at the top is limited, and can end suddenly and unexpectedly.
Michael Carrick (England)
Another consistent player for the Three Lions, Carrick's endured a torrid season with Manchester United on account of David Moyes' time at the club. The ex-Everton manager's tactics would have left the club's players second guessing themselves and questioning their abilities to play at the level they were used to under Sir Alex Ferguson.
Those mental struggles can be quite draining and lead to players not playing at their highest capabilities, which is a must while going to the World Cup. But Carrick's loss could be sorely felt by England, because of his ability to recycle the ball and dictate play from the middle of the park.
As Manchester United and England legend Paul Scholes said, at present, England can only count on the services of Steven Gerrard in the role of deep-lying playmaker and Carrick would have surely given them an alternative in that area.
Carlos Tevez (Argentina)
While Carlos Tevez is adored by the Argentine faithful, his unwillingness to put himself about for his country means there are those who more deserve to go to Brazil.
His unwillingness to play on the wing as a wide forward during Argentina's Copa America in 2011 when Sergio Batista saw him often replaced during games, with Sergio Aguero and Ezequiel Lavezzi unflinchingly stepping up to fill those positions, as the Argentines exited the tournament in the quarter finals.
Since then, Tevez has not been called up for the Albiceleste. That lack of work ethic is toxic in a squad and could soon fan the flames of protest when Argentina travel to Brazil, where they will be expected to do well, given that the tournament is being held in South America.
Coach Alejandro Sabella has therefore decided that it is in everyone's best interest that Tevez be excluded from the squad that will travel to their rivals' backyard.
Philippe Coutinho (Brazil)
Characteristic of Luis Felipe Scolari's teams are a set starting eleven of players once he's established his starting line-up. In this case, the superior work rate shown by Chelsea midfielder Willian has placed him in the starting XI ahead of his Liverpool counterpart.
While both players are equally gifted, Willian is a more physically imposing player and is not afraid of putting in the hard work, which because of his position would include tracking back and helping out his defenders, something Coutinho needs to add to his game.
Coutinho operates best in the centre of the park, but Scolari's teams are characterised by both technical skill and physical strength, which is why players like Paulinho, Fernandinho, Oscar and Ramires are given the nod ahead of him.
Lucas Neill (Australia)
Neill was a mainstay of the Socceroos' defence at the last two World Cups, and was one of several Australian players whose stock immediately rose after the world realised that there were those Down Under who could play the beautiful game with skill.
He was also key to ensuring Australia became one of the first teams to book their tickets for Brazil 2014. But Neill's recent nomadic club career means he's been found wanting when it comes to match fitness.
Despite being designated as former coach Holger Osieck's voice on the pitch, it was clear that he was no longer the player who excelled in the Premier League when the Socceroos were on the receiving end of two 6-0 thrashings at the hands of Brazil and France.
Out went Osieck, and in came Ange Postecoglou, who'd vowed to show faith in the next generation of Aussie footballers. That meant elder statesmen like Neill and fellow centre-back Sasa Ognenovski were in for the chop.
Neill's experience would be vital in Brazil, but at 36, he will surely be beaten for pace by attackers who are far younger than him. The gaping hole he's left in the Australian defence since his departure will most likely be filled by rising stars Luke McGowan and Matthew Spiranovic.
Ali Karimi (Iran)
Veteran Karimi had long expressed his desire to represent his nation at the World Cup in Brazil, while coach Carlos Queiroz often praised the 35-year-old during interviews, calling him one of the best players he'd worked with.
Highly influential in securing Iran a place in Brazil, Karimi is one of the Islamic Republic's most celebrated players. He is also, however, one of its most controversial.
In 2008, Karimi publicly criticised Iran's football federation. The overturning of his subsequent international ban required personal intervention from then President Mahmoud Ahmedinejad and Hassan Khomeini, grandson of Ayatollah Khomeini.
A year later, Karimi and a number of other Iran internationals wore green wristbands in protest of vote rigging at that year's elections. He returned to the international fold nearly a year later and was excluded from Iran's 2011 Asian Cup squad.
In a nation where dissent is seldom tolerated, irrespective of a person's status, Queiroz has kept in mind the cultural sensitivities of the nation he will be an ambassador of in Brazil, and Karimi's opinions might sow dissent among players who come from a nation which is already regarded warily in political circles.
Subscribe to Moneycontrol Pro at ₹499 for the first year. Use code PRO499. Limited period offer. *T&C apply
Sports
The coach had been immediately isolated after returning positive for the virus, an official of the National Rifle Association of India (NRAI) told PTI on Sunday.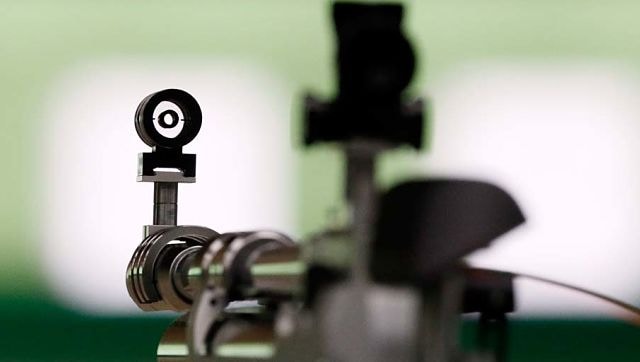 Sports
The tournament in Korea was a combined World Cup with shooters from rifle, pistol and shotgun competing for top honours.
Sports
Rennes' only win this year came on 17 January and the team is now winless in its last six league games