FIFA World Cup moments: Striker Paolo Rossi scripts incredible return to guide Italy to third title in 1982
Paolo Rossi scored a memorable hat-trick for Italy in their 3-2 win against Brazil during the 1982 World Cup - a match many consider as one of the greatest in World Cup history.
In the 1982 FIFA World Cup help at Spain, when pre-tournament favourites Brazil clashed with Italy in the second round group stage, few people could have predicted the events that would unfold over the 90 minutes and the rest of the tournament.
Brazil had won all their matches leading up to their Italy encounter — 2-1 against Soviet Union, 4-1 against Scotland and 4-0 against New Zealand in the first round group stage; and 3-1 over Argentina in their first match of the second round group stage.
Italy, on the other hand, had barely scraped through to the second round — 0-0 draw against Poland, 1-1 against Peru, and 1-1 against Cameroon. They only qualified for the second round over Cameroon on goals scored. In the second round, they were coming off an impressive 2–1 victory over Diego Maradona's Argentina but their main striker Paolo Rossi had failed to score up to that point and was facing heavy criticism, with fans calling for him to be dropped from the team.
Rossi was returning from a two-year ban following his involvement in the Totonero 1980 match-fixing scandal. Against Brazil, Rossi scripted an incredible return with a remarkable performance that would etch his name in history books forever.
This Brazil vs Italy encounter was a clash of the Selecao attack against the Azzurri defence. The contrasting styles would produce what is now considered the greatest match in World Cup history: Brazil's fearlessness and flamboyance were countered by the Italian caution and cunning.
Rossi opened the scoring in the fifth minute by heading a Antonio Cabrini cross beyond Waldir Peres in the Brazilian goal. However, within seven minutes the Brazilians hit back and equalised as captain Socrates teamed up with Zico and then produced a perfect finish. In the 25th minute, Rossi added a second goal to his name by capitalising on Brazil's meek defence as a Cerezo pass went astray and the Italian tucked it in to restore Italy's lead.
The Brazilians were far from done. Cezero played a decoy run that distracted three Italian defenders and opened up space for Falcao to fire home from 20 yards out. It was 2-2 after 68 minutes and Brazil were back in pole position as had they hung on for a draw, they would have reached the last-four on goal difference. In the 78th minute, Italy had a corner that the Brazilian defenders couldn't clear and Rossi bagged a hat-trick with an easy tap-in.
Italy emerged as 3-2 winners to complete one of the biggest shocks in footballing history. The result wasn't just a loss for Brazil; it was a blow to their attacking philosophy which had been undone by the systematic and organised Italians. Brazilian media was so upset that the match was labelled as the 'Sarrià Stadium Tragedy'.
Italy progressed to the semi-finals, where they played Poland and defeated them 2-0. In the final, they were up against Germany and Rossi once again scored as the Italians triumphed 3-1.
Rossi went on to claim the Golden Boot with six goals and helped his country almost single-handedly win their third World Cup. His tarnished reputation was a thing of the past as he was hailed as a hero by the Italians.
To read about other famous FIFA World Cup moments, click here.
Football
Indian football team received a boisterous welcome at the Khuman Lampak Stadium ahead of their first match ever in Manipur.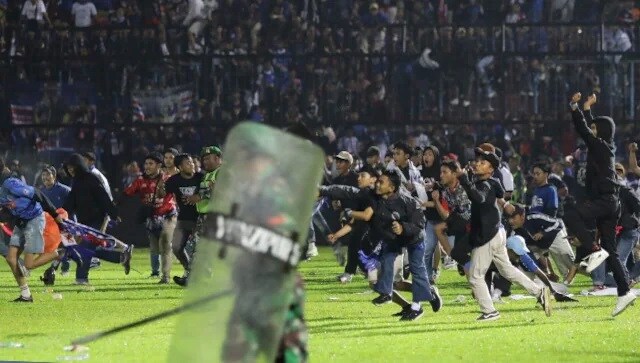 Football
Last year's crush in the city of Malang killed 135 people — including more than 40 children — after a 3-2 defeat for Arema FC by their fierce East Javan rivals Persebaya Surabaya.
Football
Italy coach Mancini is in the process of another rebuild after the European champions missed out last year's World Cup following a second straight disastrous play-off defeat.