FIFA World Cup 2026: With a jump in its rankings, does the Indian squad have a shot?
Incredible though that may sound, at least that's what sanguine observers expect — after India jumped 31 places in April's FIFA rankings, to be positioned at 101.
India shall play the FIFA World Cup finals of 2026!
Incredible though that may sound, at least that's what sanguine Indian followers expect — after India jumped 31 places in April's FIFA rankings, to be positioned at 101. Languishing in the 170s only a couple of years ago, the Indian squad had moved to 132 in recent times before the surge in March-April 2017.
The 'Blue Tigers', as they are known, have won 11 of their last 13 matches. Recently, in the AFC Asian Cup qualifiers, they beat Myanmar (Burma) by a solitary goal to record a win against that country for the first time in 64 years. They also won an away, international friendly against Cambodia 3-2. With such wins, and a new sort of positivity, the Indian team bids fair to break into the top 100 very soon.
Former India skipper and brilliant attacking mid-fielder, Carlton Chapman believes that Indian football is in safe hands right now. "Stephen Constantine is a good coach and he should be backed," he said, referring to the good performances in recent times.
When Chapman represented the country in the mid-1990s, India had a world ranking of 94. In a couple of decades, that ranking had touched its nadir at 172. The former midfielder is, however, positive that a similar phenomenon won't take place again. "There's stability now. A good coach, a great bunch of players and of course, an optimistic outlook among football fans in the country."
Bhaskar Maity, the former India goalkeeper of the 1980s considers FIFA rankings to be only of academic interest. Chapman too accepts the fact that FIFA rankings aren't of great significance, per se, but believes that the recent surge will help Indian football in the long run. "The winning momentum will hopefully continue and of course, a better world ranking will fetch good contracts for players in foreign clubs. This will, in turn, help improve Indian football standards further," he inferred.
Speaking about the future of the sport in India, Chapman said, "We have a good Under-17 squad right now. They're preparing for the Under 17 World Cup in India. We have to work on them and prepare them to take over senior India responsibilities in a few years. That's one way the country can hope for a much better ranking."
Chapman also mentioned in passing that it would be a good idea to let the Under-17 team train under Constantine before the ensuing World Cup.
Maity on the other hand opined that working with a small bunch of players isn't going to help. "We need to have at least five or six good replacements for each position at the junior levels today. Only then, with ruthless competition, will these youngsters take India to world levels."
Referring to the football structure in the country, Chapman confessed that the leagues at present were grossly inadequate. "An international level player has to play 40 to 50 competitive matches every year. In the present ISL and I-League format, you don't even get 30 matches!" He lamented the fact that big, national level tournaments like the Durrand Cup, the Rovers Cup, the Stafford Cup, the Bandodkar Cup etc. are no longer played. "These events gave us a chance to play football almost through the year. Our national league has to go on for at least six months. That's a pre-condition for progress," he averred.
The present India skipper Sunil Chhetri, in a recent report, was philosophical about the country's new found status in world football. He termed 'rankings' as a 'fickle measurement of success'. He believed that the real achievement would be to get into the top hundred over the next few years.
Chhetri, in that dialogue, however pointed out to one important gain from a better ranking. "We will push ourselves up the ladder on the Asian circuit. Favourable draws, as a result, will therefore give us an advantage in continental events. Our aim in the interim should be to do well in the AFC Asian Cup qualifiers."
India now plays a friendly with Lebanon on June 7 before taking on Kyrgyz Republic in the Asian qualifiers on June 13, in Bengaluru. Macau is the fourth team in India's group in that tournament.
In the latest AFC rankings, Chhetri's team stands at number 11. Iran (28), Korea Republic (43), Japan (44), Australia (50), Saudi Arabia (52), Uzbekistan (60), UAE (74), Syria (80), China PR (81), Qatar (89) are ahead of the Indians (FIFA ranking in brackets).
"The All India Football Federation (AIFF) will have to mend its ways if India has to become a force in world football," says Shashikant Prasad, a football talent scout who has travelled across the sub-continent. "In its present form, the AIFF is a toothless tiger."
Prasad believes that Indian football urgently needs a chief executive officer who can run the association like an international business house. He or she will report only to the elected president of AIFF. "An advisory board consisting of proven industry giants like Anand Mahindra, Nita Ambani and others won't be a bad idea too. A sprinkling of Bollywood stars and, of course, legends from other sports will help in the glamour quotient," he says.
Having visited hundreds of academies that have blossomed in recent years, he opines, "Most of these football schools are making money. Hardly anyone is bothered about imparting knowledge." He, especially feels that the European academies that have set foot in India are looking for the huge, untapped Indian market rather than to encourage talented kids.
"The CEO will therefore regulate these academies, work out a system of grassroot-level coaching at the state and district levels, initiate a train-the-trainer programme on a regular basis, get a talent-scouting team together, organize events to give maximum exposure to talented players and set up regional and national centres of excellence, where the best hundred players in the country will train and practice – and get an education  too — under expert eyes," proposes Prasad.
Football in India has taken a roller-coaster ride over the last 60 odd years. For a decade and a half after independence, India had a bunch of world-class players in S Mewalal, Salien Manna, Goshta Pal, Neville D'Souza, Peter Thangaraj and others. Then came PK Banerjee, Chuni Goswami, Nayeemuddin, Shyam Thapa, Sudhir Karmakar, Jarnail Singh, Inder Singh, Habib, Bhowmick etc. to name a few. The 1970s and '80s were dark years for the game in India, with perhaps a brief resurgence in the mid-nineties, when the national league was introduced.
In the last three decades or so, again, the country has really produced very few players of international class. Baichung Bhutia and I.M. Vijayan fought lonely battles for India for many years before Sunil Chhetri took over in recent years.
This uncertainty, Prasad and Maity affirm, will continue to harm Indian football until a structured approach towards its promotion is found.
World Cup 2026 will have 48 teams instead of 32, as in the two forthcoming editions. This has been done, possibly to sneak in India through the backdoor, looking at the country's huge market potential. There will be 8 teams from AFC in the final lineup instead of the 4 ½ slots alloted to them now. But all said and done, India will have to put in a lot of effort to be amongst Asia's best eight teams!
If we are lucky enough, then, we might still hear India's national anthem being rendered at a World Cup venue in 2026, for the first time ever. Let's keep our fingers crossed.
The author is a sportswriter, caricaturist and coach, besides being a former cricketer and ex-president of Mumbai District Football Association.
Sports
The India captain is also just a goal away from entering world football's all-time top-10. He is behind Hungary's Sandor Kocsis, Japan's Kunishige Kamamoto, and Kuwait's Bashar Abdullah, who all have 75 goals.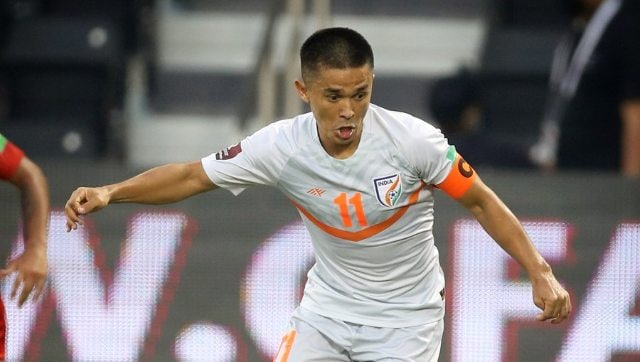 Sports
Catch the LIVE score and updates from the FIFA World Cup 2022 Qualifier between India and Afghanistan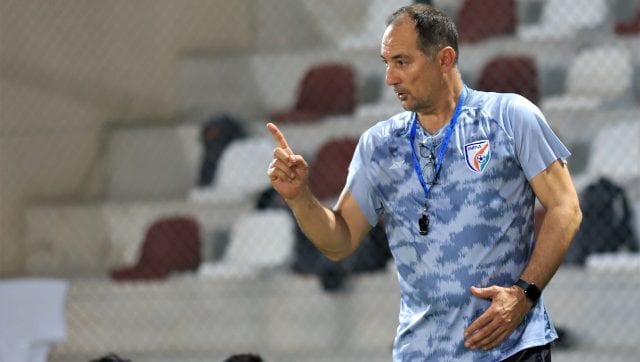 Sports
If Igor Stimac's tenure as India coach is to end in September this year then he would want to exit on a high note.