FIFA World Cup 2018: VARs, superstars and everything that went unplanned in first week of tournament
This fan's heart has mainly been won by smaller sides. Russia, Iran, Australia, Egypt and Morocco have seen varying levels of success, but they've been everything a fan could ask for: passionate, innovative and fun to watch.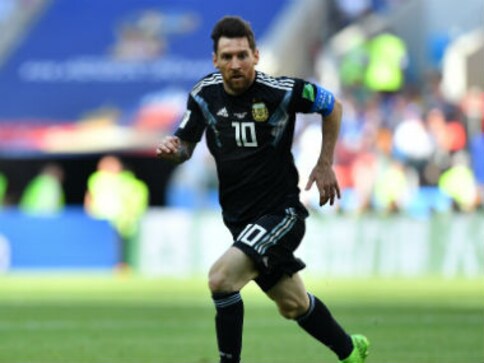 The worst thing about this tournament is that nothing has gone as planned. The best thing about this tournament is also that nothing has gone as planned.
If someone had shown me the current standings before the tournament, I wouldn't have believed them. Russia 2018 for me was supposed to be about the heavyweights - a clash of the titans, if you will. I had created a compelling narrative for each team.
Germany were out to win consecutive tournaments, France were finally going to become more than the sum of their parts. Portugal were out to prove that their Euro 2016 triumph was not a fluke. Brazil were out to avenge their 7-1 humiliation in 2014. Spain were going to win back their place among the world's elite sides. Argentina were out to win Messi his major international tournament.
And none of that has happened. Germany lost, Argentina have been humiliated and are on the brink of elimination, France are yet to resemble a fully cohesive unit, Portugal are still too dependent on Ronaldo's brilliance. Spain have blown hot and cold. Brazil, with Neymar or no-Neymar, have to sort out their creativity woes.
I am yet to see a single one of these sides really enter top gear and stay there. And I couldn't be happier about it.
This fan's heart has mainly been won by smaller sides. Russia, Iran, Australia, Egypt and Morocco have seen varying levels of success, but they've been everything a fan could ask for: passionate, innovative and fun to watch. Watching Russia-Saudi Arabia game in a newly opened bar — an opening night in more ways than one — I was expecting a bore draw between two uninspired, second-rate sides. Well, was I in for a shock? Unlike the displays of insipid mediocrity that I had become accustomed to from Russia, I saw what happens when a squad plays as a cohesive unit, with the fans behind them.
In my view, the most attractive sides so far at this tournament: Japan, Russia and Belgium, have been the ones who don't centre themselves around a single superstar. For that matter, many big-players, your Neymars, Salahs, Ozils and Lewandowskis, have flattered to deceive. And then we come to Messi...
Anyone not living under a rock will have seen the analysis of Messi and Argentina's loss from armchair tacticians such as yours truly. Here are this fan's two cents. A star player needs to be a player first and a star second. Strangely enough, it isn't even as though Messi has been throwing strops, demanding special treatment. He is as co-operative and humble as any top-tier professional footballer can reasonably be expected to be. But the management, the teammates, and even we as fans, are all complicit in forming something of a cult, having expectations that simply cannot be met. He needs to become something which is a result of Ronaldo and Maradona put together. He needs to be a man, a myth and a legend all in one. Messi is the captain of the team. Messi is the star of the team. Messi is the inspiration of the team. Messi is the plan A of the team. Messi is the plan B of the team.
And now we're surprised when it turns out that Messi is the team.
Perhaps star players have been rendered ineffective by this deluge of penalties, which I've been shocked to see so many more than ever before of. Penalties act as something of a talent equaliser - anyone can score them. A case in point is Australia.
I'm not entirely sure what the point of VAR is, to be perfectly honest. We're still seeing controversy over penalty calls. England were hard done by one a couple of occasions against Tunisia. Also, the sight of the referee abandoning play to stand attentive before a screen is bizarre. He is supposed to be the highest authority. The boss. And when your team loses, he is someone to blame. Yes, the referee is always biased against my team. Why are you rolling your eyes?
Maybe VAR makes the game less volatile. But I can hardly complain about this tournament being too predictable.
Let's hope the whole thing stays just as bonkers for week two.
Sports
After scoring just four goals in 11 appearances this term for PSG, the 34-year-old will need an upturn in fortunes to be named the world's best player again next year
Sports
Lewandowski threatens to deny Messi a record-extending seventh Ballon d'Or title as the prestigious awards ceremony returns Monday after it was cancelled last year due to the pandemic
Sports
Lionel Messi struck his first goal in Ligue 1 on Saturday as Paris Saint-Germain overcame a red card for goalkeeper Keylor Navas to defeat Nantes 3-1.