FIFA World Cup 2018: Strong performance by Russia imperative to fire host nation's imagination in showpiece event
Russia will kick things off in Moscow against Saudi Arabia. It is a must-win game against a team ranked only three places above them. It could ignite a nation's dreams, or extinguish whatever is left of them.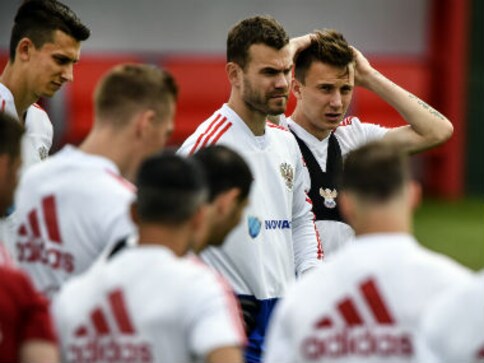 There is nothing like a FIFA World Cup with a successful home team. Not necessarily the one that goes on to lift the trophy, but a home team that exceeds expectations, entertains the world along the way and instills in its people a massive sense of pride. Or at the very least, a home team that gives the nation hope.
Hosts South Korea, in 2002, epitomised the thrill of a home nation going deep into the tournament. Even after the semi-final defeat to Germany, the drums continued to beat, the chants did not stop and the fireworks continued to light up the sky.
Korea's streets buzzed with excitement during the event. FIFA estimates that 22 million Koreans in total watched their team play on giant screens on streets — inspiring the idea behind today's 'Fan Fests' — and the world joined in as well to cheer for a nation it knew little about.
South Africa nearly pulled off a miracle in 2010, which, for a footballing minnow ranked 83 by FIFA, was to get out of a tough group that featured well-established nations in Uruguay, Mexico and France. The Rainbow Nation went out only on goal difference in the end and unified the country behind its cause before Africa as a whole put their weight behind Ghana — thereby keeping the spirit of the tournament alive.
The USA over-performed in 1994 too, upsetting Colombia to make it into the knockout stages as the World Cup fever gripped America too.
Russia, then, could be the first of its kind: a team that is arousing no hope or excitement among the locals before the tournament. As per experts and journalists, all signs point to the worst home performance in World Cup history. Which would be remarkable coming from a European nation.
Sure, South Africa failed to go beyond group stage eight years ago but they weren't short on excitement: scoring this stunner against Mexico and going on to defeat France in style. 'Bafana Bafana' were on the rise heading into their home World Cup and carried the momentum into it.
The same cannot be said about Russia, who have been on a remarkable decline since winning the hosting rights back in December 2010. One look at Russia's FIFA rankings chart says it all. From the heights of world rank 9 in 2012, this team has hit an all-time low of 70 going into the competition. This is one extraordinary dip over six years. Russia head into their own tournament as the lowest-ranked participant.
Click here for comprehensive coverage of FIFA World Cup 2018
Since FIFA decided to host the World Cups in continents other than South America and Europe, weakish teams fielded by hosts was expected. But the US, Korea, Japan and South Africa punched above their weight. It would be ironic if a European country fails to capture the imagination of its people. In 2022, Qatar's team is expected to be very weak anyway.
"We are worried because it is the worst Russian team I have seen in my life," former Russia international and Manchester United winger Andrei Kanchelskis has said. In 2008, Russia, inspired by Andrei Arshavin, were entertaining to watch and reached the semi-finals of the Euro under manager Guus Hiddink. It was taken to be a sign of great promise. But Hiddink resigned after his team failed to qualify for the 2010 World Cup, losing to Slovenia in the playoffs. The subsequent Euros in 2012 and 2016 led to group-stage exits with a combined one win in six games. The team ended Euro 2016 winless.
In between the European disappointments was a dismal show at the 2014 World Cup, Russia's first since 2002, under Italian coach Fabio Capello. It is best remembered for 'keeper Igor Akinfeev's spill in a crucial opening game against South Korea which ended 1-1.
In front of its own public now, there is no place for Russia to hide. The team hasn't won any of their last seven matches played across eight months. Brazil and France were expected losses in March, while a 3-3 home draw against Spain was adventurous and encouraging. The warm-up games, however, against Austria (0-1 loss) and Turkey (1-1 draw), two nations which have not qualified for the World Cup, painted a sorry picture. As per reports, Russia managed one shot on target in total in the two fixtures.
Russia coach Stanislav Cherchesov, who took over after Euro 2016, hasn't impressed during his tenure. He's held on by the skin of his teeth at times and has a habit of falling out with key players.
Cherchesov asked his players to ignore criticism in the media. "We have to take all the criticism and turn it into something positive". Striker Artem Dzyuba made a plea as well: "I want to ask (the media) to be positive."
Click here to view the full schedule of FIFA World Cup 2018
For positives, you can look at Alexander Golovin, a 22-year-old attacking midfielder who will be the team's creative spark, in-form forward Fedor Smolov, who was the Russian league's top-scoring local, and right-winger Alexander Samedov, whose smart finish against Turkey showed skill and confidence in abundance.
At the other end of the pitch, 32-year-old Akinfeev, who is prone to errors, will continue in goal, while veteran centre-back Sergey Ignashevich, who will be 39 in July, has come out of retirement to lead the defence.
That sums up this Russian team: It relies on their youngest for creativity and on their oldest to hold fort at the back.
On Thursday, Russia will kick things off in Moscow against Saudi Arabia. It is a must-win game against a team ranked only three places above them. It could ignite a nation's dreams, or extinguish whatever is left of them.
For the sake of this tournament, let's hope Russia gets off to a good start.
Football
Morocco had already said it planned to bid for the 2030 World Cup, which has been held in Africa once, in South Africa in 2010.
Sports
Gianni Infantino, who succeeded the disgraced Sepp Blatter in 2016, was waved in for a third term by acclamation
Football
Gianni Infantino is for a second time running unopposed for the presidency of the world football's governing body which he has led since 2016