FIFA World Cup 2018, Novy Kapadia column: European, South American teams set to dominate; Asian countries will struggle
The European and South American domination of the World Cup will continue in 2018 also. Teams from the other continents are still far behind.
This may be the last World Cup to feature 32 teams.  Initially FIFA intended to expand the tournament to 48 teams from the 2026 World Cup finals. But now FIFA President Gianni Infantino and his think tank are toying with the idea of making the switch to 48 teams for the 2022 World Cup in Qatar to be held in the winter months. If it happens it will mean eight countries will qualify from Asia, thereby marginally increasing India's chances of making it to the greatest show on earth.
Several fancied teams including four-time champions Italy failed to qualify for Russia 2018, thereby depriving the tournament of some glamour. The biggest shock was that Italy missed out on a World Cup for the first time since 1958, losing to Sweden in their play-off. The Italians are renowned for their resolute defence. Football lovers will miss seeing the brilliant defenders Giorgio Chiellini, Andrea Barzagli and Leonardo Bonucci and their remarkable defensive organisation by which they snare and frustrate opposing forwards. The 40-year-old legendary Italian goalkeeper Gianluigi Buffon was also denied a final swansong.
The highly rated Netherlands, thrice World Cup runners up (1974, 78 and 2010) also failed to qualify. The Dutch have significantly failed to qualify for the last two major tournaments, having also missed out on Euro 2016. The Liverpool defender Virgil van Dyk, one of the best in the world on current form and the mercurial Arjen Robben will be sorely missed.
Chile, ranked 9th in the world, with superstars Arturo Vidal and Alexis Sanchez in their team, missed out on a play-off (CONMEBOL region) on goal difference to Peru. From the CONCACAF region, the USA failed to qualify, for the first time since 1986. They finished below Mexico, Costa Rica, Panama and Honduras and could not even secure a play-off berth. Renowned African nations – Ivory Coast, Cameroon and Ghana – all of whom were in Brazil 2014 got eliminated in the qualifiers this time.
The current English Premier League champions Manchester City have the maximum of 16 players in the World Cup, followed by Real Madrid with 15 and Barcelona with 14 players. However the Catalan giants have the unique record of being the only team with a player representative in each group. They are as follows: Group A: Luis Suárez (Uruguay), Group B: Andrés Iniesta, Sergio Busquets, Gerard Piqué, and Jordi Alba (Spain), Group C: Samuel Umtiti and Ousmane Dembélé (France), Group D: Lionel Messi (Argentina), Ivan Rakitić (Croatia) Group E: Phillipe Coutinho and Paulinho (Brazil), Group F: Marc-André ter Stegen (Germany), Group G: Thomas Vermaelen (Belgium) and Group H: Yerry Mina (Colombia). There are 11 players from Italian giants Juventus and they are from ten different countries.
In the 20 previous World Cups, there have been 26 finalists from Europe and 14 from South America. Only three South American countries, Brazil five times champions and twice runners up, Argentina twice champions and thrice runners up and Uruguay twice champions have reached the final. From Europe there have been five winners, Germany four times champions, four times runners up, Italy four times champions, twice runners up, France winners in 1998 and runner up in 2006, England and Spain champions in 1966 and 2010 respectively. Netherlands were thrice runners up in 1974, 1978 and 2010 and Hungary runners up in 1938 and 1954. Erstwhile Czechoslovakia were runners up in 1934 and 1962 and Sweden came second in 1958.
Some outstanding young players are expected to excel at this World Cup and become superstars like Paul Pogba and James Rodrigues in 2014. They are 19-year-old forward Kylian Mbappe (France), 21 year old striker Gabriel Jesus (Brazil), 23-year old right back Joshua Kimmich (Germany), 22-year-old winger Marco Asensio (Spain), the box-to-box 21 year old midfielder Alexander Golovin (Russia), 24-year-old midfielder Giorgian de Arrascaeta (Urguay) and the athletic 23-year old midfielder Sergej Milinkovic—Savic (Serbia)
The European and South American domination of the World Cup will continue in 2018 also. Teams from the other continents are still far behind. The qualifiers from CONCACAF are Mexico, debutants Panama and Costa Rica. Mexico have an outside chance of reaching the round of sixteen from Group F. Debutants Panama will struggle in a group that contains both England and Belgium. Costa Rica with an ageing squad and consisting of many players who have been inactive in their clubs this season may also struggle in a group that contains Brazil, Serbia and Switzerland.
African teams have competed at the World Cup including Russia 2018, on 44 occasions. Only three African teams have reached the quarter-finals of the World Cup, Cameroon (1990), Senegal (2002) and Ghana (2010). All these three have come from sub-Saharan Africa. But in Russia, there will be more teams from the north than elsewhere on the continent, including a first appearance in 28 years for Egypt and a return after 20 years for Morocco. A number of North African countries have players who learned their trade at academies in Europe. However Morocco at this World Cup have the most foreign born players – 17.
In the 2014 World Cup, two African nations qualified for the round of sixteen, Nigeria and Algeria. Nigeria lost 0-2 to France and Algeria lost 1-2 to Germany after extra time. In 2018, a much improved Nigeria, with their 64-year-old German coach Gernot Rohr, have an outside chance of qualifying from Group D. Their opening two matches against Croatia on 16 June and debutants Iceland on 22 June are crucial. They need points as their last game is against Lionel Messi and Argentine on 26 June. Nigeria have never beaten Argentina in five previous World Cup appearances. The chances of Tunisia qualifying from Group G and Senegal from Group H are slim.
Including Russia 2018, Asian and Ocenaia teams have competed at the World Cup on 41 occasions. The best performance by an Asian team was in 2002 when South Korea reached the semi finals, losing to mighty Germany by a solitary goal. South Korea's performance in 2002 was really memorable as they beat Poland 2-0 and Portugal 1-0 in the group matches, upset Italy 2-1 in the round of sixteen and overcame Spain via the penalty shoot out 5-3 in the quarter finals. South Korea is the only Asian or African country to have beaten four European countries on the trot in a single World Cup.
North Korea were the first Asian nation to reach the quarter finals in 1966 in England, eliminating Italy 1-0 in a group match. In the quarter finals they led Portugal 3-0 within thirty minutes but the Black Panther Eusebio scored four goals and enabled his country recover to win 5-3.
Sadly, Asian football has become stagnant and in the 2014 World Cup, Australia, South Korea, Japan and Iran qualified but all four teams finished last in their respective groups. Not much is expected this time also from the five Asian qualifiers – Japan, South Korea, Iran, Saudi Arabia and Australia (qualified via playoffs). Iran is Asia's best team but they are in the toughest group along with favourites Spain and Euro 2016 champions Portugal and Morocco. Both Iran and Morocco face off in their opening fixture on 15 June. If it ends in a draw both will get eliminated in the group stage.
Among Asian nations Saudi Arabia, Iran and Australia can at best hope to come third in their group. South Korea coached by Shin tae Young, the Asian Jose Mourinho, can progress if they get points in their opening two fixtures against Sweden on 18 June and Mexico on 23 June. They play World Champions Germany in their last game on 27 June. Japan need to beat Senegal in the third of the Asia vs Africa clashes in the group stage on 24 June to entertain hopes of reaching the knock outs from Group H.
No Asian country is likely to qualify for the round of sixteen but some Asian players could excel, like wingers Son Heung-min (South Korea), Alireza Jehanbaksh (Iran) and Yosuke Ideguchi (Japan) and the lethal 23-year old striker Sardar Azmoun (Iran). They all play in European leagues and their stock could rise after sterling performances in the 2018 World Cup.
Portugal vs Spain (Group B) on 15 June at Sochi and England vs Belgium (Group G), on 28 June at Kalinigrad, Argentina vs Croatia (Group D) on 21 June at Nizhny Novgorod and Brazil vs Serbia (Group E) on 27 June at Spartak Moscow should be the most entertaining and vital group stage matches. Quality, attacking football is expected in these four games.
If matches go according to form, there should be some mouth-watering clashes in the quarter-final of the 2018 World Cup: France vs Portugal, a repeat of the Euro 2016 final; Brazil vs. Belgium; Germany vs England, a repeat of the 1966 World cup final; and Spain vs. Argentina. The most stupendous clash should be between Argentina and a resurgent Spain at Sochi on 7 July. It is Lionel Messi's last chance to win a World Cup (he will be 34 in 2022) and he would need his strikers Paulo Dybala, Sergio Aguero and Gonzalo Higuain and winger Angel di Maria to be in top form if he is to achieve that dream. Cristiano Ronaldo will also hope that Portugal can again frustrate France at Nizny Novgord on 6 July, just as they did in the Euro 2016 final in Paris.
Strange as it may seem but the World Cup does not have the highest prize money. FIFA will distribute $791 million ($215 million more than in Germany) but it is way below the English Premier League which gave $2.9 billion in prize money this season. The winners of the 2018 World Cup will get $38 million and the runner up $28 million. Even teams that lose in the group stage will get $8 million each.
FIFA will however generate $4.83 billion from sale of TV rights to sale of merchandise and sponsors. For the first time there will be four Chinese brands as sponsors. They are Vivo, Mengnlu, Yadea and Wanda.
undefined
Subscribe to Moneycontrol Pro at ₹499 for the first year. Use code PRO499. Limited period offer. *T&C apply
Sports
Defeat to PSG was a reality check for Koeman's Barca, a brutal assessment of where they are in their recovery and a measuring of the distance still to be covered before they can rejoin Europe's elite.
Sports
Juve sit three points behind second-placed AC Milan, who host Udinese on Wednesday, with Inter Milan four points further clear ahead of their match at Parma on Thursday.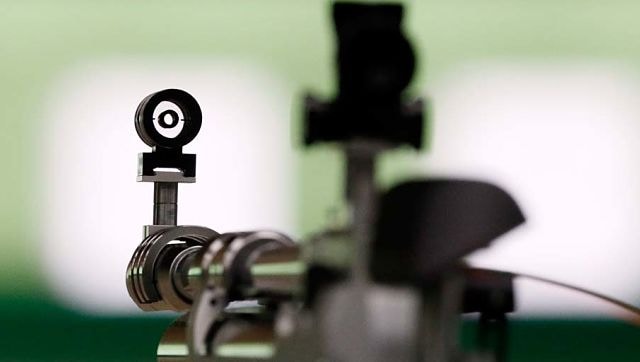 Sports
The tournament in Korea was a combined World Cup with shooters from rifle, pistol and shotgun competing for top honours.