FIFA World Cup 2018: France trudge into semi-finals but Didier Deschamps must display tactical nous to lead them to title
With his contract with France ending with Euro 2020, Didier Deschamps knows that nothing less than a finals appearance will satisfy the fans back home.
France strolled into the semi-finals as an Edinson Cavani-less Uruguay posed no challenge to Didier Deschamps' men. In what was supposed to be their toughest match till date in the tournament, Les Bleus put out another solid yet insipid performance considering the talent in the side.
Despite guiding France to their first World Cup semi-finals in 12 years, Deschamps has done little to fend off criticism regarding France's style of play. With the array of attacking talent in the team, France were supposed to waltz their way to the title. Instead, they are just trundling along and a lot of it has to do with how Deschamps sets up his team.
Sweden take on England in the first quarter-final at the Samara Arena at 7.30 pm while hosts Russia face Croatia later in the day at 11.30 pm at the Fisht Stadium
Watching Deschamps' France gets positively frustrating at times given their dour style of play but somehow they have managed to get the job done so far. The flashes of brilliance from the likes of Kylian Mbappe, Antoine Griezmann and Paul Pogba throughout the tournament is proof of how utterly brilliant France can be if only Deschamps unleashed the true potential of his side. It is like having a Ferrari but opting to drive at a gentle 60 kmph on an empty stretch of road.
Deschamps' conservative setup relies more on individual brilliance rather than teamwork. Unlike Vicente del Bosque in 2010 and Joachim Low in 2014, Deschamps hasn't devised a system that brings out the best of his players. Instead of developing a team where players complement each other's strengths which in turn takes the team to the next level, Deschamps has chosen to rely on individual talent and moments of magic from his illustrious bunch.
Take for example, the midfield duo of N'Golo Kante and Paul Pogba. Since arriving at Chelsea, Kante has improved his overall play and has become adept at carrying the ball forward and contributing more in attack. However, Deschamps has deployed him primarily as a holding midfielder responsible for breaking play. Pogba, despite being one of the best players at the tournament for France, has had to curb his attacking instincts.
Perhaps the most glaring example of Deschamps' defensive mindset has been his use of Blaise Matuidi and Corentin Tolisso, two natural centre-midfielders, on the left wing. In a position where skillful and pacey attackers like Ousmane Dembele, Thomas Lemar and Nabil Fekir thrive, Deschamps' deployment of Matuidi and Tolisso is just bizarre. This has made Mbappe's role on the right even more crucial for France. Uruguay managed to keep Mbappe quiet on the right and did not allow him to drive into the box. Against Belgium, who play three at the back, this tactic can backfire spectacularly for Deschamps.
Friday saw France get the win without ever having to move into fifth gear and they were generously helped along the way by Uruguayan goalkeeper Fernando Muslera, who channelled his inner Loris Karius, to gift France their second goal. What stood out as a positive for France was the performance of their defence.
The back-four of Lucas Hernandez, Samuel Umtiti, Raphael Varane and Benjamin Pavard had never played with each other before the tournament. While they were able to come out of the group stage with their reputations intact, their weaknesses were exposed by an Argentinian side which had barely made out of the group. However, against Uruguay, Varane and Co were at their best as Uruguay rarely looked like scoring.
Four years after Mats Hummels outmuscled Varane to score Germany's only goal against France at the quarter-finals, the young Frenchman made up for his error on Friday. The Real Madrid man sneaked ahead of the Uruguayan defence to head Griezmann's free-kick beyond a diving Muslera.
With one half of the deadly Uruguayan strike partnership out, France had their work cut out in denying Luis Suarez time and space on the ball. The Barcelona forward cut a frustrating figure as he was starved of service in the box forcing him to drop down and create chances. France's tactics worked as Suarez had no touches inside the box and didn't register a single shot on goal.
Suarez and Uruguay missed Cavani, whose work rate in Russia had been instrumental in La Celeste reaching the quarter-finals. Cavani watched on from the bench as Cristhian Stuani, his replacement, tried his best to launch a meaningful attack with Suarez.
Uruguay only had one meaningful chance in the game and it brought out a super save from Hugo Lloris. Three minutes after Varane had given France, Uruguay won a free-kick, which was met with a strong header from Martin Caceres. The ball seemed destined to nestle into the bottom corner but Lloris' cat-like reflexes saw him prevent the ball from going in. Diego Godin, from two yards out, could only shank the ball up high.
France dominated possession, racking up twice the number of passes than Oscar Tabarez's side. Griezmann continued his run of scoring goals in the knockout stages after his shot from distance was palmed into goal by Muslera. Try as much as they could, Uruguay couldn't find a way into the match and as the clock ticked on, it became clear to the South American side that their dream was over. As the match wound to a close, Jose Gimenez couldn't keep his emotions in check as the image of him crying while standing in the wall as France took a free-kick showed how much winning the World Cup meant to him and his side.
On Tuesday, France take on neighbours Belgium, who beat favourites Brazil, in the semi-final at the Saint Petersburg Stadium. The Red Devils will be an altogether different challenge for Deschamps' men. Unlike Argentina and Uruguay, Belgium have quality players in every position and have not relied solely on a talismanic figure like Lionel Messi and Suarez.
In captain Eden Hazard, Romelu Lukaku and Kevin De Bruyne, Roberto Martinez's side have an equal if not better attack. Mbappe and Co will also find the Belgian defence, led by Vincent Kompany, a tough cookie to crack. And even if France manage to get past them, in Thibaut Courtois, they would have to beat a goalkeeper who is having a brilliant tournament so far.
Against Japan and Brazil, Martinez and his side were tactically flexible, something that French fans would love their side to display. With his contract with France ending with Euro 2020, Deschamps knows that nothing less than a finals appearance will satisfy the fans back home. His France side have been excellent so far. Now it's time for Deschamps to step up and prove his managerial worth.
Click here for full coverage of FIFA World Cup 2018
Find latest and upcoming tech gadgets online on Tech2 Gadgets. Get technology news, gadgets reviews & ratings. Popular gadgets including laptop, tablet and mobile specifications, features, prices, comparison.
Sports
The Asian Football Confederation's Competition Committee, however, did not reveal the exact dates of the matches.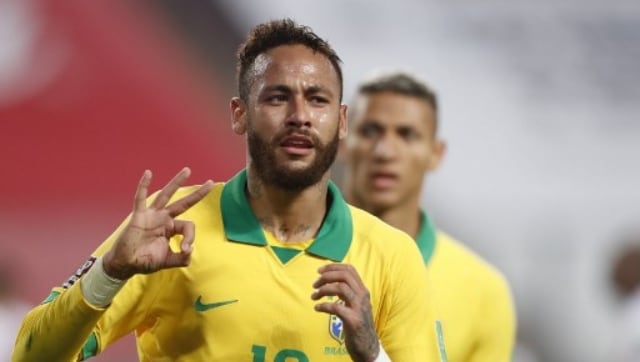 Sports
Despite his latest setback Neymar will still travel with the squad amid hopes that he may recover in time for the trip to Uruguay on 17 November.
Sports
The winner of the match in Lisbon will go through to the Nations League finals, while a draw would keep the group alive until the final Group 3 matches on Tuesday.