FIFA World Cup 2018: Coach Tite takes a tumble as he celebrates Brazil's dramatic late win over Costa Rica
Brazil coach Tite took a glorious tumble in the aftermath of Philippe Coutinho's dramatic late goal in the 91st minute of Brazil's match against Costa Rica.
Tournament favourites Brazil went into Friday's match against Costa Rica with a point to prove, having been held to a 1-1 draw against Switzerland in their opening fixture on 17 June.
The Selecao needed a positive result to bring their faltering World Cup campaign back on track, and from the word go, Brazil looked like they meant business.
However, Costa Rica seemed determined to spoil the party, and for much of the match, it appeared as if they were successful in doing so. As Brazil's repeated attacking pressure kept fizzling out in the final third.
Brazil did eventually run out 2-0 winners in dramatic fashion, with both their goals coming after the 90 minute mark. Perhaps inevitably, the relentless pressure applied by Brazil forced an error out of Costa Rica as the nimble Philippe Coutinho capitalised on an opportunity in the first minute of injury time.
The goal came from a Marcelo cross, which was cushioned into the path of Gabriel Jesus by Roberto Firmino. Jesus attempted to swivel with the ball, but before he could complete the movement, Coutinho stepped in to slot the ball between goalkeeper Keylor Navas' outstretched legs.
The goal lifted the tension which prompted wild celebrations, including one from Brazilian coach Tite. The 57-year old hared onto the pitch from the dugout alongside Brazil's substitutes, jostling for space with Manchester City keeper Ederson as he raced to embrace Coutinho. Amidst the madness, Tite was shoved in the back and subsequently took a glorious tumble along the touchline.
The Selecao boss quickly gathered himself and made it to huddle, doling out hugs and celebratory fist pumps in equal measure. Tite soon had reason to celebrate yet again, with Neymar finally bagging himself a goal in the 97th minute after countless failed attempts.
Tite said he pulled a muscle during the celebrations. After the match, he said, "I was going to celebrate with them but I had to limp back."
Tite's fall inspired reactions from several Twitter users, who saw the funny side of the fall:
Other users saw the fall as just another part of an action-packed match that ended on an emotional note, with Costa Rica eliminated and with Brazil's captain Neymar left in tears (happy ones, obviously)
 Many had a slightly different take on the fall, and were quick to take a potshot at Neymar's dive earlier on in the match: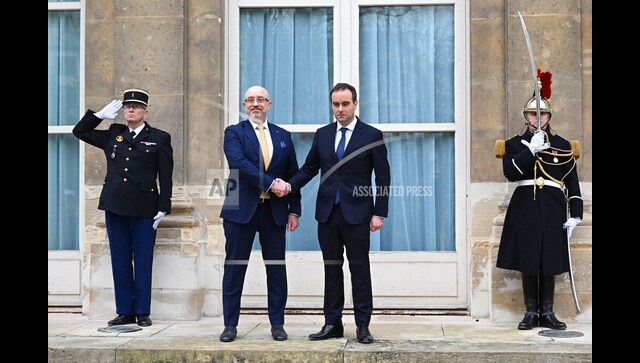 World
Ukrainian Defense Minister Oleksii Reznikov was due in Paris on Tuesday where discussions about the possible delivery of fighter jets to Ukraine were expected to be on the agenda.
World
Chinese diplomat Wang Yi may visit Russian President Vladimir Putin, Russia's Vedomosti newspaper said citing sources.
World
The mayor of Kyiv said earlier that one person was killed in the capital, the city's first attack-related death of the year