FIFA U-17 World Cup 2017: Spain coach Santiago Denia 'proud' of players despite loss to England in final
England produced a come-from-behind performance to crush Spain on Saturday and lift the FIFA U-17 World Cup title.
Kolkata: Despite being heartbroken after their 2-5 loss to England in the FIFA Under-17 World Cup final, Spain coach Santiago Denia said that the effort put in by his players is beyond the result of the match.
England produced a come-from-behind performance to crush Spain on Saturday and lift the FIFA U-17 World Cup title.
"I'm very proud of them and the work we have done in the past three years. Our efforts go beyond the result of the final. We have accomplished as a team. We are the runners-up, we are Euro champions. I am proud of that," Denia said at the post-match news conference at the Salt Lake Stadium.
Spain squandered a two-goal advantage after 31 minutes as England bounced back in style to hand them the runners-up spot for the fourth time.
"To be honest, I'm heartbroken because of the boys. This was final and the level was expected to be high. My job as a coach was to create a strong group and we did that. I'm very proud of that," he said.
The former Atletico Madrid central defender said they could not maintain the lead after English wingers got the better of them in the transition game.
"It's obvious, we could not maintain the score. It's true our forwards played really well in the first 40 minutes but England's first goal really hurt us."
With England going in for an all-out attack, Spain also tried to match, leaving spaces in the midfield and their rivals made full use of it.
"England stepped up and put pressure on us. They forced us to play a possession game and they are very good at transition game. We had open spaces at the back and we did have some chances. But we did not have as much control as we would have liked to," said the coach.
Rhian Brewster reduced the margin 1-2 before Morgan Gibbs White made it 2-2 and Phil Foden's strike at the hour's play helped England trail past Spain.
"Until 3-2 it was an open game but after that, we had to go forward and leave spaces behind and we conceded goals. We had a very clear chance when it was 3-2 but after that England made it 4-2 and we lost the game at that stage," Denia said, conceding that they succumbed to the rivals' wing play.
"It was more about left wing. Foden on the right used to cut and go inside. We know that but we didn't play well."
Admitting that England have excellent technical players, the Spanish coach said: "We had prepared a plan to curb England's wing play by deploying the left and right back with the midfielders to help them. As you guys saw, they (England) have very good technical players who can play inside.
"The message in the halftime was not to go backwards and stay up front. They played better than us and I congratulate England. I'm happy with the way we played. It was a final after all."
Asked whether the 5-2 scoreline was a true reflection of the way they played, he said: "Until 3-2 the score was about the game. We had to go forward, but such things happen when you press harder."
Denia acknowledged that England were superior to them physically and have improved leaps and bounds since losing to them via penalty in the Euro U-17 Championship in May.
"I believe that both are very good teams. In the Euros, it was a tie actually. England have improved a lot (since U-17 European Championship final defeat). I believe they outplayed us physically today."
On whether playing six of their seven matches at the Salt Lake Stadium helped England, Denia said: "We played in four different venues, but I have no complaints about that. We had good preparations for the final, but they made a remarkable comeback."
Spain captain Abel Ruiz expressed his disappointment.
"We played well. I have nothing more to say," he said in the mixed zone.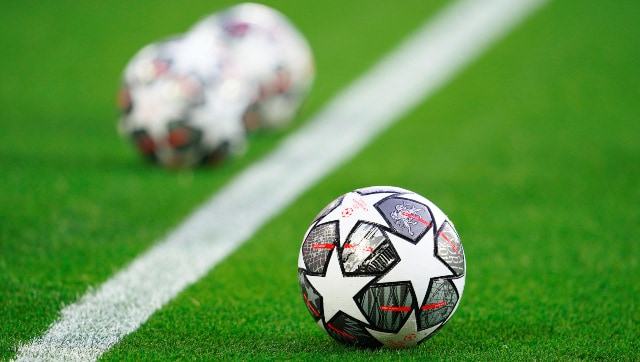 Football
The German football federation passed a new regulation for gender-nonconforming players with the civil status "diverse" or "unspecified" on Thursday.
Sports
Igor Stimac finally looks to have settled on a core for his starting XI and this stability bodes well as India look to qualify for a historic second successive AFC Asian Cup.
India
The clip has garnered almost six lakh views to date. Several users were awestruck by the 64-year-old and called him 'legend'. Others wished they could have a grandparent like him