Fifa U-17 World Cup: Tournament director Javier Ceppi expresses confidence in current preparations
Tournament Director of the Fifa U-17 World Cup to be hosted by India, Javier Ceppi, expressed his happiness about the way preparations were moving ahead.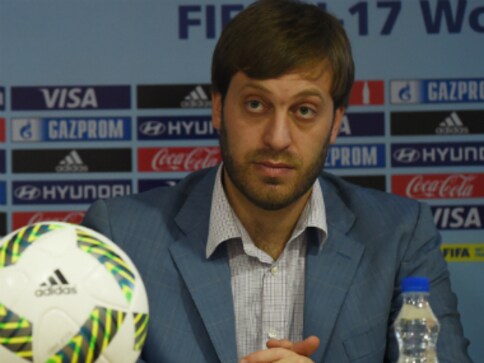 Mumbai: Tournament Director of next year's Fifa Under 17 World Cup to be hosted by India, Javier Ceppi, expressed his happiness about the way things were moving ahead in the preparation of the tournament.
"They (preparations) are coming along (well). Work is happening in all the venues," said Ceppi here today, adding work that was stopped due to the conduct of Indian Super League, has restarted at all the venues.
"We are confident and happy about how things are moving. Things are in motion and I hope they get into momentum," Ceppi told reporters after a tie-up was announced with Bank of Baroda for the tournament.
"We have less than 10 months left (for the tournament to commence). This is huge (tie-up with Bank of Baroda). This is the first one for our event," he commented about an Indian bank joining hands with the world football body for a junior event.
The U17 World Cup is scheduled to be held from October 6-28 and the matches are to held in Navi Mumbai, Goa, New Delhi, Guwahati, Kochi and Kolkata.
Ceppi was impressed with the facilities at the Dr D Y Patil Sports Stadium in Navi Mumbai, set to host a few games.
"D Y Patil and Vijay (Patil) are always extremely supportive and huge partners of us. They have done all that was required and they are planning to do more. The (DY Patil) stadium has good bucket seats, but they want to change them.
"They say for the World Cup they want to show a new facility. They have already done up their dressing rooms. We are happy with how the facilities are in Navi Mumbai and it's moving along quite well," Ceppi said.
"For the World Cup, unlike for other events, security is a complete responsibility of the state and local forces, which makes it a little bit different. It's not so dependent on financiers or private security coming in or not (coming in)," he remarked when queried over the security set-up for the event.
"The security forces of the state will be in charge. We have spoken with everybody and all the police forces. They are organised and have plans in place," he added.
Sports
Erling Haaland's signing at Manchester City should not come as a surprise. It may have been quickened by the Champions League drought.
Sports
Qualification to the Champions League will earn Shakhtar Donetsk some much-needed payoff. They earned 43.1 million euros ($45.4 million) from UEFA in prize money and a share of television rights in 2019-20 season.
Sports
Liverpool will face the winner of the second semi-final between Real Madrid and Manchester City, who meet at the Santiago Bernabeu with City leading 4-3 from the first leg.