FIFA U-17 World Cup 2017: With Iraq's debris in their wake, prolific Mali march ahead
Mali comprehensively outplayed Iraq in every position, on every minute. There was no fightback on the night; any attempts for the same were feeble.
When Iraq started without Mohammad Dawood, their talismanic goalscorer and best player in the tournament, against Mali in the Round of 16 of the U-17 World Cup, omens were already circling the Fatorda stadium in Goa. Dawood was the only Iraq player who had found the net in the tournament; he had scored three of Iraq's four goals in the group stage. The one he didn't score, was an own goal. The blame goes to their coach Al Qahtan, really.
Dawood, on the bench in Iraq's final Group game against England, was brought on in the second half to bolster Iraq's chances of scoring an equaliser. Instead they went on to lose 4-0 and Dawood received a yellow card that would leave him suspended for the Round of 16. With four points in first two games, Iraq had virtually clinched qualification to knockout rounds. But Qahtan's tactical faux pas rendered the team without the only person who had scored for them all tournament.
In retrospect, however, it's difficult to think how Dawood could have made a difference even if he had played. An hour after their geographical neighbours and continental rivals Iran emerged victorious against a spirited Mexico, Asian U-17 champions Iraq crumbled to a most one-sided 5-1 drubbing at the hands of African U-17 champions Mali.
There is no narrative to pick beyond the scoreline which was as accurate as it could get. Mali comprehensively outplayed Iraq in every position, on every minute. There was no fightback on the night; any attempts for the same were feeble. Iraq's only goal was an 85th minute consolation. And even then Mali went on to add two more to their tally before the whistle blew. Right from the kick-off, Mali were easily the team more comfortable on the ball and a chance to take an early lead came their way soon enough. Mohamed Camara played a neat one-two with Hadji Drame and found himself in the 18-yard-box. His dummy left two Iraqi defenders stranded, but side-footed effort took a slight deflection and whizzed past the far post.
Iraq crowded the box whenever Mali marched forward and chaotic clearances kept them from conceding. The goal that Mali were looking for took a little time, but it came inevitably in the 25th minute. Salam Giddou pounced on a weakly-headed clearance right in front of the box and travelled deep inside on the left. He cut the ball back in to Drame who was waiting for the tap in and made no mistake as he took it. Iraq were down a goal down and, with hardly any real look at the Mali goal, they didn't look like they could score on the night.
But a chance did come their way in the 30th minute, albeit from a corner. Mohammad Ridha's delivery was met by Maytham Jabbar from close range, but Youssouf Koita showed excellent reactions to keep the header out. Mali forward Lassana Ndiaye, however, didn't falter at the other end of the field as he headed in a cross from Djemoussa Troare just a couple of minutes later. Iraq had a chance to pull one back right at the stroke of half-time when Ridha's curling free-kick from a dangerous area floated inches above Jabbar's head and safely into Koita's gloves.
The first half belonged to Mali on all counts and the second half did not stray from the course. Iraq did create a couple of half-chances, but nothing that really threatened Koita. In the 49th minute, Ridha did well to skip a couple of challenges and find some space about 20 yards out from the Mali goal. Under pressure, his shot from distance was decent but a diving Koita kept it out. His Iraqi counterpart, Ali Ibadi did well too to keep out a dipping strike by Giddou in the 63rd minute. But Mali essentially killed the game when another shot from distance by centre-half Fode Konate got the better of Ibadi.
Iraq did manage a consolation goal in the 85th minute when Bassam Shakir did well to control a cross in the box and passed it to Ali Kareem, whose strike made him only the second Iraq player to find the net all tournament. And as if the 3-1 scoreline wasn't pleasing enough, Mali quickly added two before the final whistle: a fine finish from substitute Seme Camara and a tap-in that completed Ndiaye's brace on the night. Truth be told, the Asian champions were knocked out in the first half itself.
Mali, though not progressing through the toughest group in the tournament, have nevertheless showed a knack for scoring goals. That's always helpful. They have now scored 13 in four games and Ndiaye is the top scorer at the World Cup with five in his kitty already. They will face the winner of Ghana versus Niger; either will be a familiar opponent. The former topped Group A while the latter finished third in Group D.
Mali had beaten Ghana in the final of the 2017 U-17 AFCON, and Niger had finished third in the same tournament. So the African champions would be confident going into the quarter-finals. Mali look extremely well-drilled and play with a seriousness and professionalism that belies the age-group. An all African clash in quarters works well for them. Facing an unknown opposition would be a much more of a tentative affair. Mali have the luxury to go in and play their game right from the starting whistle. Tougher tests lie ahead, though. If Mali progress to the semi-finals, either Spain or Iran would be waiting for them. Neither of them will turn over and die like Iraq did. But if Mali can maintain their prolificacy up front, they could match their best result at the U-17 World Cup—Runners-up in 2015— and maybe even better it.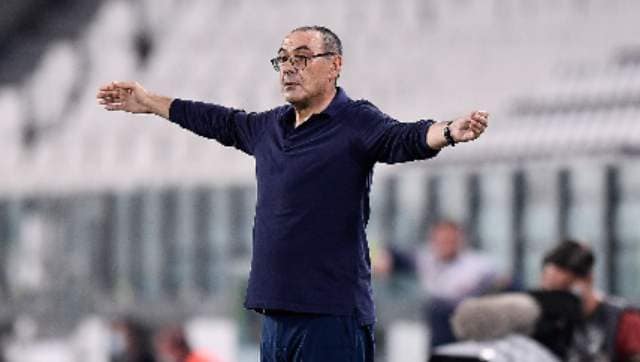 Sports
Before posting the confirmation, Lazio had earlier sent out a tweet showing a hand holding a lit cigarette, track suit tops and a simple drawing of a bank.
Sports
Barcelona striker Martin Braithwaite said the players would have "wanted a third option, because we didn't want to play," noting that the decision to resume the game was "not a wish".
Sports
Southgate's side were booed by a section of the crowd at Middlesbrough's Riverside Stadium when they made the gesture before friendlies against Austria and Romania last week, though the jeers were drowned out by applause.