FIFA U-17 World Cup 2017: Niger eye first win over Ghana in 'tricky' all-African Round of 16 clash
Niger have shown the glimpses of their confident game, but in Ghana, they will be facing a side who can take up the physical and technical challenges quite easily.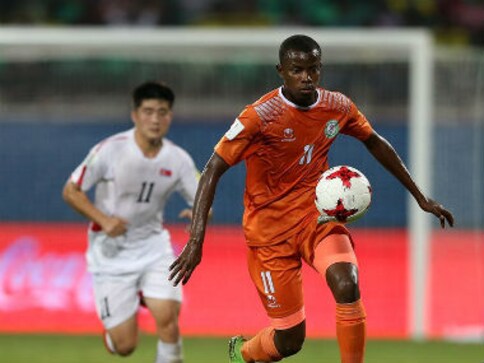 Navi Mumbai: Not many people notice how African teams set the stage alight when it comes to the beautiful game of football. Their obsession with the sport has united people of all backgrounds despite the national borders. Football is what brings them together in common cause and it is always a treat to watch an all-African clash, especially at the world stage.
At the ongoing FIFA U-17 World Cup in India, four African teams qualified for the main event out of which only three — Mali, Ghana and Niger — sealed a spot in the Round of 16. Mali, who were last edition's runner-up hammered Iraq 5-1 on Tuesday to enter the quarter-final stage, while Niger and Ghana are set to lock horns in what is going to be a 'rough and tough' clash in Navi Mumbai.
"Yes, it is going to be tough. We drew in Africa and then they (Niger) also have the belief that they can overcome us and that makes it very difficult. We know each other well and playing another African team is a bit tricky but then like I said, I want my team to fight these tricky situations," said Ghana coach Samuel Paa Kwasi Fabin. There are no doubts about the two sides' physical abilities as the continent has a history of producing excellent, well-built athletes. So one can expect a battle of physicality and athleticism when the two sides clash in Navi Mumbai on Wednesday.
Ghana, who topped the Group B on goal difference, have won all their three games against Niger recently, including two friendlies and a semi-final at U-17 Africa Cup of Nations, where they overcame the Menas on penalties (6-5) after a drab 0-0 draw.
"Before coming to the World Cup, we have played two friendly matches with Ghana, where we lost both the matches with the same score of 2-0. We've learned a lot from these two matches. It is always an additional experience. From losing 2-0 twice, we managed to draw the third. This time we hope it's a victory," Niger head coach Ismaila Tiemoko wished.
One thing that the World Cup has taught us over the years is the unpredictable nature of the grand stage, where even the strongest teams flounder. Iran, who eventually finished with a 100 percent record in Group C, set alarm bells ringing in the much-fancied German camp after a 4-0 win in Goa. On the other hand, Group B leaders Paraguay saw themselves struggling to make an impact as the USA sent them packing after a humiliating 5-0 drubbing in the Round of 16.
However, Fabin is not getting carried away with Ghana's form and instead stated: "Well, if you look at what has happened in the Round of 16 matches yesterday (Tuesday), you cannot just sit back relaxed after winning two games. For example, Paraguay. They won all their group matches but look at the scoreline against the USA. So, you have to give your best against underrated teams."
Ghana, one of the successful teams at this age-group, winning the 1991 and 1995 editions before facing a downturn due to age-fraud, will be under scrutiny by their own set of passionate fans who are eager to see them meet Mali in yet another mouth-watering all-African clash in the quarter-finals.
"It's huge for the fans back home. The one funny thing about our country is that any tournament we enter, the fans just expect us to win regardless of the opponents we meet. They always expect us to beat them. The expectations are very huge, I would say. We are managing that and we are trying to do our best here," says Fabin.
Ghana have caught the eye of everyone after conceding just one goal in three matches thanks to their rock-soild defensive pairing of Najeeb Yakubu and Gideon Mensah. The Black Starlets have also demonstrated a pacey brand of football. Captain Eric Ayiah, who netted twice against hosts India, has taken up the responsibility of creating loads of chances with team's attacking midfielder, Sadiq Ibrahim.
Meanwhile Niger, the only side of the three debutants at the U-17 World Cup to win a match and enter the last 16, are wary of the kind of threat their Ghanian counterparts possess but are not ready to go with the underdog tag into the clash on Wednesday. "We have nothing to lose and all to win in this match. I don't think it's everyone who says that Ghana will win. The match is not going to be same as earlier."
The West African side's win over DPR Korea in the group stages showed their physical prowess and the ability to match up to the speed of their opponents. "This match is going to be all about mentality. It's more about mental characteristics than physical or technical," he added. For Niger, 16-year-old Abdoul Karim Tinni Sanda, whose 90th-minute free-kick sealed qualification in the U-17 AFCON, will be expected to spearhead the attack alongside Ibrahim Boubacar and Hamid Galissoune.
What Tiemoko has suggested is not something every coach would say after suffering defeats at the hands of Brazil (0-2) and Spain (0-4) respectively. Despite being debutants, Niger have shown the glimpses of their confident game against some of the toughest sides in the tournament, but in Ghana, they will be facing a side who can take up the physical and technical challenges quite easily.
First Cricket News
India vs South Africa Live Streaming: Here's everything you need to know about the live streaming and telecast of the 1st T20I between India and SA.
First Cricket News
The Indian cricket team landed in Thiruvananthapuram on Monday for the 1st T20 while South Africa reached a day earlier.
Football
It was a tale of missed chances by both the teams and just when the first semifinal was headed for extra-time, Mumbai scored the all-important goal in the 90th minute.