FIFA U-17 World Cup 2017: India should be proud of their performance, says England coach Steve Cooper
After losing all their matches, hosts India made a group stage exit, but Cooper said the Luis Norton de Matos-coached side deserved kudos.
Kolkata: Hailing India for their spirited show, England Under-17 coach Steve Cooper on Friday said the FIFA U-17 World Cup has been a success, which has been been unheard of in a development tournament.
After losing all their matches, hosts India made a group stage exit, but Cooper said the Luis Norton de Matos-coached side deserved kudos.
"I know the results have not gone their way but they must be very proud of their performances. Congratulations to the coach. He has created a real good identity. They should be very proud of what India have done," Cooper said.
"We made real point for the players to certainly watch the opening game.. To show respect to the home nation and what wonderful experience they had to represent the country hosting a tournament like this.
"They did a real good job. I spent some time with (seniors coach) Stephen Constantine in the build-up to the tournament in Mumbai. He spoke very well."
Overwhelmed by the response of the tournament, Cooper further said there has been brilliant coverage of the games in India.
"This environment of 50,000-plus crowd is unheard of in a development tournaments. The coverage, the atmosphere... We have not noticed that before in a development tournament back home in Europe in World Cups. It's exciting.
"The way the tournament is producing and reproducing crowds, is unheard of... I'm sure tomorrow will be another day with fantastic crowd. It's just a fantastic opportunity for players how a top game looks like.
"To get an experience as early as in their career is so beneficial. Honestly the FIFA and the AIFF have done a fantastic job. We are so proud to be part of this."
Cooper said the rich U-17 World Cup experience will make them a better team in the future.
"We want to go far as we can. If they (players) break through to the the first team in their clubs, they would have seen what it looks like at a big stage.
"It's about to go and express and show true potential. When we get back on plane, these players will be better England players. We want to maximise the opportunity.
"By the time we are winding down the players are able to see the games personally. The level of the tournament is excellent. There has been a few surprises of course."
Iraq have been the surprise package and Cooper said they are not taking the Asian champions lightly.
"Any team can cause damage on any particular day. We are looking no further than tomorrow in the game against Iraq."
Mohammed Dawood, who has scored three goals in two matches, will once again stand in way of England's win and Cooper said he's aware of the threat.
"In such tournaments, you come up against best teams and players. Any game we play here is dangerous. Tomorrow will be no different. Dawood had a great start and had an impact and we are very much aware of it.
"Our game plan tomorrow is to control Iraq's biggest threat. We are very much aware of that. Hope we will deliver. We need to get the result right. We want to finish on top."
"We will play a team who can achieve that like we have done in the first two games," he said referring to their wins over Chile and Mexico.
Dortmund's talented youngster Jadon Sancho may return home after the group stage but Cooper said he's not looking that far.
"Sancho is available tomorrow. All we need now is to focus on the game tomorrow. We know Iraq will be a tough opposition and put strong show against Chile and Mexico. We will cross the bridge when it comes. We are not really looking that far now."
Sancho has proved his worth with three goals in two matches but Cooper said: "For me, I'm not interested in who scores goals as long as our tally is better than the opposition. I'm just interested in not conceding goals."
Manchester City defender Joel Latibeaudiere started off as Young Lions captain in both their wins but Cooper said the vision is to develop leadership qualities and have more than one captains in the side.
"We are a putting a big emphasis on a lot things. One of the aspects that we are looking in individual players is leadership. Our senior manager Gareth Southgate is a big believer of having more than one captain on the pitch.
"Obviously one person needs to wear the captain's arm band. Joel has worn the arm band but part of our work is to develop leaders and the right characters. I think Joel is a good example of that and we have a lot others as well. That's pleasing. Earlier we start the process, the better for us.
Sports
A 2-1 defeat at relegation-threatened Mainz a fortnight ago cost Bayern the chance to be confirmed Bundesliga champions for the ninth straight season.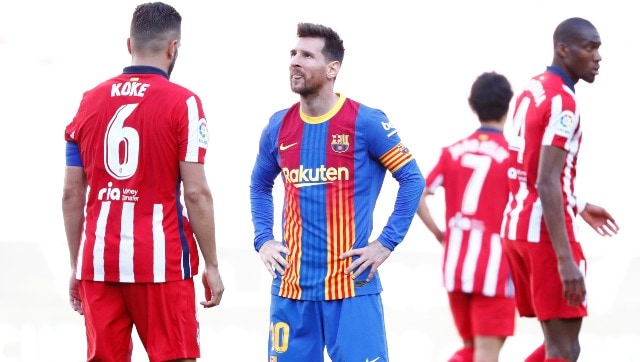 Sports
Four wins from their last four games will now be enough for Zinedine Zidane's side to retain their La Liga crown, with a crunch game at home to fourth-placed Sevilla up first on Sunday.
Sports
The move came a few hours after the club's American owners announced that current coach Paulo Fonseca will depart at the end of this season. Mourinho's contract is for three seasons.