FIFA U-17 World Cup 2017: How Arsene Wenger's first boss Jean-Marc Guillou is powering Mali's charge
Jean-Marc Guillou, who gave Arsene Wenger his first coaching break, is the man behind the footballing revolution brewing in Mali, who have made it to the semi-final of this year's FIFA U-17 World Cup having lost in the final last time around.
Everyone knows Arsene Wenger in England and in Europe, where his position as the manager of Arsenal has become something of a long-running soap opera. Everyone knows Wenger in France, where they still see him as the prodigal national son who went away and became a man. Everyone knows Wenger in Japan, where he made his bones before coming to the big-bad world of English football. Everyone even knows Wenger in the stands of the stadiums hosting the FIFA U-17 World Cup 2017, where they held posters aloft asking him to leave Arsenal.
But hardly anyone knows Jean-Marc Guillou.
Guillou who?
Guillou is the man who, as manager of Ligue 2 club Cannes in 1983, gave Wenger his first coaching break.
Guillou is the man who, at the now-famous Academie MimoSifcom at Ivory Coast's capital Abidjan, gave the world players such as the Toure brothers, Didier Zokora, Gervinho, Emmanuel Eboue and Salomon Kalou. In fact, Guillou went as far as buying Belgian club KSK Beveren in 2001 to capitalise on Belgium's generous naturalisation laws and import 24 Ivory Coast players, including Yaya Toure, to the European country, where they went on to play in the Belgian top division.
Guillou is also the man behind the footballing revolution brewing in the western African country of Mali, who have made it to the semi-final of this year's FIFA U-17 World Cup having lost in the final last time around.
Mali have perpetually lived in the shadow of footballing powerhouses like Ghana and Nigeria. But in the last few years, they have started to assert their dominance in youth football, winning the CAF U-17 Africa Cup of Nations in 2015 and 2017. Their title-winning run in Gabon this year saw them register some landslide wins, like the 9-0 victory over Chad in the qualifying rounds and a 6-1 thrashing of Angola in their third match.
Much of the credit behind the youth team's supremacy goes to the eccentric ways of Guillou.
"He noticed that players from Mali had real potential. He wanted to capture that. That's why he came to Bamako to invest in the youth around the country," says Tangara Yacouba, the media manager of the Mali U-17 national team, ahead of the team's semi-final clash against Spain on Wednesday at Navi Mumbai's DY Patil Stadium.
Barefoot football, goalkeeper-less matches
Kids in Mali ordinarily start playing football from the age of six. Guillou's academy, called the JMG Academy, which has had an agreement since November 2006 with Malian club AS Real Bamako, picks up kids at the age of nine. For the next three years, the players train — and even play in matches — barefoot. Sometimes, the teams will play matches without a goalkeeper.
The rationale: Guillou's belief that when kids play without football shoes, they are more sensitive to the ball which improves their touch.
"Maybe you will have cuts on your feet and they will even swell, but that's how you learn back in Mali. And that's how you create big players," reasons Tangara.
Guillou believes that playing sans a goalkeeper improves the other players' desire to defend higher up the pitch knowing that they no longer have their last line of defence.
Guillou's academy, in reality, is a bootcamp of sorts. The best 30 players, who get picked up after trials where some 1,500 take part, stay at this academy for years, sometimes not even seeing their parents for months. Everything is taken care of at this academy, including their education.
"Sometimes the parents request for the kids to be sent home. But it's very rare that these requests are accepted," says Tangara.
But the end results of this blinkered approach are visible in the success of the Mali junior team, which has as many as four players from the JMG Academy currently in India for the World Cup, including Salam Giddou, Cheick Doucoure, Mahamane Toure and captain Mohamed Camara.
The eccentric training methods used at the club have also helped six players from the academy — like Yves Bissouma, who plays for Lille and Adama Traore, who plays for Monaco — secure contracts at European clubs.
"It has been 10 years since he started this partnership with AS Real Bamako. Now he has signed a contract with another club in Mali. That club used to produce good players before, but their academy has stopped producing decent players off late. This is his new challenge in Mali, to make the club start producing better players," Tangara adds.
Meanwhile, the young players from Mali have their own challenge facing them in India: Winning the FIFA U-17 World Cup.
Sports
The Welsh captain has not played since the goalless draw against Estonia on 8 September after being injured on his return to Real Madrid.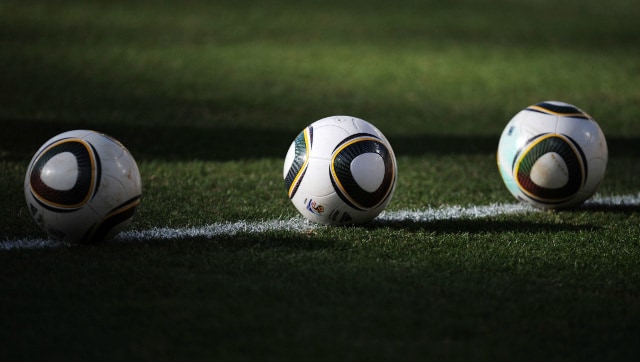 Sports
The group of junior players and their coaches and families had tried to escape the country last month but a devastating bomb attack at Kabul airport left them stranded, someone close to the team told AFP.
Sports
The AFC said it applauds the spirit of partnership and strong principles of inclusivity, which FIFA's consultative approach seeks to achieve.