FIFA U-17 World Cup 2017: Happy with style of play but a lot more to do, says Brazil coach ahead of semis
There is always an exhibition of beautiful football whenever Brazil play but head coach Carlos Amadeu on Tuesday said that his side will not be content with just doing that and are determined to win the FIFA U-17 World Cup.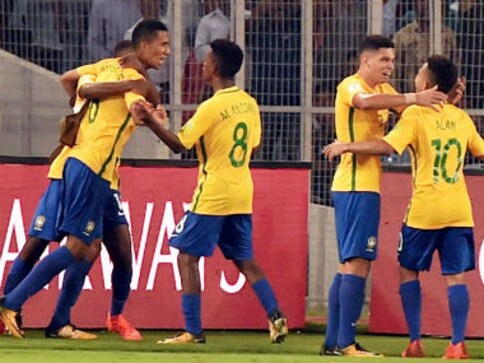 Kolkata: There is always an exhibition of beautiful football whenever Brazil play but head coach Carlos Amadeu on Tuesday said that his side will not be content with just doing that and are determined to win the FIFA U-17 World Cup.
Brazil have won the FIFA U-17 World Cup three times overall but have not lifted the trophy since 2003.
"The mood is really happy in the camp but we are not finished. We know we have more things to do and we are clear what to be done (to win this competition)," Amadeu said at the pre-match press conference ahead of the semi-final clash against England in Kolkata on Wednesday.
"We want to play the Brazilian style of beautiful football. Every time you represent Brazil, there is a similar buzz attached with the team, be it in a friendly or a World Cup. We are happy with that but we have more things to do here," he added.
Brazil rallied from a goal deficit against Germany in their quarter-final match with strikes from Weverson and Paulinho in front of a 66,000-odd crowd supporting them.
Amadeu said there is little to separate between his side and England.
"Both teams are totally balanced. No team has any advantage. Both can win, we or them. It's a battle between two strong teams with individual players who have really great skills. It will be a great match," he said.
"If you see the history, we have balanced results. We faced England the most at youth level last year and the results were almost same number of wins, losses and draws."
Asked whether his side's defence would be the key against the attacking Young Lions, he said: "We have a set of plans and it's no secret. When we have the ball we attack, when we lose the possession all players go to defend. We try to maintain this balance. We have to be committed to offensive and defensive system. Hope the boys will show good fight tomorrow."
England played all their three Group F matches and also the pre-quarter-final against Japan in Kolkata but the Brazil coach said his side too have adjusted to the conditions after playing against Germany at the city's Vivekananda Yuva Bharati Krirangan, known more popularly as the Salt Lake Stadium.
"It's not an advantage for England. Since the start, I too would have liked to play our matches here but it's not possible. But we had one match here and we are used to the conditions."
The match was originally scheduled to be held in Guwahati but it had to be shifted to Kolkata at the last minute due to poor ground conditions at the Assam capital.
The Brazilians had faced inconvenience as they had to travel back to Kolkata hours after they landed in Guwahati on Tuesday. But they are not complaining. Rather they were happy to be back.
"The only thing I can say is that we are really happy to play in the World Cup. Whatever happens, we will adjust. We don't have the power to choose a venue or influence FIFA. We would have liked to play there in Guwahati as well, as the crowd there too was welcoming.
"But when we got there, we were informed that the match will be shifted to Kolkata. So we are happy to be back here again. Kolkata received us a very good way and put on a spectacular show," he said referring to the quarter-final against Germany that witnessed a record crowd attendance of 66,000-plus.
Brazilian defensive midfielder Victor Bobsin will play a key role against England on Wednesday and he said he's ready for the challenge.
"I expect a difficult game against England but we cannot have too much respect for our opposition. England are no different. We expect to be strong in defence and expecting to be aggressive too," he said.
Find latest and upcoming tech gadgets online on Tech2 Gadgets. Get technology news, gadgets reviews & ratings. Popular gadgets including laptop, tablet and mobile specifications, features, prices, comparison.
Sports
"Never again. Never again corruption in football," said Infantino, who is himself under investigation in Switzerland over meetings he had with then-attorney general Michael Lauber.
Sports
Italian football matches have been closed to fans since the country was ordered into a strict lockdown in March.
Sports
Valcke said he had struggled "with no income" since losing his job at FIFA in 2015. He said he had to sell his yacht and jewellery, and had been "unable to open a bank account in Europe" since 2017 — he divorced a year later so that his wife could.