FIFA U-17 World Cup 2017: Germany, Iran face off in Group C clash with sights on knockout berth
Both the teams have won their respective opening matches with Germany getting past Costa Rica 2-1 and Iran beating Guinea 3-1 last Saturday.
Margao: Germany and Iran will look to book a berth in the knock-out stage when they clash in a Group C league match of the FIFA U-17 World Cup at Nehru Stadium, Fatorda on Tuesday.
Both the teams have won their respective opening matches with Germany getting past Costa Rica 2-1 and Iran beating Guinea 3-1 last Saturday.
During their opening match, Germany had a shaky start before taking a lead midway in the first half through their star striker Jann-Fiete Arp. Costa Rica fought back to restore parity in the second half through Andres Gomez.
With the match heading towards a draw, it needed substitute Noah Awuku's effort to score the winner in the dying minute to give Germany full points.
Iran, on the other hand, soaked all the pressure from Guinea in the first half and then came strongly in the second half and captilised on the chances that came their way to score a comfortable 3-1 win.
Come Tuesday, Nicolas Kuehn, Noah Awuku and John Yeboah will lead the attack from the middle for Germany and Jann- Fiete Arp, who has been the leading scorer at home, will look to continue his run against Iran, who has a compact defence.
"We did not get the start we wanted. The boys were nervy at first against Costa Rica but settled down and went on to beat Costa Rica," German coach Christian Wucku said.
"They have the potential to play better and I am looking forward to see them play to their potential against Iran who play a tactical game and have a strong defence," said Wucku.
Iran, who play a defensive game initially and slowly open up the game in the second half, will be looking to repeat the same against Germany who look strong in their attack.
Iran's coach Abbas Chamanian said: "Now that we have won against Guinea we need to counter the German as they are well organised in their attack and defence.
"We have worked out a strategy to counter and hopefully we'll succeed and win tomorrow which will see us into the round of 16," said Chamanian.
Teams (From):
Germany: Luca Plogmann, Alexander Nitzl, Pascal Hackethal, Dominik Becker, Jan Boller, Noah Awuku, Shaverdi Catin, Eric Majetshcek, Jan-Fiete ARP, Elias Abouchabaka, Nicolas Kuehn, Luis Klatte, Dennis Jastrzembski, Yannik Keitel, Kilian Ludewig, Lars Mai, maurice Malone, John Yeboah, Jessic Ngankam, Yann Bisseck and Marian Prins.
Iran: Gholam Zadeh Gomari, Satavi, Jalali, Esmaeil Zadeh Shahkola, Nasiri, Shariati Khameneh, Hosseinzadeh Tazehgheshlagh, Sharifi, Sayyad Manesh Shiadeh, Ghobeishavi, Delfi, Ashayer, Janipour, Davaran, Kooshki, Namdari DEhghadi, Ghaderi, Karimi Lishter, Sardari Amidabadi, Khaghani and Khoda Moradi.
Find latest and upcoming tech gadgets online on Tech2 Gadgets. Get technology news, gadgets reviews & ratings. Popular gadgets including laptop, tablet and mobile specifications, features, prices, comparison.
Sports
Human foosball players acknowledge that some of the magic is missing, particularly the game's friction, the 'in the ear' trash talk and the kicks followed by apologies. But the point of the new system is to keep a distance.
Sports
Buffon returned to Juventus a year ago after one season away at Paris Saint-Germain. He joined the Bianconeri in 2001 after beginning his career with Parma.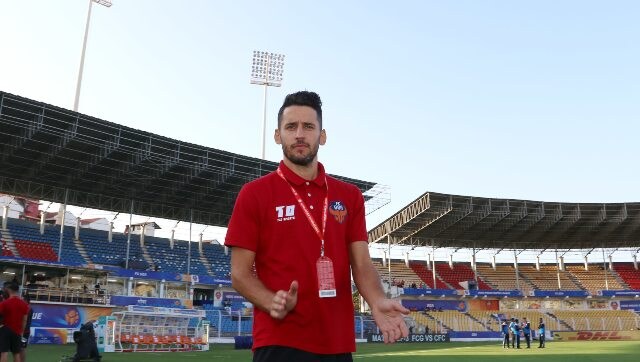 Sports
As per the new regulation, an ISL club could sign a maximum of six foreigners in the squad including a compulsory Asian origin player, with four foreigners on the field.