FIFA U-17 World Cup 2017: Germany firm favourites in Group C, but Iran, Costa Rica and Guinea not here to fill numbers
Somewhere in between, camped at one of India's oldest football hotbeds, is Group C, comprising Germany, Iran, Costa Rica and Guinea, which could be one of the most closely fought groups at the World Cup.
Youth tournaments, though often overlooked by sports fans, are of much more interests to scouts and coaches than senior-level extravaganzas that enjoy abundant fanfare. It is because youth tournaments, such as the fast approaching U-17 World Cup, act like time machines. If you look hard, you see the future. Every team in every sport is searching for its next superstar. In football, which has forever seen teenagers tear into the global scene, since the age of Pele, down to Kylian Mbappe today, that search has always been there and has only intensified. Starting Friday, 24 nations, including hosts India, will look to their teenage heroes to rise above the pack, get noticed and, most importantly, get their hands on the FIFA U-17 World Cup.
Six cities, Kolkata, Kochi, New Delhi, Navi Mumbai, Guwahati and Margao (Goa), will host the participating nations and the thousands of fans expected to turn up for India's first ever FIFA World Cup in any age group. The hosts find themselves in one of the toughest groups, Group A, alongside United States, Colombia and Ghana. And the two tournament favourites and practitioners of beautiful football, Spain and Brazil, have been clubbed with North Korea and Niger in Group D. However, somewhere in between, camped at one of India's oldest football hotbeds, is Group C, comprising Germany, Iran, Costa Rica and Guinea, which could be one of the most closely fought groups at the World Cup.
Group C will play all but one of its games at the Fatorda stadium in Margao, Goa, a state known for its traditional love of football in the country. It won't take more than a look at the group to know that Germany are the overwhelming favourites to top the group. And not just top it but go deep in the tournament. But one would do better to expect a strong fight from Iran, Costa Rica and Guinea.
Iran
Iran qualified for the U-17 World Cup by finishing runners-up at the 2016 AFC U-16 Championships. India were hosts then too. Iran are also much more familiar to the venue, surroundings and conditions than other Group C nations, owing to the fact that they played all of their games, including the final against Iraq at the Fatorda. They had scored 13 goals in five games at the tournament, before they lost to neighbours Iraq on penalties in the final. Midfielders Mohammad Ghaderi and Mohammad Sharifi had scored three goals apiece at the championships. So, it would be surprising if Iran don't do well and take advantage of their familiarity with the conditions.
Previous U-17 World Cup record: Iran don't have a good history at the U-17 World Cup and did not qualify for the 2015 edition in Chile. This is only the fourth time they have qualified for the competition since 1985. Their best result in the competition was in 2009 and 2013 when they reached the Round of 16. In 2013, they were knocked out by eventual champions Nigeria.
Key players: Sharifi and Ghaderi, both 17-years-old, seem to be the pick of the lot. Both midfielders impressed in the AFC Championships last year and found the net on more than one occasion.
Costa Rica
Costa Rica had reached the quarter-finals in the 2015 edition of the U-17 World Cup held in Chile. They had then beaten South Africa and drawn with Russia to qualify for the knockout stages and then gone on to beat France on penalties, before finally crashing out against Belgium in the quarters. But, two years on, theirs is a completely different U-17 team, but not completely without promise. At the 2017 CONCACAF U-17 Championships, Costa Rica finished top of their group by winning all three of their matches against Cuba, Canada and Suriname respectively. However, they were trounced 6-1 by eventual champions Mexico in the qualification stage, finishing second to qualify for the U-17 World Cup. The same Mexico squad is in Group F at the U-17 World Cup, clubbed in with one of the tournament favourites England, Iraq and Chile. Costa Rica would be aiming to progress beyond the group stages at the World Cup, especially since four best teams (on the basis of the hierarchy of points, goal difference, goals for, fair play points and lot draw) who finish third in their respective groups will also qualify for the knockout rounds, in addition to the top two teams from each group.
Previous U-17 World Cup record: Besides reaching the quarter-finals in the 2015 edition, Costa Rica has an impressive past in the competition. From 2001 through 2007, they reached the quarter-final stage for four consecutive years, which was followed by a group stage appearance in 2009. Costa Rica failed to qualify for two editions, in 2011 and 2013, before qualifying and making to the quarters again in 2015. They would be hoping to finally break the barrier and go beyond quarters this time around.
Key players: Seventeen-year-old forward Jose Alfaro played a key role in Costa Rica's qualification for the U-17 World Cup, netting in three goals at the 2017 CONCACAF Championships. Costa Rica would be putting their faith in him to lead the line again in India. Besides the striker, 17-year-old left back Walter Cortes also impressed in the regional competition and was named in the best XI at the CONCACAF Championships.
Guinea
While Iran and Costa Rica would be hoping for qualification, they would be fools to disregard Guinea, who finished third in the 2017 U-17 Africa Cup of Nations. Guinea have a less-than-stellar history at the U-17 World Cup, but their current U-17 squad showed immense promise at the U-17 AFCON. They were unbeaten in the Group stages and finished second behind African powerhouse and eventual Runners-up Ghana, demolishing hosts Gabon 5-1 in the process. Their 14-year-old forward Djibril Toure scored a hat-trick in the game. They also drew against Cameroon and Ghana, and thus progressed to the knockout rounds. Guinea lost to Mali on penalties in the semis after regulation time yielded no goals. They went on to beat Niger 3-1 in the third-place match, where Toure's brace proved to be crucial. Guinea would be looking to play fearless football at the main event in India and their young forward is one to watch out for.
Previous U-17 World Cup record: This is Guinea's fifth appearance at the U-17 World Cup. Their best result in the competition yet was at the inaugural edition in 1985, held in China, when they finished fourth. Since then, Guinea have not managed to progress beyond the group stage in three appearances in 1989, 1995 and 2015. Having gained some confidence with their showing in the 2017 U-17 AFCON, Guinea would be backing themselves to reach the knockout stage in India.
Key players: Djibril Toure lit up the U-17 AFCON and finished as tournament top scorer with six goals. Toure is one the youngest players at the U-17 World Cup and is expected to replicate his form from the AFCON.
Germany
The elephant in the room, of course is Germany. The European powerhouse, after enjoying great success with their defensive and gritty brand of football through the ages, implemented plans that were a paradigm shift after the 2002 World Cup final loss to Brazil. Jurgen Klinsmann and Joachim Loew not only changed how Germany played the game, bringing in a stylish, fast-paced and attacking football, but also changed the entire football setup in the country. Numerous youth academies integrated with both the Bundesliga and the national team were set up and talent was scouted on a widespread scale. It was considered, that Germany, once famous for its great strikers, had stopped producing its goal scorers. But with time, Klinsmann and Loew's plans bore fruit and young players burst into the scenario.
Mesut Ozil, Thomas Mueller, Toni Kroos, Bastian Schweinsteiger, Sami Khedira are stars now and Germany are world champions. They no longer need a classical number 9 striker. They have plenty who could dribble, pass and score with equal measure. Just one look at Germany's senior squad which won the recently concluded Confederations Cup in Russia, and you would know their foundations are strong and their future secure. The average age of the squad was 23.8 years, captained by 24-year-old Julian Draxler and spearheaded by 21-year-old Timo Werner.
Their U-17 squad is following in footsteps of their seniors. Germany finished third at the 2017 U-17 European Championships, losing to eventual champions Spain in the semi-final, on penalties no less. Their captain Jann-Fiete Arp scored seven goals in the tournament, which included a record-breaking 13-minute hat-trick against Bosnia and Herzegovina in the group stages, and is one of the players to watch out for in the World Cup as well. Just this last weekend, 17-year-old Arp, who plays for German club Hamburger SV, made history when he played against Werder Bremen and consequently became the first player born after 2000 to appear in the Bundesliga.
Previous U-17 World Cup record: It might come as a surprise to some, but Germany have never won the U-17 World Cup. Their best result in the competition was at the inaugural edition in 1985, when they finished Runners-up. In addition to that, they have a couple of third place finishes in 2007 and 2011. In the former, Toni Kroos was judged as the best player at the tournament and awarded the Golden Ball. It won't be a surprise if we saw a player from the current German U-17 squad become a star in the not-so-distant future.
Key Players: All eyes will be on Germany's skipper and striker Arp. Having already impressed at the U-17 Euros, he is one of Germany's most exciting young prospects. If he has another good tournament, his credentials and quality will be bolstered further and big European clubs could come calling.
Riding on their impressive U-17 Euro display, Germany would be hoping to win their first U-17 World Cup this time around. They are without doubt the team to beat in Group C, which might not be the 'group of death', but, with its spirited members, just might be the group full of life.
Find latest and upcoming tech gadgets online on Tech2 Gadgets. Get technology news, gadgets reviews & ratings. Popular gadgets including laptop, tablet and mobile specifications, features, prices, comparison.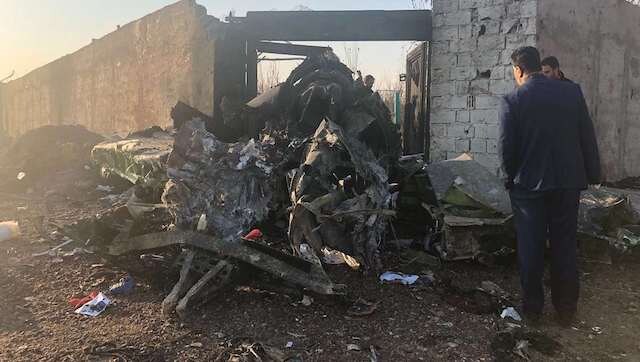 World
On 8 January, a Ukrainian airplane carrying 176 people crashed shortly after the plane took off from Tehran's main airport, killing all on board.
World
The list containing countries posing "a reduced risk" from the deadly coronavirus includes European destinations of Germany, France, Spain and Italy as well as Australia and New Zealand.
World
A video posted on social media appeared to show multiple explosions at the north Tehran site and another showed firefighters using a ladder to reach the roof of the building