FIFA U-17 World Cup 2017: Denying India an opening ceremony is illogical, incorrect move
It's a bit strange that India was told they could not host an opening ceremony for the FIFA U-17 World Cup that is set to kick off in a few hours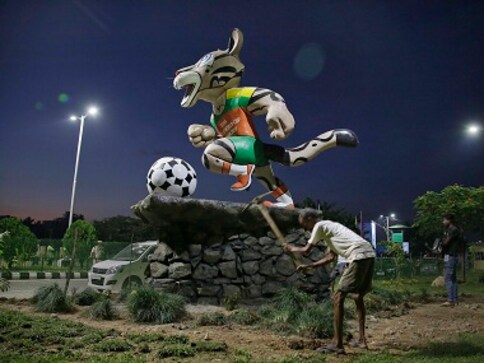 Meet Anshu.
Anshu is the youngest among seven siblings. On the eve of his fifth birthday, he walked up to his parents with a request. "Mom, Dad, this year for my birthday, I would very much like a cake," he offered politely. It was a birthday after all. There must be cake. "Cake, you say," asked Mom and Dad, "Well, in this house, we don't really have cakes on a birthday. It takes focus away from the spirit and joy of turning a year older. In fact, none of your brothers or sisters ever had a birthday cake."
He scratched his chin thoughtfully and laid to rest his ideas of a Transformers-themed cake and went back to his room. On the way there, he spotted a few framed photographs of his siblings. The pictures appeared to have been taken on the occasion of their respective birthday parties. And guess what those brothers and sisters of his were cutting in each of those photographs.
Anshu may or may not be real, but one of the very real hallmarks of multilateral sporting extravanganzas is the opening ceremony they showcase — the birthday cake, if you will. From the jaw-dropping spectacle put on by the organisers of the 2008 Beijing Olympics to the colourful show before the 2010 World Cup in South Africa and the tribute to all things British ahead of the 2012 London Olympics (to name but a few), opening ceremonies are one of the most memorable aspects of a world tournament. Even if the actual event is a damp squib, opening ceremonies remain in the memory for many years to come.
Which is why it's a bit strange that India was told it would not be hosting an opening ceremony for the FIFA U-17 World Cup that is set to kick off in a few hours.
Tournament director Javier Ceppi was widely quoted as having said in August that an opening ceremony isn't a 'usual aspect' of World Cups at the U-17 level, "because in these tournaments football is the real star". He added, "To be in line with previous tournaments, and in the best interest of the sport, we believe that the main focus should remain on football and the players, and that the investment necessary for an opening ceremony is better deployed in the youth and in football development of the country."
A noble sentiment indeed. After all, the biggest tribute one can pay to a global sporting event is to ensure that it acts as a step in the country's development of said sport/s.
Ceppi nobly went on to add, "For us, the most important thing is what actually happens on the ground and the complete focus of the nation should be on 6 October when the Indian National Anthem is played for the first time in a FIFA World Cup. At the end of the day, not too many people remember an opening ceremony, but almost everyone will remember the first time India ever played in a football World Cup and our attention and energy should be directed towards that," he added.
Wiped the tear rolling down your cheek yet? Good, because moving and uplifting in equal parts as the visuals conjured by his words may well be, there's a problem with Ceppi's statement.
Three problems, to be precise:
First, the claim that opening ceremonies aren't 'usual aspects' of such events.
Second, the claim that denying India permission to hold a ceremony to herald the start of the World Cup was 'in line with previous tournaments'.
Third, the notion that India not holding an opening ceremony is 'in the best interest of the sport'.
Let's address the first two problems with the help of a few visual aids:
This is a snapshot of the opening ceremony at Abuja National Stadium held before the first match of the 2009 edition of the U-17 World Cup.
And this is a moment captured during the opening ceremony of the 2013 edition of the tournament, at the Mohamed Bin Zayed Stadium in Abu Dhabi.
Two years later, Chilé kicked off the 2015 U-17 World Cup at the Estadio Nacional Julio Martínez Prádanos in Santiago with an opening ceremony of its own. And before you walk away with the impression that it's only the boys having all the fun, the 2016 Women's U-17 World Cup in Jordan also kicked off with an elaborate opening ceremony in Amman.
Scintillating stuff. And yet, this isn't deemed by Ceppi to be a 'usual aspect' of U-17 World Cups. Also, in order to be 'in line with previous tournaments', you apparently have to do the exact opposite of those previous tournaments.
And this brings us to the prickly third problem: The best interest of the sport.
Certainly, it is in the best interest of the sport to invest the Rs 10 crore (depending on whom you ask) in football rather than on an opening ceremony. FIFA had conveyed to the Government of India that it would not allow any extra expenditure from the Rs 80 crore that it had sanctioned for the organisation of the World Cup. This is perfectly sensible. After all, it should be upto the relevant government to decide how much it wishes to spend on an opening ceremony, whether it wants to go the lavish China way or the economical South Africa way. But to dictate to a sovereign nation what it can and cannot do with its taxpayers' money — particularly when this sovereign nation is one that believes in spending crores on statues — is a bit of an overreach by FIFA.
Worse still is the flawed interpretation of 'the best interest of the sport'. India is home to a largely untapped football market of over 1.3 billion people. This is the first time India has ever been involved in any significant capacity on the global footballing stage. As a world sports body, FIFA should have been encouraging the Indian government to do what it could to attract larger audiences to the sport. Sure, an opening ceremony only goes so far, but at least it's something to which first-time watchers of the game can relate.
Maybe they'll be interested in sticking around and catching a few of the games. Maybe that interest will translate into playing the sport or at least watching it more keenly. Maybe, the names of Jeakson Singh, Nongdamba Naorem and Rahim Ali will roll off their tongues as easily as those of Virat Kohli, Sachin Tendulkar and Vangipurapu Venkata Sai Laxman presently do. And there'll be no need to hyperlink them anymore.
Let's look at a conspiracy theory from a hypothetical standpoint. There's the minute possibility that FIFA feared that trademark Indianness (for want of a better term) might enter the opening ceremony, and so decided that it would not serve the sport's best interests to let India embarrass world football. After all, why allow the U-17 World Cup be used as a platform from which to let Bollywood actors promote their latest films, politicians to talk about how they've done so much for the country, administrators to call Camilla Parker Bowles 'Princess Diana' or Narendra Modi to give a 10 or 15-minute (depending on who you ask) speech? Unfortunately for FIFA, that isn't really its business. I'll be the first to admit a lot of opening ceremonies in India range from borderline cringeworthy to downright crass, but that doesn't mean they should not be held. By handing the rights to host a World Cup to India, it allowed India to host the event in its own manner, so long as the regulations were met. Content isn't for FIFA to decide.
As it turns out, we'll never know what that content was and what Kheleo the clouded leopard would have gotten upto. Just like Anshu will never know what cake he would have had.
Well done, FIFA! Way to rain urinate all over our parade!
Somehow, rain doesn't adequately cover the bad taste in the mouth this whole episode has left.
India
The Indian pavilion will be inaugurated by Union Minister Anurag Singh Thakur on Wednesday at Cannes and the universal theme for this year is India the content hub of the world
Politics
What Narendra Modi has gone through and accomplished for India is immensely poignant and deeply transformative
Politics
No matter at which end of the spectrum one stands, it cannot be denied that Narendra Modi is a phenomenon