FIFA U-17 World Cup 2017: Central American champions Mexico face Asian powerhouse Iran in pre-quarters
Iran have enjoyed a good run in this tournament, beating Guinea (3-1), Germany (4-0) and Costa Rica (3-0) to top Group C, while Mexico have not had a great tournament so far.
Margao: High on confidence after a strong show in the group stage, Asian powerhouse Iran would look to keep their unbeaten run intact when they face Mexico in a pre-quarterfinal match of the FIFA U-17 World Cup on Tuesday.
Iran have enjoyed a good run in this tournament, beating Guinea (3-1), Germany (4-0) and Costa Rica (3-0) to top Group C.
They had would be looking to keep the momentum going in their bid to reach the quarterfinals for the first time in their fourth appearance in the tournament.
Iran will, however, be without their key defender and captain Mohammed Ghobeishavi for Tuesday's match after he received a yellow card against Costa Rica, his second in the tournament.
Coach Abbas Chamanianian took Ghobeishavi's absence in his stride, saying these things happen in football.
"Our main focus for tomorrow's (Tuesday) match is to play a collective game just like we did in the league phase especially against Germany which was the best in the tournament.
"Now we are looking to do the same against Mexico who will pose a threat with their physical built and stamina and speedy run," the Iran coach said.
Iran's confidence is sky high after three wins on the trot, especially after a 4-0 thrashing of European powerhouse Germany in their second match. Their strikers have been among goals, defence has looked compact so far and they have conceded just one goal in the tournament.
Younis Delgi and Allahyar Sayyad have been brilliant upfront as and have been involved in almost every chance Iran have created.
Mohammad Ghaderi and Mohamad Sharifi have been lively in the midfield. Iran are good in the air and take advantage of the dead ball situations. And they are fast on the counter-attacks as well.
The farthest Iran had progressed at the FIFA U-17 World Cup was the round of 16. They've matched that already and must be looking to go further and improve their record. Coach Abbas Chamanyan said they expect to at least be in the semi-finals.
Two-time Champions Mexico have not had a great tournament so far, considering that they came here as Central American champions.
They finished third in Group F and qualified for the round of 16 without a win, as one of the four best third-placed team. They earned the least number of points (two points) in the group stage among the round of 16 qualifiers.
They drew their first match against Iraq (1-1) and then lost to England (2-3) before drawing against Chile (0-0).
Mexico, who play a one-touch game and are known for their attacking game, have not lived up to the expectations. They will face a stern test on Tuesday against a confident Iran.
Mexico coach Mario Arteaga said he wants to forget the past performances and look afresh.
"We had a difficult first phase in the tournament and luckily made here in the knock-out phase. We want to put our poor performance behind and looking to give our best to win tomorrow," stated Arteaga.
The Teams (From):
Iran: Gholam Zadeh Gomari, Satavi, Jalali, Esmaeil Zadeh, Shahkola, Nasiri, Shariati Khameneh, Hosseinzadeh Tazehgheshlagh, Sharifi, Sayyad Manesh Shiadeh, Ghobeishavi, Delfi, Ashayer, Janipour, Davaran, Kooshki, Namdari DEhghadi, Ghaderi, Karimi Lishter, Sardari Amidabadi, Khaghani and Khoda Moradi.
Mexico: Victor Diaz, Cesar Lopez De Alba, Cesar Rafael Ramos, Alan Maeda Luevanos, Luis Alejandro Salcedo, Oscar Haret Ortega, Carlos Alejandro Robles, Adrian Hernandez, Sergio Villarreal Lozano, Raul Martin Sandoval, Luis Javier Avila, Carlos Eduardo Guerrero, Alexis Gutierrez Torres, Diego Lainez Leyva, Deivoon Alexander Rico, Jesus Andres Alvarez, Marco Antonio Zarco; Ian Jairo Torres, Roberto Carlos De la Rosa, Cesar Saul Huerta, Daniel Guadalupe Lopez.
Sports
Iran kicked off their campaign in the FIFA U-17 World Cup with a 3-1 drubbing of Guinea in a Group C encounter at the Nehru stadium on Saturday.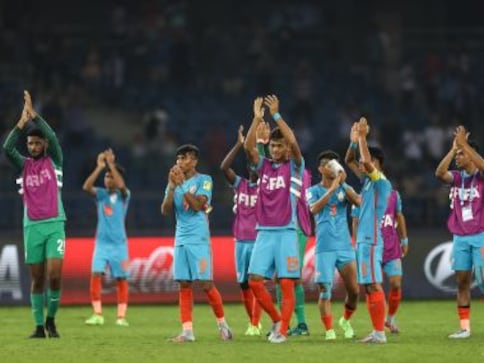 Sports
Here's an explainer of the overall qualification criteria and scenarios for each groups of the FIFA U-17 World Cup 2017 going into the final round
Sports
Pragmatism may have secured Iran's entry into the World Cup, but they will need much more to succeed at the World Cup in October.