FIFA U-17 World Cup 2017, Brazil vs Honduras, Football Match Result: Brazil cruise past Honduras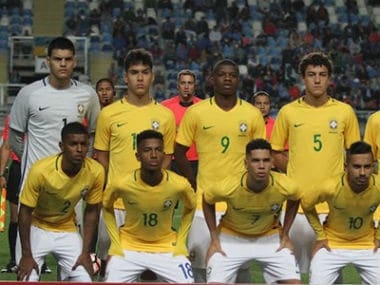 22:02 (IST)

That's it from us here. Thank you for being with us. Goodnight!

Fulltime Brazil 3-0 Honduras

An understandably low-key finish to this game. Once Brazil had scored their third goal, there was little left to battle for. The three-time champions have eased their way into the quarters where they will face Germany on Sunday. As for Honduras, the side finished the World Cup with 14 goals conceded in four matches. Once again, the Central Americans could not compete with a superior opponent and their campaign comes to a tepid end.

21:54 (IST)

Fulltime! Brazil 3-0 Honduras

Brazil are through to the quarter-final of the FIFA U-17 World Cup. It was always an uphill task for Honduras against this highly talented Brazil side but they had their chances only for luck to let them down.

Brazil now travel to Kolkata where they will take on Germany on Sunday in a what promises to be a thrilling match.

21:46 (IST)

84` Brazil 3-0 Honduras

Brazil have opted to keep the ball deep in their own half as their back four exchange 20-25 passes among themselves. They also include Brazao into their passing routine a couple of times. Brazil's reluctance to get farther ahead on the pitch sees the Kochi crowd whistling and egging their favourite team to get on the attack. You don't often see the Kochi crowd being unhappy with Brazil.

21:37 (IST)

76` Brazil 3-0 Honduras

Victor Yan gets his first appearance of the tournament as he replaces Wesley. Meanwhile, Honduras' Axel Gomez is the first player to be booked tonight.

69` Brazil 3-0 Honduras

Honduras have clearly been second best all evening but a few chances are coming their way as Brazil let the intensity up. Palma came close for the second time in this match when his curled shot from distance narrowly missed the target; Mejia follows it up with a similar effort which crashes onto the upright. Honduras have scored in every game they have played at this World Cup and they could easily have kept this record today, if not for the misfortune.

65` Brazil 3-0 Honduras

First sign that Amadeu has turned his focus towards the quarterfinal clash against Germany as Helio Junio replaces Alan. The latter had received a booking in the first match against Spain and the Brazil head coach has spoken about the midfielder's importance to his plans. So Alan will certainly be available for his team's last eight clash, barring any fitness issues that may arise.

62` Brazil 3-0 Honduras


Honduras coach Valladares made a tactical change at half-time. With the introduction of Kenneth Martinez and Joshua Canales, Luis Palma has moved centrally as the lone forward. Mejia switches flanks to the right while Martinez takes his position on the left. Canales, meanwhile, is part of the central midfield three but he has been given a slightly more advanced role.

57` Brazil 3-0 Honduras

One senses the killer blow has arrived. Carlos Amadeu had demanded more goals from his team and Brazil score three for the first time in this tournament. Brenner has his third goal of the World Cup too. It is turning out to be a happy return to Kochi for the Brazilians and coach Amadeu must already have one eye on the potential quarterfinal against Germany in Kolkata on Sunday.

21:20 (IST)

56` GOAL! Brenner scores again! Brazil 3-0 Honduras

Brenner with his second of the night. Wesley charges into the box and he may have been fouled by the onrushing Rivera who sends Wesley cartwheeling on the ground. The ball, however, bounces kindly for Brenner who pokes it into the net. Surely there's no way back for Honduras now.

52` Brazil 2-0 Honduras

There has been much discussion about Brazil's defensive record which has seen the side concede only once. Some of the credit for that must go to Victor Bobsin who constantly helps the defensive line out. His work at the back has been exceptional, with his acute understanding of space helping to cover for his teammates. If that's not enough, Bobsin also stands out for his excellent ball distribution. He has the prized ability to initiate attacks from his own half.

21:06 (IST)

Second half gets underway. Brazil 2-0 Honduras

Honduras with a double change at the start of the second half as Kenneth Martinez and Joshua Canales replace Patrick Palacios and David Cardona respectively.

20:52 (IST)

Halftime! Brazil 2-0 Honduras

Brazil go into the break with a well deserved 2-0 lead. Honduras threatened to get back into the game but they need to get more attacking if they have any hope of getting back on level terms, let alone beating Brazil.

44` GOAL! Marcos Antonio scores! Brazil 2-0 Honduras

Brazil have probed and prodded Honduras but the Central Americans had not crumbled. However, just before the interval, Paulinho found Marcos Antonio in the box who was played onside by skipper Cristian Moreira. Set free, Antonio slid home the ball and Brazil have doubled their advantage. Honduras did look a bit sprightly after the water break as Luis Palma came close to scoring but its overly defensive approach was going to take the side only so far. At half-time, Brazil has one foot in the last eight.

20:35 (IST)

33` Brazil 1-0 Honduras

Brazil try to play the ball out of defence but lose it to a Luis Palma on the left. he drives in towards a goal and unleashes a shot which cannons back off the upright. A minute later Palma puts in a good cross but it is too close to Brazao who pouches it comfortably.

30` Brazil 1-0 Honduras

Honduras' coach Jose Valladares had spoken of his desire to disrupt Brazil's 'technical' football. To realise his goal, he fielded the side in a 4-3-2-1 formation. The three central midfielders are positioned very deep to compress the space between defence and midfield. However, Honduras had only 28% of the ball till the water break. The Central Americans have been unable to make use of whatever little possession they've had either. Brazil, in its usually fluid 4-3-3 setup, has been utterly dominant.

20:24 (IST)

20` Brazil 1-0 Honduras

Alan with some beautiful footwork to get past a couple of Honduras players. His shot from distance forces Rivera into a save. Brazil get back-to-back corners and the ball almost lands up in the back of the net after it ping-pongs off a couple of Brazilian legs out for a goal kick.

20:20 (IST)

17` Brazil 1-0 Honduras

Wesley crashes into a Honduras player and has the wind knocked out of him. He receives treatment on the touchline and is back up on his feet again. Honduras meanwhile, are yet to create a serious goalscoring opportunity tonight.

20:15 (IST)

10` GOAL! Brenner gives Brazil the lead! Brazil 1-0 Honduras

It was only a matter of time before Brazil scored. Alan plays a delightful little one-two with Wesley. The No 10 then passes it to an unmarked Brenner who makes no mistake in tapping the ball in. Brenner may have been offside there though.

20:10 (IST)

7` Brazil 0-0 Honduras

So close for Brazil. Bobsin slices open the Honduras defence and finds Paulinho but the No 7's cross is a tad overhit and Lincoln can't get on the end of it. A minute later, Lincoln flicks the ball in the path of Brenner inside the box but his first touch is heavy which allows goalkeeper Rivera to gather the ball.

20:05 (IST)

3` Brazil 0-0 Honduras

Brazil have seen most of the ball in the opening minutes but it is Honduras with the first attempt of the match. Much to the joy of the crowd in Kochi, the shot from a distance is tame and rolls harmlessly past the goal.

20:02 (IST)

Kick off! Brazil 0-0 Honduras

Brazil get us underway. The title favourites are expected to breeze past their opponents for tonight and they'll be backed heavily by a partisan crowd in Kochi tonight.

Vitinho's absence means that Brazil make one change as Alan finds his way back into the starting lineup. Carlos Amadeu's boys will welcome the return to Kochi, where they played their first two league games. As for Honduras, it's an unchanged lineup as the side prepares for its first match outside Guwahati. Two heavy defeats against France and Japan must have dampened the morale and it does not help matters that the Central American side will play one of the tournament's favourites today.

19:35 (IST)

This is how the teams lineup!

19:27 (IST)

Hello and welcome to Firstpost's live coverage of the FIFA U-17 World Cup 2017 Round of 16 match between Brazil and Honduras.
Preview: Title favourites Brazil will aim to win big when they face Honduras in their Round of 16 clash of the FIFA U-17 World Cup on Wednesday.
Despite looking a bit rusty in their campaign opener, Brazil have won all three of their games in Group D, qualifying for the second round with the full nine points.
Honduras on the other hand, won only one game in Group E, qualifying as one of the best third-placed teams with three points from as many matches.
They conceded 11 goals while scoring seven and the Honduras defenders will have to toil hard to keep the Brazil forwards at bay.
Brazil have been accorded a grand reception at this venue.
The South America U-17 champions have received excellent support from the local crowd at the Jawaharlal Nehru International Stadium here and Wednesday's match should be no different.
The Brazil players have admitted that the atmosphere has made it seem like they have been playing at their home ground. They will be eager to turn on the Samba magic against Honduras and give their new found fans plenty of reasons to cheer.
With inputs from IANS
Firstpost is now on WhatsApp. For the latest analysis, commentary and news updates, sign up for our WhatsApp services. Just go to Firstpost.com/Whatsapp and hit the Subscribe button.
Updated Date: Oct 18, 2017 22:03:30 IST