FIFA U-17 World Cup 2017: Brazil-Germany quarter-final billed as tournament's 'most eagerly anticipated' clash
While Germany annihilated Brazil 7-1 in the 2014 World Cup in the latter's lair, the Neymar-inspired Selecao boys returned the favour at the Rio Olympics last year to win gold.
Kolkata: The big-ticket Brazil-Germany FIFA U-17 World Cup quarter-final to be played on Sunday has sent the football crazy city into a tizzy prompting the Local Organising Committee (LOC) to bill this clash as "one of the most eagerly anticipated matches of the tournament".
"World Cup semi-final in 2014, Olympic final in 2016...and the buzz in unbelievable. This is one of the most anticipated matches of the tournament," project director Joy Bhattacharjya told IANS when quizzed about the craze for this game.
While Germany annihilated Brazil 7-1 in the 2014 World Cup in the latter's lair, the Neymar-inspired Selecao boys returned the favour at the Rio Olympics last year to win gold.
The colossal Vivekananda Yuva Bharati Krirangan, which has previously played host to Argentine hotshot Lionel Messi, has seen an average attendance of over 40,000 in the games played in Kolkata. In the round of 16 tie between England and Japan, on a weekday, 53,302 spectators turned up.
"All tickets for Sunday's game were sold out well in advance," a LOC official said.
"The buzz has increased expectedly after Brazil were drawn with Germany and we have been getting a number of calls from friends and family and also random people as to how tickets can be obtained. They just don't want to believe the match is sold out," the official, not authorised to speak on record, added.
The city is known to be torn between Brazil and Argentina whenever the World Cup is around and even when the two South American arch-rivals cross swords in friendlies or World Cup qualifiers.
In various pockets of the eastern metropolis, flags are unfurled and a war of words ensues among supporters of both camps prior to Brazil-Argentina clashes.
Now with Argentina not making it to the junior World Cup, India's first FIFA event, it is expected that the Samba boys will feel at home at the Vivekananda Yuva Bharati Krirangan on Sunday.
"I think for us it's a pleasure to play before 30-40,000 people, it is no pressure for us," Germany coach Christian Wueck had said when asked about the possibility of feeling like an away team.
Meanwhile, Brazil coach Amadeu Carlos has said they are not thinking about the 7-1 loss to Germany in the senior World Cup three years back, rather the focus is to take inspiration from the Rio Olympic gold which they bagged avenging their World Cup defeat in 2016.
"We just don't want to remember what happened in Belo Horizonte. Already three years have gone since that took place.
"We prefer to recall the occasion when we won the Olympic gold medal at the Maracana, which was only a year ago. In fact, that's what is fresh on our minds. In other words, that's our inspiration and keeping us motivated," Amadeu said at a city hotel, after the Brazilian contingent's arrival on Thursday evening.
Brazil are keeping track of how Germany have fared so far in the competition, especially how they played in their 4-0 bashing of Colombia in the pre-quarters.
"I have watched Germany's game against Colombia and noted down the points that could prove to be critical. So, we are doing the kind of homework that needs to be done," Amadeu said.
Sports
Germany were let down by their poor finishing in the final third. Credit, however, goes to Brazil, who parked the bus whenever they sensed a German attack.
Sports
For most footballing heavyweights like England, Brazil and Germany, the U-17 World Cup is just a platform to help expose their players to unfamiliar conditions and quality opposition at this level. Not winning the U1-7 World Cup is hardly a disaster.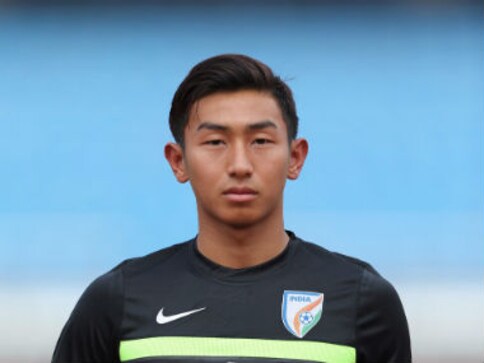 Sports
After a pulsating World Cup drew to a close after 22 days of action, Firstpost asked it writers to pick a standout player of 2017 edition. Here's who they picked: