As far as explosive starts to tournaments go, you couldn't have asked for a better one. On the second day of the 2017 edition of the FIFA U-17 World Cup, the first ever FIFA tournament to be hosted by the country of over a billion inhabitants, Brazil will face Spain in a Group D clash that could end up defining the tournament.
This is just the start that a World Cup deserves. The European U-17 champions against the South American U-17 title winners. Unstoppable force meeting immovable object. And at football-mad Kochi.
The group also promises to throw up other interesting sub-plots. Here's a look at how all four teams stack up.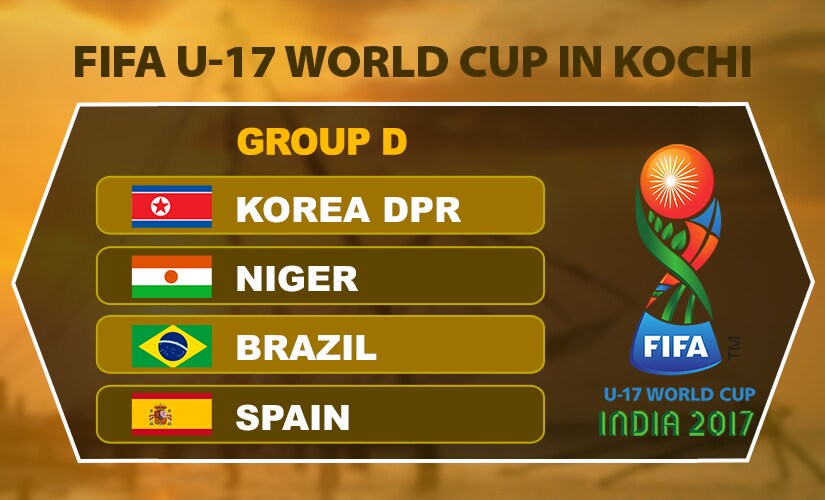 Brazil
Any other team would have been left reeling at the loss of a player like Vinicius Junior. Not Brazil. They seem to have have merely shrugged at news that €46 million wonderkid will not be joining them in India.
In fact, the Flamengo forward's absence eases quite a few selection heartaches for coach Carlos Amadeu. Vinicius' Flamengo teammate Lincoln, Sao Paolo's Brenner, and Vasco da Gama's Paulinho can now consider themselves definite starters along with the mercurial Alan.
Previous U-17 World Cup record: Brazil have won the title thrice, in 1997, 1999 and 2003. They have also lost in the final in 1995 and 2005, besides finishing among the top four on two other occasions.
Key Players: Vinicius' record of being the top scorer at the South American U-17 Championships owed a great debt to Brazil midfielder Alan de Souza Guimaraes. Alan, who set up a lot of goals for Vinicius, also scored thrice to help Brazil thump Chile 5-0 in the last match of the U-17 South American Cup. According to reports in Brazil, Real Madrid are also eyeing Alan in a big money move like Vinicius.
Spain
There are perhaps few countries in the world who can boast of footballing credentials as good as Brazil. Spain is definitely one of them. At the UEFA U-17 Championships, Spain have already shown they have the tenacity to go all the way to the title. They were trailing by a goal in the final against England, when they scored in the dying minutes to force a shootout. The resulting kicks handed them the title.
Spain's trophy cabinet may be filled to the brim, but there is one trophy that is glaringly missing: the FIFA U-17 World Cup. Current Spain coach Santi Denia has his sights set firmly on winning this elusive title with the Spanish U-17 team. His team will play a brand of football that is synonymous with the Iberian nation — possession football. With six players from Barca's La Masia and five from Real's academy, the team is brimming with players who have the potential to be future stars.
Previous U-17 World Cup record: They have come within touching distance of the title thrice — in 1991, 2003 and 2007 — but each time have faltered in the final.
Key Player: His penalty miss against Germany in the semi-final notwithstanding, Abel Ruiz was an impressive presence for Spain up front at the UEFA U-17 Championships. The FC Barcelona player went on to end the tournament as the joint top scorer in the history of the European Under-17 Championship with 16 goals.
Niger
The team from Africa are among the three debutants at this edition of the World Cup, along with New Caledonia and India. While they are not a name you would associate regularly with a World Cup at any age group, the Brazils and the Spains of the world would do well to remember that this is the same team that ensured that five-time champions Nigeria did not make it to this edition.
Niger coach Tiemogo Soumaila, the former captain of the senior national side, has played a crucial role in the sport's development in the country. In his playing days, he was a reliable defender for Niger and then went on to become a physical education coach after hanging up his boots. The 54-year-old also attended courses in Europe and Brazil before being appointed as Niger's national director of football in 1995 before eventually taking up the role of head coach.
Previous U-17 World Cup record: Debutant
Key Players: Striker Ibrahim Boubacar Marou and midfielder Karim Tinni were in rampaging form in the Under-17 African Cup of Nations. Even at the African event, the duo's physicality helped them dominate opponents.
Korea DPR
While most teams at this age group are known for their attacking prowess, Korea prefer to play a pragmatic style of play. Not surprisingly, they only won two of their matches at the AFC U-16 Championship last year. However, their semi-final finish is proof that their tactics can work wonders.
Under the tutelage of coach Yun Jong, the Korea DPR team is a solid defensive unit and they like to counter-attack with fast, direct running through the central area rather than the flanks. They may not be the most exciting or free-scoring team to watch on the football pitch. But they are hoping to upset the heavyweights in their group by retaining possession, and striking whenever possible.
Previous U-17 World Cup record: Having made it to their fifth appearance at the FIFA Under-17 World Cup, Korea will be looking to better its quarter-final finish, which it achieved back in 2015.
Key Players: Korea's captain, Kim Pon Hyok, is a player with excellent pace and is a dead-ball expert. He is as adept at attacking and also falling back to help his defenders defend.
While on face value, Brazil and Spain look to be sure-shot contenders to make it to the knockout stages, stranger things have happened at World Cups. What remains to be seen is if North Korea or Niger have it in them to spring a surprise.
Updated Date: Oct 06, 2017 09:32 AM