FIFA U-17 World Cup 2017: AIFF claims paperwork misled them into believing India beat Italian national team
AIFF had proclaimed the U-17 team's 2-0 win as a historic moment for Indian football. However, instead of the Italian national team, India had played a team filled with players from Italy's 3rd and 4th division.
After being left red-faced over their gaffe about the Indian U-17 national team beating the Italian U-17 team 2-0 in a friendly match, the All India Football Federation (AIFF) has claimed that it was misled into believing that their youth team was playing against Italy's national team.
The AIFF had gone and heralded Friday's win as a 'historic moment for Indian football' before newspapers pointed out that the Indian team had, in fact, faced a representative team of Lega Pro Under-17, of which players were chosen from teams competing in Lega Pro and Lega Pro 2, the third and fourth tiers of the Italian football pyramid.
The Hindustan Times pointed out that the squad which played against India had been completely different to the Italian U-17 national team, which had until recently been participating in the UEFA U-17 Championships, where they were eliminated in the group stages. The report also added that while the coach of the team facing India was coached by Daniele Arrigoni, the head coach of Italy's U-17 team is Emiliano Bigica.
The blunder, an AIFF source told Scoopwhoop, happened because the AIFF were sent a 'Tier 2' form — usually filled up between two nations when their youth teams will play an international match or a friendly — by the Italian federation. National teams need not fill the Tier 2 form for playing a friendly against a club.
A 'Tier 1' form, on the other hand, is filled up between two nations when their senior national sides are to face each other.
The source also clarified that while Union of European Football Associations (UEFA) granted permission to Italy to record the match as an official friendly, the Asian Football Confederation (AFC) did the same for India.
The Italian players who faced India were also wearing official kits.
However, irrespective of who was at fault for the blunder, the incident has definitely left the AIFF embarrassed.
Football
The clouds have been gathering over coach Didier Deschamps and his squad as key players struggle with injuries and personal problems.
Football
Sudha Tirkey (62') scored the only goal for India after Sweden U-17 girls took a comfortable 3-0 lead through Ida Gramfors (44') Sara Frigren (52') and Selma Astrom (54').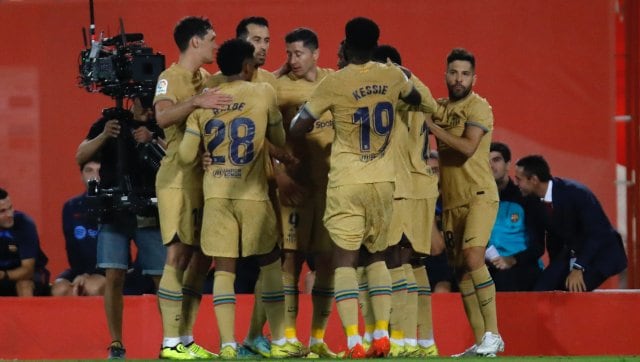 Football
Barcelona visit Inter Milan knowing it will be a crucial match to maintain a good chance of advancing in a Champions League group which has been dominated by Bayern Munich.