World Juniors: Harsha Bharathakoti quickly off the mark, Aravindh Chithambaram suffers shock defeat
At the end of three rounds, IM Harsha Bharathakoti was in joint lead with a perfect score of 3.0/3. A whisker away from him were two of the highest-rated GMs from India at the event, Murali Karthikeyan and SL Narayanan.
The World Junior Championship kicked off on 13 November, in the town of Tarvisio among the snow-clad mountains in the northeastern part of Italy. While the venue looks picturesque, mixed reactions were heard from the participants. While one player loved walking in the snowy mountains in sub-zero temperatures, another expressed discomfort.
As many as 13 players are representing India at the event. At the end of three rounds, International Master Harsha Bharathakoti from Telangana was in joint lead with a perfect score of 3.0/3. A whisker away from him were two of the highest-rated Grand Masters from India at the event, Murali Karthikeyan and SL Narayanan, both of whom won their first two games and conceded a draw in the third.
Round one witnessed some major upsets on the top boards. Tournament's seventh seed Aravindh Chithambaram suffered a shocking loss in his very first game. The Chennai lad was paired against FM Pavle Dimic of Serbia who is rated more than 200 points below him. Not to mention, Chithambaram had the white pieces in this round.
But while Chithambaram lost to a much lower-rated player, the 2,297-rated Kumar Gaurav won against Grand Master Gergely Kantor, rated more than 200 points above him.
Meanwhile, two other Indians were able to hold much higher-rated opponents. On board two, Sidhant Mohapatra was able to hold his ground against the wits of the tournament's second seed Grigoriy Oparin and sign truce.
Twelve-year-old Raunak Sadhwani also succeeded in holding the American chess prodigy, Grand Master Awonder Liang to a draw. Rated 2339, Sadhwani - like quite a few of his compatriots - had to overcome an Elo difference of 200-plus points.
Round two saw four Indians emerge with a perfect score. They were Narayanan, Karthikeyan, R Praggnanandhaa and Bharathakoti. While Karthikeyan demolished his opponent Liam Vrolijk in merely 24 moves of an English Opening, Narayanan got the better of Jan Vykouk in a 69-move marathon. Praggnanandhaa and Bharathkoti defeated Nubairshah Shaikh and Filip Pavic respectively.
After a few skirmishes in the centre in the English Opening, Karthikeyan, who had the white pieces against the Dutch FM Vrolijk, gave up castling privileges. It seemed black had equalised the position after 12th move as he would have completed his development and had a castled king. But Karthikeyan came up with some bold moves to generate an attack on black's kingside. Giving up the castling privilege, Karthikeyan blasted open the centre and the g-file. Although his king looked to be in bit of a precarious situation itself, the ensuing complications were enough to outfox Vrolijk who ended up dropping a piece.
Playing from the white side of a Semi Slav, SL Narayanan succeeded in getting a better position right out of the opening. Milking his advantage slowly, Narayanan was able to get a protected central passer first and later win the exchange on move 23. Despite having a clearly better position and an advantage in material, the highest-rated Indian in the fray did not rush and waited until the right moment to deliver the final blow.
Perfect scorers from India were chopped down from four to just one in the third round as Karthikeyan, Narayanan and Praggnandhaa were held to draws. The only Indian to emerge with an unblemished score was the 17-year-old International Master from Telangana, Bharathakoti.
Bharathakoti has been in tremendous form lately. He had won a Grand Master norm with a round to spare at his previous tournament, the Isle of Man Open, beating Grand Masters who were much stronger by rating to him. And now, at the World Juniors he seems to be doing it again. Of course, with only three rounds gone, it is too early to make predictions. But one could definitely reckon that this magnificent start will surely boost his confidence while hurling him up the leaderboard.
In his third round game, Bharathakoti was able to exchange his opponent Tran Tuan Minh's queen for his rook and bishop and get a material advantage. Then on, the Indian systematically outplayed his opponent, exchanging pieces at regular interval. However, a startling oddity was observed on the 48th and 50th moves of this game. Both players seemed to have overlooked a simple double attack with the queen that could have cost black a full rook. Nevertheless, Bharathakoti's advantage at this point was too big and his Vietnamese opponent had to resign just five moves later.
In the women's group, Vaishali R, the top-rated Indian woman at the event won her first two games but lost against the top seed of the tournament, International Master Zhansaya Abdumalik from Kazakhstan. With her loss, Vaishali has slipped down to the 14th spot on the leaderboard. The second highest-rated Indian at the event, Akanksha Hagawane won her third round game and is currently eighth on the leaderboard (tied for second) with a score of 2.5/9.
Rank after three rounds (open)
Rank after three rounds (women)
Aditya Pai is an editor at ChessBase India.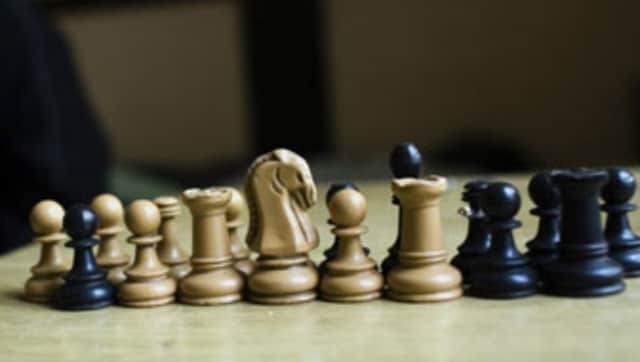 Sports
Uzbekistan sprung a surprise by bagging the gold medal with a 2-1 win over the Netherlands ahead of a strong Armenian team, which beat Spain 2.5-1.5 in the final round, in the Open section.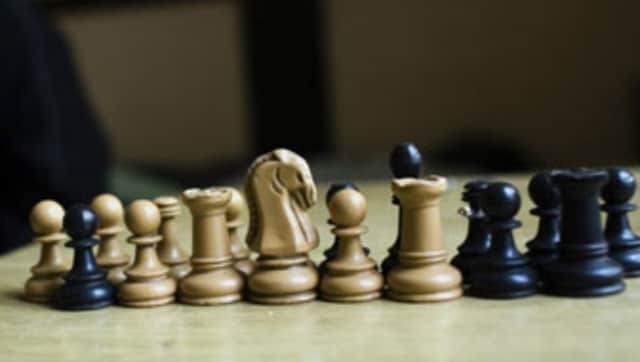 Sports
Top player Koneru Humpy returned to winning ways, beating Zhansaya Abdumalik while Tania Sachdev and Bhakti Kulkarni scored over Xeniya Balabayeva and Gulikshan Nakhbayeva respectively. R Vaishali drew with Bibisara Assaubayeva on the second board.