FIDE World Cup 2017: Viswanathan Anand suffers earliest exit in a knockout event, but Vidit Gujrathi on track
On Thursday, Kovalyov showed such solidity with white pieces that the five-time world champion, Anand had absolutely no way to break through.
Let's begin with the good news for the day. Vidit Gujrathi showed some good control on his nerves to draw the second game against Vietnamese number one Le Quang Liem and qualify to the third round of the 2017 World Cup. This is the second mini-match that Gujrathi has mopped up in two classical games. When asked about whether this would affect his chances when he actually has to play the tie-breakers, the Nashik boy replied, "I practised rapid and blitz at the ChessMine tournament in India. Also if I were to choose between a rest day and play a tie-breaker I would always choose the former."
One of India's top Grand Masters Abhijeet Gupta had said, "Virat Kohli, when asked what he does for a living, replied, 'I chase down totals'. When the same question was asked to Gujrathi, his answer was, 'I win with black pieces against strong Grand Masters!"
Gujrathi found this comment to be quite amusing and thanked Gupta for those words of praise. "Coming from a colleague makes it all the more valuable," said the young Indian Grand Master.
Gujrathi has already earned $12,800 ($16,000 minus 20 per cent FIDE fees) by reaching the third round of the World Cup. He would be looking to take that number up to $20,000 by moving into round four. In the fourth round, Gujrathi will be up against the winner of the Martyn Kravtsiv versus Ding Liren match. One gets the feeling that the Chinese player has a better chance of qualifying than the Ukrainian. If that happens, Gujrathi would be on solid ground, having already had the experience of playing Ding at the World Team Championships this year where their game ended in a draw in a sharp Najdorf.
Viswanathan Anand's elimination
One still cannot come to grips with the fact that Anand is out of the World Cup. On Wednesday evening, when he lost the first game against Anton Kovalyov, one felt bad, but knew that Anand would bounce back. When the game began on Thursday, Kovalyov showed such solidity with white pieces that the five-time world champion had absolutely no way to break through. In the end, he had to offer a draw when the only person who could have won from that position was Kovalyov.
This was Anand's earliest exit in a knockout tournament at the World Championship/World Cup level.
Of course, Anand was terribly depressed with his performance, but he kept his emotions to himself. He analysed the game with his opponent and later was seen talking with people. In the evening he even agreed for an interview.
Here's what he had to say after his exit from the prestigious tournament:
Perhaps Anand had already mentally put this loss behind him and had started preparing for his next event, the Isle of Man International, towards the end of September. Anand had not confirmed his entry as the dates of the event clashed with those of the semi-finals and final of the World Cup. But now that he is out of the World Cup, it makes sense to play in the strong open tournament.
Anand took a flight at 2.30 am from Tbilisi to Chennai. Hopefully the champion player gets good rest and is ready for his next event.
The battle between two Indians
The battle between the two Indians, Pentala Harikrishna and SP Sethuraman, led to a crazy position where the accuracy shown by both of them was quite high. If Sethuraman is your opponent, it is very difficult to guess which opening he would play. On Thursday he went for 1.d4 and played the white side of a Catalan.
In 2015, Sethuraman had won against Harikrishna in the classical section itself. This time the match has gone into the tie-breaker. Who is the favourite? Well, one gets a feeling that the match is quite evenly balanced. But Harikrishna should have an edge, mainly because he played a very long tie-breaker against Yuri Gonzalez of Cuba in round one and knows exactly what it means to be playing the short format of the game.
B Adhiban's positive approach
Adhiban is a man who simply doesn't get depressed. He is always positive, always looking at the future, and has won the hearts of thousands of chess fans all over the world with his lively games and interviews. But on Thursday, one felt he would see something which has not been witnessed often - the sad Adhiban! The reason? He was in a completely dominant position against Russian Ian Nepomniactchi and had many opportunities to win the game. He messed it up, the game ended in a draw and he has to now play the tie-breakers.
After the game finished, Adhiban walked past me into the elevator and went to his room. Of course, he wouldn't do an interview today is what I thought to myself. Five minutes later, I see Adhiban in his batman T-shirt and half pant waving at me. "Want to do it now?" I said, "I thought you didn't want to do an interview today." But Adhiban insisted. "Why not," he said. "It usually takes me five minutes to get back to my normal self!"
Check out what he has to say about the art of fighting back in this short interview:
Here, Adhiban's coach Elizbar Ubilava speaks about his current student and his former student, Anand:
The author is an International Master and CEO of ChessBase India.
Sports
World champion Magnus Carlsen has accused Hans Niemann of cheating, rocking the chess world. We take a look at the whole drama.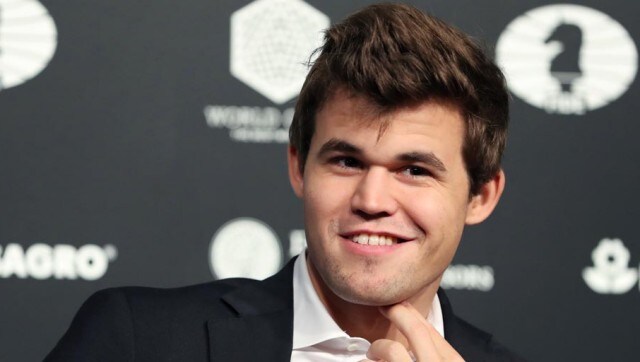 Sports
The second match of the Magnus Carlsen vs Arjun Erigaisi final in the Julius Baer Generation Cup will be held later on Sunday.
Sports
Magnus Carlsen has become the first player to hit the historic 2900 Tour Rating mark after winning the Julius Baer Generation Cup.