FIDE World Cup 2017: Viswanathan Anand, P Harikrishna lead Indian charge at prestigious event
As the biggest chess festival of 2017 begins in Tbilisi, here's a look at the seven Indians, including Anand, and their chances at the 128-player event.
The biggest chess festival of 2017 is about to begin. The World Cup 2017 in Tbilisi, Georgia is a 128-player knockout event from which the two finalists qualify for the Candidates 2018. The format is two mini-matches of classical chess. If they end in a tie, then the players will shift to the rapid and blitz section. Indian fans have a lot to cheer about at this event as seven of our best players have qualified for the tournament. This will also be the first time after over a year that our top two players, Viswananthan Anand and Pentala Harikrishna, will be playing in the same event. The last time they crossed swords was in Bundesliga 2016. Let's have a look at the seven Indian players and their chances:
Viswanathan Anand
Anand has never really needed to play at the World Cup since he started winning World Championships from 2007 onwards. This is the first time in nearly a decade and a half that he doesn't have direct qualification to the Candidates tournament. Hence, this event means a lot for the five-time World Champion. Anand has played three World Cups in the past and won two of them. The first one was in China in 2000 and the second one in Hyderabad in 2002.
Anand has a relatively easy opponent in the form of Yeoh Li Tian (rated 2480) in the first round of the World Cup. Of course, the Malaysian is young and talented, but if Anand plays on top of his game, the 300 ELO point difference should tell. If things go as planned, Anand will face GM Varuzhan Akobian in round two. But that's where playing against the sub-elite players ends. In the pre-quarter-finals, Anand will most probably be up against English GM Michael Adams. Winning that encounter could pit him against Hikaru Nakamura!
Pentala Harikrishna
Harikrishna begins his journey at the World Cup against Cuban Yuri Gonzalez Vidal. His opponent is a Grandmaster rated 2543 and no pushover. But I have a feeling that this format of mini-matches with two classical games followed by rapid and blitz is very suitable for a practical player like Harikrishna. In 2015, Harikrishna was one of the favourites, but his journey was cut short by our very own SP Sethuraman. The interesting part is that if Harikrishna and Sethuraman both win their Round 1 matches they will once again be playing each other in Round 2!
If Harikrishna wins his Round 1 match, he faces the winner of Ponomariov and Sethuraman. If he does win the second round encounter, he faces a stiff challenge in the form of Anish Giri. And if Hari manages to stun the Dutch GM, he will most probably face Vladimir Kramnik. Once again, not an easy quarter to be in.
Vidit Gujrathi
After Vidit crossed the 2700 ELO mark, his good friend and colleague Adhiban Baskaran said, "I always used to call him the immovable object because he is not easy to beat. And now, he has managed to retain that quality while also becoming strong enough to beat the best!" This is exactly the reason why we are so excited to see how Vidit will perform at the World Cup. Apart from being super solid, he has the added venom to his game and can really prove that he has made his arrival in the big league.
Vidit is up against Neuris Delgado Ramirez (2614) in Round 1. The Paraguayan GM has been in 2600+ range for nearly seven years now. That makes him an experienced campaigner and Vidit must tread carefully. If he manages to win against Delgado Ramirez, he faces Le Quang Liem and then perhaps Ding Liren. If all goes according to plan, a quarter-final match against Shakhriyar Mamedyarov or Boris Gelfand could be on the cards.
Adhiban Baskaran
Adhiban had not made it for the World Cup 2017 through the qualifying events like National Premier or Asian Continental. However, he was destined to play this event as he got the FIDE President's wild card entry. And the Grandmaster from Chennai is leaving no stone unturned in his bid to perform well at the event. He has come to Tbilisi two days in advance to acclimatise himself to the conditions. He has also brought with himself the experienced trainer Elizbar Ubilava.
Adhiban has a tough Round 1 opponent in Nguyen Ngoc Truongson. The Vietnamese GM has been one of the top players of his country for quite some time now. He had a rating of 2650+ since 2011 and once upon a time his blitz rating was 2791! Adhiban would do well to finish off the match in the classical section, as his opponent clearly seems like a well-trained rapid and blitz player.
SP Sethuraman
Sethuraman played a phenomenal tournament at World Cup 2015. He beat his higher rated opponent Sanan Sjugirov 2-0 and then eliminated Pentala Harikrishna. This year, he begins his campaign against former FIDE World Champion Ruslan Ponomariov. It will be interesting to see if Sethuraman is able to replicate the success he achieved two years ago.
Karthikeyan Murali
Karthikeyan Murali is the reigning national champion of India, a title that he has won both in 2015 and 2016. He is just 17 years old, but already has a wealth of experience of playing in top tournaments. He was part of the team to the Baku Olympiad and also at World Teams 2017. Such exposure has ensured that he has seen the way top players like Harikrishna, Krishnan Sasikiran, Vidit, Adhiban, Sethuraman and others function. He has learned a lot from them and would be eager to implement all of that in this World Cup. His first round opponent is GM Francesco Vallejo Pons, a 2700+ player.
Deep Sengupta
Deep has been one of our best GMs for quite some time now. He has won many international events in the past and has worked with top players and trainers. He has all the qualities required to make it to the 2600+ league. However, he has always fallen short of that mark. This World Cup is a perfect moment for the West Bengal GM to rise up to the occasion and show what he is capable of. He begins his first round against Chinese GM Wang Hao. Not an easy opponent, but then in this event absolutely no one is going to have it easy!
Schedule
Date
Time
Event
2-Sep
Saturday
16.00.
Opening Ceremony
18.00.
Technical Meeting
3-Sep
Sunday
15.00.
Round 1-Game 1
4-Sep
Monday
15.00.
Round 1-Game 2
5-Sep
Tuesday
15.00.
Tiebreak
6-Sep
Wednesday
15.00.
Round 2-Game 1
7-Sep
Thursday
15.00.
Round 2-Game 2
8-Sep
Friday
15.00.
Tiebreak
9-Sep
Saturday
15.00.
Round 3-Game 1
10-Sep
Sunday
15.00.
Round 3-Game 2
11-Sep
Monday
15.00.
Tiebreak
12-Sep
Tuesday
15.00.
Round 4-Game 1
13-Sep
Wednesday
15.00.
Round 4-Game 2
14-Sep
Thursday
15.00.
Tiebreak
15-Sep
Friday
15.00.
Round 5-Game 1
16-Sep
Saturday
15.00.
Round 5-Game 2
17-Sep
Sunday
15.00.
Tiebreak
18-Sep
Monday
Free Day
19-Sep
Tuesday
15.00.
Semifinal-Game 1
20-Sep
Wednesday
15.00.
Semifinal-Game 2
21-Sep
Thursday
15.00.
Tiebreak
22-Sep
Friday
Free Day
23-Sep
Saturday
15.00.
Final-Game 1
24-Sep
Sunday
15.00.
Final-Game 2
25-Sep
Monday
15.00.
Final-Game 3
26-Sep
Tuesday
15.00.
Final-Game 4
27-Sep
Wednesday
15.00.
Tiebreak
19.30.
Closing Ceremony
The author is an International Master and CEO of ChessBase India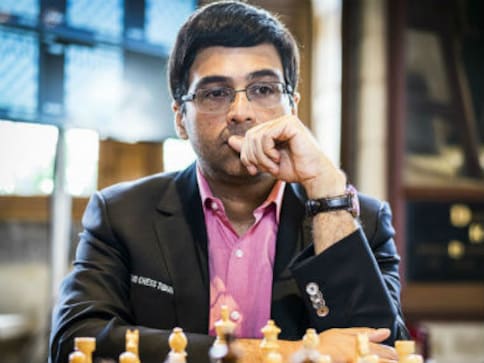 Sports
Five-time world champion Viswanathan Anand suffered a shocking defeat at the hands of Canadian Grandmaster Anton Kovalyov and now faces the threat of an ouster from the World Chess Cup in Tbilisi.
Sports
After the game, Harikrishna quickly moved out from the hall and went to his room. Interviews and questions could wait. He had a more important task to achieve – to win the tiebreaks on Tuesday.
Sports
Vidit could have made a very strong first game result by beating Ding Liren, but, he was not able to keep his nerves in the winning position and the game ended in a draw.