FIDE World Cup 2017: SP Sethuraman's technical skills too good for P Harikrishna; B Adhiban suffers defeat
In the third round, Vidit Gujrathi will be up against Chinese Grand Master Ding Liren, while Sethuraman will face Dutch No 1 Anish Giri.
SP Sethuraman and Pentala Harikrishna played with each other at the 2017 World Cup. Sethuraman was able to beat Harikrishna in the classical games itself with the score of 1.5-0.5. This time, however, the match went into the tiebreaks after both the classical games ended in draws.
Both the players had played well and choosing a favourite was pretty difficult. Harikrishna did have an edge over his opponent of nearly 130 rating points. However, we all know that Sethuraman is under-rated. His 2619 rating is at least 50 points below his actual strength.
The game began as a French Defence and both sides castled on the opposite wings. Sethuraman was the first one to start the offensive as he managed to build up an excellent position. But just like in his previous tiebreak with Yuri Gonzalez, Harikrishna wriggled out of the mess and drew the game.
After the game, Sethuraman came into press room, a tad dejected and asked me if he was winning. I said it seemed so. He asked me the time and seeing that only 20 minutes were left for the next rapid game to begin, he went to his room to get some rest. This is an important quality you require if you want to do well at the World Cup, especially the tiebreaks. You have to forget what happened in the previous game and focus all your energy on the next one.
In the second game, Harikrishna had the white pieces and he went for the Guioco Piano. He played a new move in the opening Bg5, but Sethuraman had absolutely no difficulties in equalizing the game. When Harikrishna started to go ever so slightly wrong, Sethuraman picked up the opportunity and played an excellent technical game to finish off his opponent.
Here's what Sethuraman said after beating Harikrishna:
Meanwhile, B Adhiban had a nearly winning position in the game two of the classical section against Ian Nepomniachtchi. The game ended in a draw and the match was taken to the tiebreaks.
Usually, when a player misses the opportunity and has to indulge in a fresh fight on an equal terms, it is not so easy for many to cope with it. You tend to keep regretting the tactics you had missed and this affects your next games. But when it comes to mental strength, there is no one better than Adhiban. He came to the tiebreaks in an excellent mood and even when Nepomniachtchi played a novelty, he was able to circumvent it and get a good position.
Playing against Nepomniachtchi can be quite tricky. He not only plays very fast, but also makes a lot of facial expressions which can be quite distracting as well as misleading. But as Erwin l'Ami rightly puts it: "Adhiban doesn't really care for Nepomniachtchi's expressions. He is busy in his own chess. And this reduces Nepo's powers."
This was a heartbreaking game. I was watching it live and was tremendously impressed by Adhiban's play. He had not only been able to refute Nepomniachtchi's new idea of b4 and a5, but also got a winning position in spite of being 12 minutes behind on time.
After such a loss, even the positive attitude of Adhiban didn't help him to make a comeback. He lost the next game with the black pieces and was eliminated from the tournament.
In the third round, Vidit Gujrathi will be up against Chinese Grand Master Ding Liren, while Sethuraman will face Dutch No 1 Anish Giri. Both Indian players are underdogs, but they were the underdogs in their previous matches as well. Hopefully, that they will be able to give their opponents a tough time on the board.
After the round, Adhiban spoke about what he learnt from this experience and what are his future plans:
Sports
Magnus Carlsen resigned from his game against Hans Niemann at the Julius Baer Generation Cup after just two moves.
Sports
World champion Magnus Carlsen has accused Hans Niemann of cheating, rocking the chess world. We take a look at the whole drama.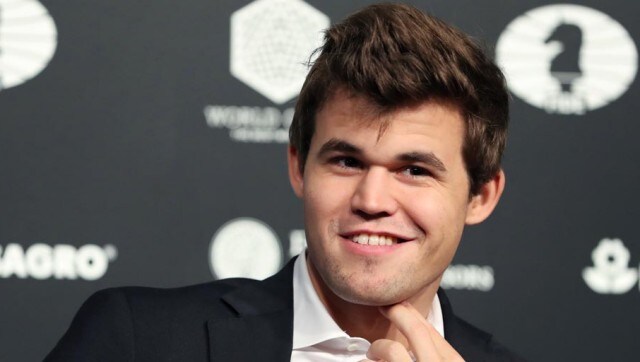 Sports
The second match of the Magnus Carlsen vs Arjun Erigaisi final in the Julius Baer Generation Cup will be held later on Sunday.