FIDE World Cup 2017: Anton Kovalyov could have been wiser, but hard done by organisers in shorts scandal
If Kovalyov's offense can be noticed and acted upon after it had been unnoticed for two rounds, then surely, Kovalyov could have given time until the next round to amend his dressing.
Game one of the third round of the 2017 Chess World Cup was scheduled to be played on the afternoon of 9th September. Only thirty-two out of the one hundred and twenty-eight combatants had survived the onslaught of the first two rounds and gathered in the Hualing Hotel for yet another bloodbath.
En route to round three, Anton Kovalyov, like all of the other surviving participants, had to go through vicious acid tests in his first two rounds. In fact, in round two, he had faced and survived against the five-time world champion, Grand Master Viswanathan Anand without having to go into tie-breaks; he was having the tournament of his life.
Surely, he must have come to the venue with high hopes as the third round was about to commence. But just a few minutes before the round, he was approached by chief arbiter Tomasz Delega who informed him that his attire did not conform to the tournament's dress code policy.
Kovalyov had worn the same shorts in his last two rounds as well as in his last World Cup in 2015. So, it surprised him that he was told about this only now. Besides, he protested about being assigned the wrong color – he thought he should have had the white pieces, but according to the pairing, he was to play with black.
Delega checked the pairing once again, and confirmed to Kovalyov that he was black. Kovalyov was surprised but accepted this. In his Facebook post, he mentioned that, although not in depth, he had prepared a few things with black. Meanwhile, Zurab Azmaiparashvili entered the tournament hall and saw Kovalyov in shorts. After a brief altercation, Kovalyov stormed out of the tournament hall.
In his statement immediately after the incident, Azmaiparashvili said he intervened because he saw that the chief arbiter was not able to solve the situation and as the chairperson of the appeals committee and as the tournament's organizer, he felt it was his responsibility to do so. He further said that he asked Kovalyov to follow the dress code rule. Kovalyov then mentioned that he had played wearing the same shorts not only in the previous rounds but also in previous World Cup in Baku. But Azmaiparashvili insisted that Kovalyov should follow the rules and change his attire.
Kovalyov's side of the story, however, was not yet heard. He was last seen checking out of his hotel, a couple of hours after the incident, and had refused to talk. But it wasn't long before he took to Facebook to explain why he had withdrawn. He stated that it was not because he was asked to change but because of how he was treated that he chose to drop out instead of doing something stupid.
In the post, he also mentioned that Azmaiparashvili had insulted him using the racial slur "gypsy".
With Kovalyov's revelation, a huge backlash against the European Chess Union (ECU) president ushered in. There were articles like the one on Greg Shahade's blog which he said he had written "out of rage for the injustice that was suffered by GM Anton Kovalyov." Further, Shahade appealed the top players in the world to band together and refuse to play until Azmaiparashvili was removed from his role as an organizer.
Besides this, the Chess Federation of Canada filed a formal complaint about Kovalyov's treatment by the organizers. Hal Bond, a member of the Federation's executives said, "Our player has definitely been wronged and our federation is very angry about it. I'm hoping that an apology will be forthcoming from the organizers."
Bond further complained that although there is a dress code, it is not very well written and some of the codes are vague.
With that being said, the Chess Federation of Canada will be seeking a diplomatic solution since some other prestigious events like the Olympiad, a team chess championship etc. will be conducted next year by the same organizers.
The Association of Chess Professionals (ACP) also stood in support of Anton Kovalyov and published a petition against his mistreatment at the World Cup. In their petition, the ACP board condemned the actions of Azmaiparashvili in his capacity as the organizer of the World Cup. The board also stated that bullying and threatening a player is unacceptable and that doing it right before the game is an even bigger sin.
They also detested the fact that Azmaiparashvili was both the organizer of the event as well as the chairman of the appeals committee, the only body which could correct the actions of arbiters and organizers. This, in their opinion, should not have happened. The board has blamed FIDE for letting this happen. But with that being said, the board also believes that the governing body of international chess will do nothing to remedy the situation.
It is therefore, they said, that they were appealing to the global chess community and national federations. The petition has more than exceeded its goal of reaching 1000 signatures and has more than 1200 signatures on it, within just six days of its publication.
Amid this swarm of criticism that was directed at Azmaiparashvili, he defended himself saying that he did not use the word gypsy with a racist connotation. He used it as a slang for 'homeless' and did not intend to insult Kovalyov's race or nationality.
In fact, he even apologized for using his words that could've been interpreted in the wrong way. However, he said that he strongly supported the chief arbiter's decision of asking him to change his trousers, even if it was ten minutes before the game.
Whether or not the action taken by the organizers against Kovalyov was right, both Kovalyov and the tournament organisers were at fault. One must keep in mind that the World Cup is the penultimate qualification event to the World Chess Championship and that it attracts a lot of sponsorship and media.
In an event of such high stature, while crossing swords with some of the most notable dignitaries of the game, being inappropriately dressed is simply a sign of impudence. More importantly, all of the participants had signed a players' contract with the organisers which mentioned that there was a dress code for the event. The World Cup regulations state:
3.13.4 Players are requested to note the requirements of FIDE Regulations C.01 (Article 8.1) in respect of their dignified appearance at all times during the World Cup.
As per the FIDE Handbook, this specific paragraph says:
8.1 The Commission on Chess Publication, Information and Statistics (CHIPS) stresses the need for all chess players to take more care in their personal appearance. The image of the chess player should be a dignified one, and dressing properly would not only show respect for the game, but also to sponsors, potential or otherwise, to make it worth their while to spend their money.
For example, some federations have barred slippers, sleeveless T-shirts and vests in their tournaments. Those with unkempt and greasy hair should be admonished, as well as those wearing old or torn jeans and battered attire generally.
On the other hand, the aforementioned rule does not explicitly mention shorts. Amusingly enough, Azmaiparashvili himself could be seen in the above interviews wearing a T-Shirt. In fact, quite a few participants were seen in casual attire. Taking that into consideration, one couldn't help but wonder why wearing shorts should pose such a big problem.
But given how vaguely the rule is written, it gives arbiters the authority to freely impose their interpretation of the rule upon the players. As Azmaiparashvili himself stated in his second interview, "If the chief arbiter is approaching you and he says you cannot go like this, then this is a rule already in this stage and you have to follow. You cannot accuse the previous rounds like 'yesterday (it) happened like this or one year (ago), (it) happened like this'. It starts from this period and you have to follow it."
But what if that "period" was just 10 minutes before the round? As per Kovalyov, this, along with the threats of being punished by FIDE stressed him so much that he feared he might have done something stupid if he hadn't left. Azmaiparashvili, however, thinks that it's the problem of the player if he doesn't have enough time to change his attire or cope with all the stress caused by an arbiter's interpretation (or in some cases, perhaps, misinterpretation) of a rule.
"In my opinion – again, this is my opinion – what the chief arbiter did is absolutely right, and correct. Doesn't matter even one minute before – it can be possible that one minute before the game, Mr Kovalyov came to play his game, or if he is late because here, there is not zero tolerance, he can be late for the game – chief arbiter can say 'sorry, you cannot play like this; go to change'. Then that's the problem of the player. That is not the problem of the chief arbiter," said Azmaiparashvili when he was asked about whether it was right to ask Kovalyov to change 10 minutes before the round.
It is alarming how easily the tournament's organizer and the chief arbiter can shrug their shoulders and disclaim any responsibility in this matter. If Kovalyov's offense can be noticed and acted upon after it had been unnoticed for two rounds, then surely, Kovalyov could have given time until the next round to amend his dressing. Simply not letting him play was perhaps too harsh and definitely needed a second thought.
Also, besides the technicalities of the dress code rule, Kovalyov also complained about the way he was treated. In his Facebook post, he wrote, "…I was treated like garbage." Even though Azmaiparashvili said he hadn't used the word 'gypsy' with a racial connotation, calling any player names is the last thing expected from the organizer of a tournament that bears such prestige.
Had the dispute been settled a bit more amicably by the organizers, the entire controversy would perhaps have been avoided. Nevertheless, what resulted was a debacle for both sides. While the World Cup lost a participant who had upset a five-time world champion – and who could potentially have grabbed even more eyeballs in future rounds – Kovalyov lost a big opportunity to advance further in such a prominent event as the World Cup, not to mention putting his prize money in jeopardy.
Sports
It was a hat-trick of titles for Gukesh after he had previously won the La Roda tournament and the Menorca Open in recent weeks.
Sports
Ashwath Kaushik remained unbeaten and finished with 8.5 points from nine rounds to take the top prize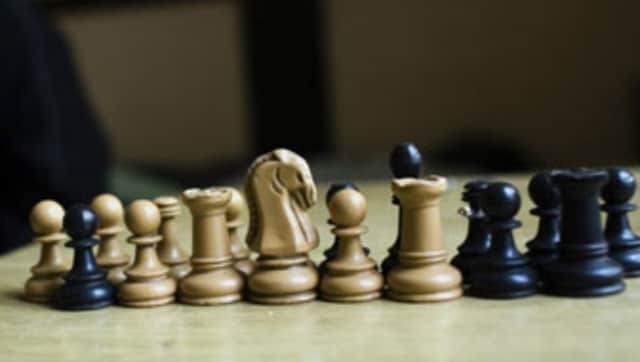 Sports
The initiative, a part of the Chess in Schools Project by AICF, will be conducted through the state associations and with the support of the government of Tamil Nadu