Impossible! Messi-Suarez-Neymar are going nowhere, vows Barcelona president Bartomeu
As fresh talks of Barcelona struggling to the deadly trio of Messi-Neymar-Suarez arise, Barcelona president Josep Maria Bartomeu has been quick to dismiss those ideas by calling the exit of either of the three as 'impossible'
Goals, goals and more goals! That's what Lionel Messi, Luis Suarez and Neymar guarantee you. Barcelona's holy trinity, better known as 'M-S-N', has helped the Catalans bag seven trophies in two seasons, making it arguably the best strike force in world football at the moment.
While the trio's brilliance brings plenty of silverware, it also attracts interests and envy from other major clubs around Europe, keeping Barcelona always on their toes to ward off clubs' attempts to lure their prized assets away from the Camp Nou.
There has been plenty of speculation surrounding their future, especially Neymar's, after his contract renewal talks were put on hold due to recent tax issues. Back in 2014, Lionel Messi too was linked with a big-money move to the Premier League, making Barcelona fans sweat.
As fresh talks of Barcelona struggling to afford all three of their attacking trio at the same time arose, club president Josep Maria Bartomeu was quick to dismiss those ideas by calling the exit of either of the three as 'impossible', reported ESPNFC.com.
"No, I think it's impossible, All our players are very happy with our club and our city because it is very pleasant to live in Barcelona. The players are very happy to be in a club that wins. I'm not afraid because everyone is happy, nobody asked me to leave," Bartomeu told French radio station RMC recently.
The speculators were given more fodder to chew on, when Lionel Messi recently bought a house in Paris, a city that is home to Paris Saint-Germain, one of the biggest spending clubs in European football.
But Bartomeu played down these suggestions of Messi seeking a move to the French capital. "Messi knows Paris is a very charming city. He is going to Paris on vacation, it's good," the Barcelona president was quoted saying.
Lionel Messi said on Tuesday that he would love to return to his hometown Rosario in Argentina one day, to re-witness the life back there, that he left behind at the age of 13 to come to Barcelona. Bartomeu though suggested that Messi would only go back to his homeland after he retires from the game at Barcelona. "Barcelona will be his last club in Europe. He wants to finish his career in Europe with Barca," he said.
The new world record kit sponsorship deal perhaps comes at the best possible time for Barcelona, boosting their chances to hold on to their superstars. While Barcelona have made it clear that they won't be letting any of them go, a fresh challenge in a new league, coupled with a hefty salary could still tempt the likes of Messi, Neymar and Suarez to consider a move away, despite Barcelona's desperate attempts to keep hold of them.
Sports
Wijnaldum, 30, is a free agent with his contract at Anfield expiring at the end of this month, meaning there will be no transfer fee involved.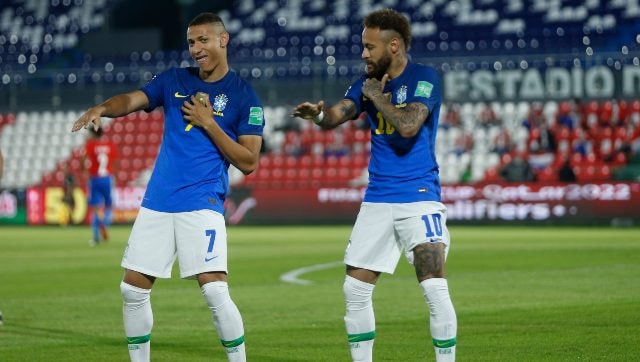 Sports
Peru earned their first win of the qualification campaign but remained bottom of the group despite a surprise 2-1 success at Ecuador.
Sports
Barcelona said Garcia's five-year contract will begin 1 July after his City deal expires. A buyout clause in his contract is set at €400 million ($490 million).