Farewell, Kobe Bryant: For his sheer grit, class and brilliance the Black Mamba's legacy will live on
There are farewell games, sometimes a series and ever so often, even farewell tours. And then there is the Mamba Day.
For a franchise-player of one of the biggest and most popular leagues in the world, nothing short of a farewell season would really have been enough. The Los Angeles Lakers may have ended the season with a terrible record, but we'd be willing to bet no one really cares. Their marquee player ended his career on a high. Quite honestly, five championships and considerable awards and accolades later, that's all that mattered.
Kobe dropped 60 points from 50 shots in his finale. To put things into perspective, no Hall of Famer had scored even 30 in their finale. Bryant, a future hall of famer attempted three more shots than his career-best and will be remembered as the epitome of volume shooting. The likes of Kevin Durant, Carmelo Anthony and Steph Curry, some of the greatest volume shooters of the current era wouldn't have been half as popular had the likes of a Kobe not made volume shooting as unselfish. Kobe was never the most efficient shooter, but he took his chances, quite literally, and buried his shots when they mattered the most. He may not have carried his team like a lone superstar, he may not have even won those five rings if he didn't have the company of two of the most phenomenal big men at their peak, Shaq o'Neal (2000,01,02) and Pau Gasol (2009, 10), but what ifs will remain what ifs, and for this current generation of basketball fans, he symbolizes how you win championships.
He played 20 seasons with the same work ethic, exuberated the same class, and took his fair share of shots, day in day out. His legacy will not be tarnished by the few bad seasons he ended his career with, it will forever be remembered for the greatness he achieved on the court, of which his five rings are just a small part. Not many of us have watched Magic, Bird or Jordan play at their peaks, and not many of the coming generations will have had the privilege of watching the Black Mamba play -- that is the beauty of sporting careers and cycles.
It's poetic justice that the curtains were drawn with Kobe scoring 60; the sixth instance in his career when he scored 60 or more, second only to possibly the greatest scorer in the history of the sport, Wilt Chamberlain. The fact that he scored 17 of the last 19 Lakers points in a comeback victory and assisted on the other two, makes it even sweeter. He went out exactly how he played his entire career, scoring! The fact that he's one of only three members of the 30,000-club just cements that fact further.
Kobe was the first guard ever to be drafted out of high school, and did set an important precedent for straight out of high school draft picks. He played all of his 20 seasons for the Lakers. When you look at how other franchises and clubs across different sports have treated their franchise-players towards the fag-ends of their careers, you realize how truly special Kobe was. He was an ambassador for the sport and will go down in history as one of the most revered sporting athletes. The final day of the regular season was all about this one man, despite defending champions Golden State Warriors having set an NBA record with a 73-win season. A lot of times, team sports tend to be about individuals more than the teams, and this is a perfect example of that.
Kobe will be missed, but his style of play, his demeanor on and off the court, and his sheer grit has more than entrenched itself into the current breed of players. While we may miss Kobe the player, Kobe the phenomenon will live on in our memories!
How well do you know Kobe Bryant? Take this quiz and find out!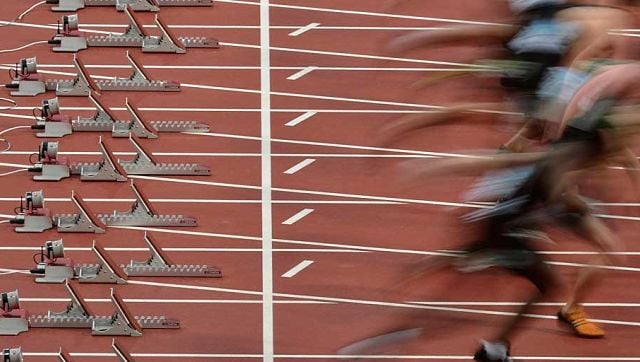 Sports
At its two-day executive council meeting Jaipur, the Athletics Federation of India resolved to support juniors in events like 400m, javelin throw, long jump, triple jump and race walking.
Sports
A total of five countries from across Asia including Kazakhstan, Kyrgyzstan, United Arab Emirates (UAE), India and the hosts Uzbekistan will vie for top honours at the championship.
Sports
Amit Panghal (52kg), Manish Kaushik (63kg), Vikas Krishan (69kg), Ashish Chaudhary (75kg) and Satish Kumar (+91kg) had competed at the Tokyo Games.