Fantasy Premier League, Gameweek 4 tips: It might be time to pick Harry Kane, but Sergio Aguero's the man for the armband
The Fantasy Premier League (FPL) managers who have decided to do without Kane for the initial part of the season — partly due to the August curse and partly due to his exertions at the World Cup — might have to change plans.
August is over, but so is the curse! Harry Kane exorcised his August demons with a thumping header against Manchester United last week. His first strike at Old Trafford came on the back of a goal against Fulham, a week earlier, that ended the England captain's drought in the month that annually ushers in a new Premier League season.
September is usually the time when Kane puts on the proverbial scoring boots that stay in operation for the rest of the season. For Fantasy Premier League (FPL) managers, the first gameweek in September is usually all about the rigours of facilitating the entry of the pricey Tottenham forward in their teams.
This season, after a fruitful August, the managers who had decided to do without Kane for the initial part of the season — partly due to the August curse and partly due to his exertions at the World Cup — might have to change plans. But with a price tag of £12.5 million around Kane's neck, it is easier said than done.
Accommodating Kane
It's a bit of a task. Conceding a points hit for extra tarnsfers is almost a given, but considering Kane's pedigree and the his FPL track record, it might be a one-time investment. But how to do it? How to carry out the entire process without making your team suffer? Here are a few ways to get the Spurs goal machine in your side.
a) Drop Mohamed Salah, Sergio Aguero or Raheem Sterling — Swapping him for another big gun will save you transfer points. You can bring in Kane with a maximum of 4 points hit using this way. But it has its disadvantages. Dropping one of the above mentioned players who too are a regular sources of points might nullify the effect of bringing in Kane. So unless you believe Kane can outperform the other big guns, don't settle for this path.
b) Drop two mid-range players, find cheaper substitutes — There are a lot of players in the range of £8-10 million that you can get rid of to accommodate Kane. Bobby Firmino, Pierre Emerick-Aubameyang, Leroy Sane, Mesut Ozil, Riyad Mahrez, Jamie Vardy are some of the players who don't come for cheap and haven't been able to justify their price tag this season. Binning such players to raise funds for the entry of Kane might be the right thing to do. For example — Kane's Spurs teammates Dele Alli and Christian Eriksen could be swapped for the in-form Lucas Moura. The Brazilian has outperformed both Alli and Eriksen so far this season. Playing in a more advanced role, the former PSG man is likely to be among the points a lot more often. Costing approximately £2 million lesser, Moura provides more value.
Here is the list of similar bargain buys that you could look for as alternatives to some of the more expensive players, in order to bring in Kane or even otherwise.
a) Mane IN, Salah OUT - While Mane isn't a bargain by any means as he comes for a price of £9.9 million, the swap with Salah will release a very handy £3.1 million. Mane has already proved this season that he can go toe-to-toe with the Egyptian in terms of scoring goals. Even if the Senegal forward fails to match his prolific teammate, his return will be enough for your team to do just fine if you get in Kane.
b) Wilfred Zaha IN, Expensive striker OUT - Zaha at £7 million is a steal. If you take a look at the fixtures he has in the upcoming weeks, the Ivorian is almost a must-have. He is likely to bring in more value than any other striker in the coming weeks. Only Aguero and Kane might provide better value despite their high price. Zaha and Kane come for a combined price of £19.5 million, and it's a deal not worth missing. Owners of Firmino might take keen interest in the Crystal Palace forward. Even for those not looking to bring in Kane, Zaha would be a very good bargain purchase this week.
c) Walcott, Pedro or Mkhitaryan IN, Mahrez, Sane or Ozil OUT - Theo Walcott, Pedro and Mhkitaryan all fall under the bracket of £7.5 million. Playing in the systems deployed by their new managers, the trio have excelled and provided their limited owners plenty of joy in the opening weeks. All three of these players have fairly simple fixtures in the coming weeks and they could be precious addition to your teams, irrespective of whether you bring in Kane or not.
Some FPL owners might delay bringing in Kane looking at the fixtures facing the Spurs forward. Tottenham travel to high-flying Watford this week before welcoming Liverpool at Wembley after the international break. However, Kane has proven over the last few years that he is a big-match player and tough run of fixtures hardly have an impact on the points he scores. So if there is a possibility of bringing in Kane, don't let it go as it is likely that you will have to get the Spurs man for an even higher price later on in the season.
Fixtures
For the first time this season, none of the top six teams will come up against each other. That's resulted in Chelsea, Manchester City and Arsenal having pretty straight forward games this week. Liverpool, Manchester United and Tottenham have tricky looking away games, but all the top six teams are expected to win this week. So if you have packed your team with players from the top six teams, you might be in for a good time.
The Blues have back-to-back home games against Bournemouth and Cardiff before a clash against West Ham. So it might be a good time to spend your money on a certain Eden Hazard. The Belgian made his first start of the campaign last week at Newcastle and delivered a Man of the Match performance. Every Chelsea attack went through the Belgian and he was rightly rewarded with a goal from the spot. Even in his two cameo appearances in the first two games, Hazard provided two assists. So if you have the money, bring in Hazard and make the most of Chelsea's easy run of games.
The City midfield has become a bit of a minefield for FPL managers. With uncertainty over starters unlikely to settle soon, FPL managers might do well to avoid City midfielders. The two Silvas — Bernardo and David — appear sure starters but they haven't been consistent enough to be picked.
Watford's Pereyra is the third most selected midfielder this week. The return of 26 points from three GW for his price is a stunning one, but you would like to have a look at Watford's upcoming fixtures before deciding to pick him. Watford face Spurs and United at home next, before twin trips to London to face Fulham and Arsenal. Thus, picking Watford players despite their fine run of form might not be the smartest thing to do considering their fixtures. If you are looking for cheap and effective players, Crystal Palace and Everton are certain to have better offerings in the coming weeks.
Fulham's Aleksandar Mitrovic is the most transferred in forward, but Zaha, with the kind fixture list that his side has at the moment, is certainly a better option. In defence, the situation is the same as every week. Attacking full-backs are the order of the day with Marcos Alonso, Kieran Tripper and Benjamin Mendy all high on demand. With these defenders rivaling the forwards for their points tallies, it is smart to go with the general trend,
Liverpool's Joe Gomez and Trent Alexander-Arnold are very economical alternatives coming at £5 million, especially considering Liverpool's improved defensive resolve this season. Wan Bisakka's return from suspension makes him very desirable option at a price of £4 million.
Captain conundrum 
The usual suspects refuse to go away. Salah, Aguero and Kane will lead the captain's choice again this week, but I'm slightly leaning towards the Manchester City man. The Argentine was unlucky not to score after seeing two of his efforts rebound of the woodwork last week against Wolves. Againt Newcastle expect Aguero and Co to be fired up to make up for last week's dropped points.
If Newcastle play like they did against Chelsea at the Etihad, City who are a lot more potent in front of goal could rack up a cricket score. So Aguero is my choice for this gameweek.
Salah is never a bad option, but picking Kane is a tad risky this week considering Spurs are playing an in-form Watford side. But if you are in the mood to pull a rabbit out of the hat, a gamble on Zaha as your captain might be worth the risk.
Sports
Get all the tips of Harry Kane's possible replacement, captaincy problem and more in this week's Fantasy Premier League (FPL) tips
Sports
Catch the top tips and best picks ahead of GW 8 of Fantasy Premier League (FPL).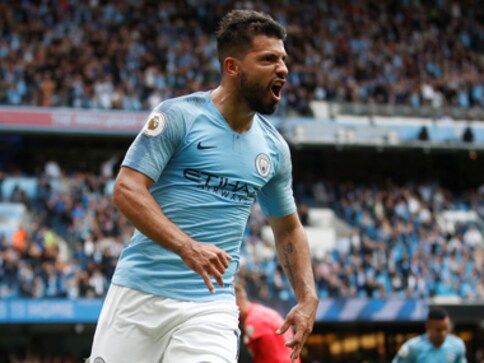 Sports
Manchester City's Sergio Aguero would once again be the man that most FPL managers would look to hand the captain's armband