FA Cup: Manchester City's Pep Guardiola says he won't be at the club for long time if he doesn't win silverware
Pep Guardiola indicated on Friday his tenure as Manchester City manager will not be a long one if his first season in charge ends without a trophy.
Manchester: Pep Guardiola indicated on Friday his tenure as Manchester City manager will not be a long one if his first season in charge ends without a trophy.
Sheikh Mansour, the club's owner, gave Guardiola his full support when they met in Abu Dhabi last month, and there is no suggestion he faces the sack if he fails to win a trophy this season.
However, Guardiola is aware of the demands for success at City, whose chief executive, Ferran Soriano, set a target of five trophies in five years for Manuel Pellegrini, the previous manager.
Pellegrini managed to win three in three seasons, securing the Premier League title once and the League Cup twice, but it was not enough to save his job.
Guardiola's hopes of winning the Premier League this season are dim as they are 10 points behind leaders Chelsea with 11 games to play.
The 46-year-old Spaniard's best hope of a trophy will come elsewhere; his team looking to secure an FA Cup semi-final place on Saturday by beating Middlesbrough, four days before the second leg Last 16 Champions League visit to Monaco.
City lead 5-3 after the first-leg.
"If I have no silverware, I will not be here for a long time," Guardiola admitted.
"Being a manager depends on results but I always believe deep in my heart that results depend on the way you play. That's why I need to be convinced that we're playing better every day.
"I know how it was after six, seven months here together with my periods at Barcelona and Bayern Munich.
"We will be judged on the results, and people analyse the games and what we have done during the season. With no silverware, it will not be a good season. I knew that in August," added Guardiola, who guided Barcelona to two Champions League trophies in 2009 and 2011.
'Judged like a disaster'
Guardiola won 14 trophies in four seasons as Barcelona's manager, and a further seven in three years with Bayern Munich.
But he suggested that his time with Bayern was considered a 'disaster' because he did not land the Champions League there, even though they were German champions in each of his three seasons.
"My period in Munich was judged like a disaster because we were not able to win the Champions League," he said.
"I won three leagues in a row, we won two cups from three, we arrive all the times in the semi-finals and finals, but it was judged a disaster. So I have to handle that.
"I know how my standard has been set by winning titles, and I know what is on my shoulders. I have to handle that.
"The good thing is that the players in the last month have shown how close they are and what good team spirit they have. But I know we will be judged on the titles we have won."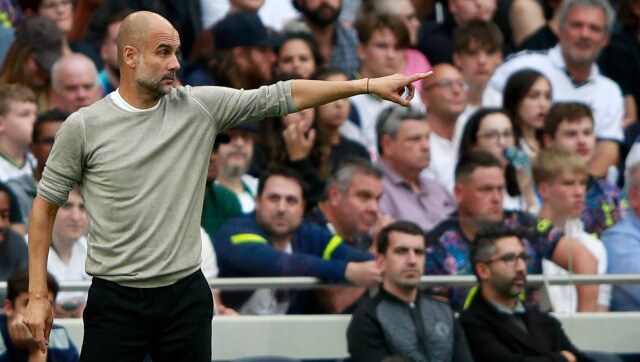 Sports
The champions travel to Chelsea on Saturday three points behind the Blues, Liverpool and Manchester United at the top of the table.
Sports
The way Manchester City dominated possession and reduced Chelsea to mostly long balls showed that Guardiola's team, the defending champion, might still be the team to beat this season.
Sports
Guardiola was frustrated by the turnout for City's 6-3 win over RB Leipzig on Wednesday to begin their Champions League campaign.