Europa League: Manchester United brought some joy to terror-stricken city when it needed it the most
In a week when Manchester United needed some joy more than ever, and in a game where United had a point to prove for next season, they pulled through and delivered.
It has been far from the easiest week in the city of Manchester. As Carlo Ancelotti once put it, "Football is the most important thing, of the least important things in life." As clichéd as it is, the last few days have put a lot of things in perspective.
It could not have been easy for the Manchester United players to dissociate or detach themselves from the tragedy that struck at the Manchester Arena on Monday. It was telling that all of them dedicated the win to the city, cognisant of how sport can be a transformative, uplifting force. It was symbolic that even rivals Manchester City tweeted a message of congratulations and solidarity: 'A City United' in the face of an attack aimed at the fabric that holds the people of Manchester together.
On the pitch, Manchester United held together every bit as strong and united as their city has. There is a reason Jose Mourinho has a 100% record in European finals; he sets his team up to lure out the opponent into vulnerable positions and go for the jugular when the opportunity presents itself. Mourinho may have lost his touch in building a team for the league over the last two years, but there are still very few managers around who can meticulously plan and execute a Cup tie plan like he can.
In the face of an injury 'crisis' and the loss of Eric Bailly to suspension, Mourinho proved that he still has the ability to make his players buy into a team plan that involved sitting back and absorbing pressure from an Ajax side significantly younger and arguably lesser in quality. The collective of United in their focus in defence and ability to stay compact thwarted essentially every Ajax attack. The Red Devils — as a prototype Mourinho unit — showed that a team can afford to have neither possession nor numerous attacking chances, but still seem utterly and absolutely in control of the game.
On the other hand, for Ajax, it was a game that underlined their naïveté on the big stage, and indeed, just how vast a difference belies these two clubs, despite both having rich histories. Tactically, Peter Bosz — who is aiming to recreate the kind of football Pep Guardiola's Barcelona played in 2009-11 — seemed to play right into the hands of Mourinho, whose very career move has been built on shrewd shutting down of open, attacking teams in important games. Bosz may have been well-served by remembering that Guardiola's Barcelona faced one of their biggest challenges (and eventual victors) in Mourinho's Inter and thereon, it does not come as much of a surprise to see United emerge the winners yesterday, from a tactical point of view.
For every attempt Ajax made at pressing high, with their five-second rule, United were happy enough to send the ball long for Henrikh Mkhitaryan, Marcus Rashford and/or Marouane Fellaini to hold up and play forward. While Colombian centreback Davinson Sanchez was crucial in intercepting many of these balls, this unsettled the Ajax midfield, who were essentially entirely bypassed in proceedings and lacked the height to compete aerially with Fellaini.
For every attempt Ajax made at running in behind the United defence, they had a defender from the opposite flank rush over to provide extra cover and crowded Ajax out of their box. It did not help that Ajax were loose in their touches and passes around the final third. Manchester United never looked to let Ajax settle into a rhythm and Ajax never capitalised on moments when Manchester United did lose focus inadvertently.
Herrera, the on-field personification of Mourinho's philosophy kept Hakim Ziyech at bay for the first half, while Daley Blind and Chris Smalling worked in tandem to prevent Kasper Dolberg from having much of an impact in front of goal. To an extent, it was to be expected; the Godenzonen have not faced a team of Manchester United's calibre this season — by an enormous margin — and did not have much experience of facing such a watertight defence.
But while the result was disappointing, it would be amiss to dismiss Ajax's run this season. To put the sheer disparity between the two clubs into perspective, Manchester United's revenue of £515mn in 2015-16 was more than seven times as much as Ajax's (£70m). Ajax, whose first XI have played two more games than United (despite Mourinho's protests about the fixture congestion), lack the financial capability, and ultimately, the squad depth to truly change it up in the final when their Plan A was found out from the get-go by United.
As far as Ajax are concerned now, they will be hoping that the result was not the end of a dream, that they might be able to look back in a few years' time and mark this as the beginning of something special. Bosz and his Babes, whose starting XI was the youngest in a European final ever, have put Ajax back on the European map this season and have done it in an 'Ajax' way, with significant youth involvement and open, attacking football in the lead-up to the final. Their prime concern now, will be to hold on to as many of this squad as possible and try again for silverware on domestic and European fronts next year.
For Manchester United, the magnitude of disappointment in this season has diminished or even reversed incredibly with this win. Suddenly, they have a berth in the Champions League, despite finishing not one, but two league places and eight points behind the qualifying spots. They have the pre-requisite to potentially seal the deal with Antoine Griezmann. They may even convince Zlatan to extend his Manchester honeymoon. They've managed to compensate for a disappointing league season with two cups, which now gives them a licence — if they didn't already possess it — to build on a team that has now won together, with Pogba, Mkhitaryan and Rashford at its core.
In a week when Manchester needed some joy more than ever, and in a game where United had a point to prove for next season, they pulled through and delivered. Pogba, who popped up with the crucial opener, mourned the passing of his father mere days ago and persevered on, exhibiting immense mental strength. The final words of Tony Walsh's poignant poem resonated as Manchester United erupted into celebration at the sound of the final whistle, rejoicing the 43rd trophy in their history: Always remember, never forget, forever Manchester.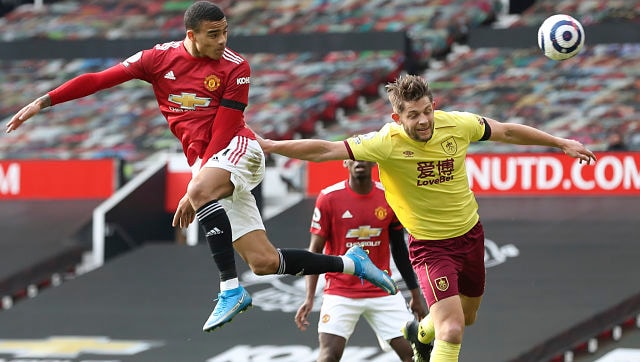 Sports
Ole Gunnar Solskjaer's Manchester United are unlikely to catch Manchester City, but Greenwood's late winner puts a little pressure on their bitter rivals with six games left.
Sports
Pogba was instrumental as United claimed a League Cup and Europa League double in 2017, but the pair had an uneasy relationship before Mourinho was sacked in December 2018 and succeeded by Ole Gunnar Solskjaer.
Sports
It was Son's role in a first-half goal by Cavani that was ruled out after a VAR review that sparked a war of words between Solskjaer and his predecessor at Old Trafford.