Europa League: Arsenal's rivals Ostersunds FK and their meteoric rise in Swedish football
When Arsene Wenger took charge of Arsenal in 1996, Ostersunds FK did not even exist. Twenty one years down the line, Wenger, still in charge of the Gunners, will lead his side to the frigid climes of Ostersund in Sweden for their Europa League round of 32 tie late on Thursday.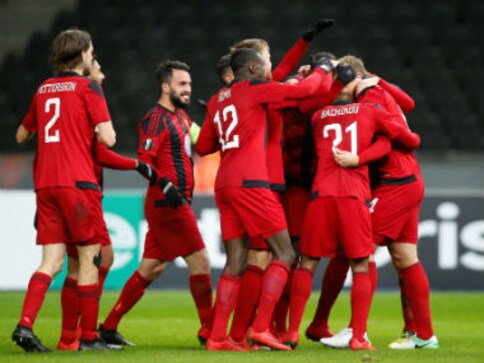 When Arsene Wenger left the J-League to take charge of Premier League side Arsenal in 1996, Ostersunds FK did not even exist. Twenty one years down the line, Wenger, still in charge of the Gunners, will lead his side to the frigid climes of Ostersund in Sweden for their Europa League round of 32 tie late on Thursday.
Not just Wenger's reign at the London club, Ostersunds FK is also younger than Alex Iwobi, one of the rare Arsenal Academy products still making their mark at the senior team of the club.
Incredulously, the Emirates Stadium could accommodate Ostersund's entire population of 50,000 people when the two teams play the reverse fixture on 23 February, with nearly 10,000 seats still left for home fans.
But who are Ostersunds FK?
For a club that was struggling in Sweden's fourth tier just eight years ago, Ostersunds' meteoric rise to the second tier of European football is worth talking about. Football is replete with stories of clubs who have risen rapidly in stature due to million-dollar takeover deals. For example, Bundesliga's Red Bull-owned RB Leipzig — who were once in Germany's fifth tier a few years ago.
But Ostersunds FK's story has a tinge of drama. Interestingly, the Swedish club's Europa League squad still contains players who have been with the club through thick and thin. Sometime back in the mid-2000s, Ostersunds found themselves relegated to the Swedish fourth tier. Average gates for home matches were just over 500 people. Daniel Kindberg, the club's chairman, nearly quit after watching Ostersunds struggle, but eventually decided to stay. Frustrated with how things were going at the club and searching for a new head coach, he turned to former teammate Graeme Jones, who had assisted Roberto Martinez at Swansea City, Wigan Athletic and Everton in the past and was at Belgium at the time.
"We struggled badly and we were relegated, which wasn't good. I said I couldn't be involved in this and I left. To make a long story short, the players said: 'If you don't come back, we quit.' So I did something I don't do, I took a decision on emotion and I came back," Kindberg told the BBC before adding: "We sat down and talked — six, seven people — put out the emotions and asked ourselves why. Why do we do this? Why are we in the club? We work for free, why do we put in all this effort? What do we want to see? What do we want with our ambitions in football? What is everything about?"
Graeme suggested the name of former Birmingham, Stoke, and West Brom full-back Graham Potter to Kindberg. Looking to make a mark in his managerial career, Potter had taken the gamble of switching from teaching at university-level football schools to coaching professional players. But with there being no takers for his services in his home country, he was desperately seeking a job. It was then that the offer from Sweden came.
"My wife had built up a business for 10 years and we'd just had our first child. So in that way it was a big move, it was her leaving her life. It's not as if we were coming to Monte Carlo or a big football place — it was the fourth tier of Swedish football. It was a gamble," Potter was quoted by saying The Metro.
The Yorkshire-born coach became the club's third English manager after Neil McDonald and Lee Makel. The gamble paid off as Potter aced the challenge. He dragged Ostersund from the fourth tier to the top flight in a span of six years and the team has qualified for the Europa League after dominating the Swedish Cup. Sweden has witnessed English coaches in the past, with Bob Houghton and Roy Hodgson managing a few clubs. The duo introduced the English style to Sweden, when Hodgson managed Oddevold in 1982 before joining Orebro the following season, while Houghton is known for leading Malmo to the final of the European Cup.
When Potter joined the club, less than a thousand people turned up to cheer the team. Now around 6,000 fans attend Ostersunds FK's matches. Ostersunds struggled to attract players from Sweden, so Potter contacted young, hungry players from England who had fallen through the cracks of the English system. To create a good environment where players would learn to understand the situation and build confidence, Potter would employ some unorthodox methods, which include getting the players to perform 'Swan Lake' in a local theatre.
Ostersunds stunned Turkish giants Galatasaray, the highest ranked team in qualifying, in the second qualifying stage to enter the main event of the Europa League in July last year.
It was a performance which made even the partisan crowd in Istanbul stand up and applaud the Swedish club off the pitch for their heroic efforts.
It remains to be seen whether Ostersunds can manage to upset the Gunners, but the last few years have been nothing short of a fairytale for a club whose motto is to create the right environment for players to flourish.
With Wenger's men undertaking a trip to the unknown on Thursday, the Swedish club's Twitter account tried to help the London club's players and fans get used to the conditions they can expect at the match.
The club's Twitter account also tried to troll the London club.
Football
Cristiano Ronaldo, Jules Kounde and Frenkie de Jong dominate this week's headlines as transfer rumours continue to come in thick and fast
Football
Alexandra Popp battled back from two knee surgeries in the past 15 months to make the tournament and has exploded in England with six goals in five games.
Football
Liverpool lost to Manchester City for the Premier League title and followed it with a champions league final defeat against Real Madrid.