Europa League: Arsenal boss Arsene Wenger refuses to condemn Danny Welbeck without seeing replay of apparent dive
Arsene Wenger refused to condemn Danny Welbeck after the striker was accused of diving to win the penalty that inspired Arsenal's 3-1 win over AC Milan in the Europa League on Thursday.
London: Arsene Wenger refused to condemn Danny Welbeck after the striker was accused of diving to win the penalty that inspired Arsenal's 3-1 win over AC Milan in the Europa League on Thursday.
After taking the first leg 2-0 in Milan last week, Wenger's side were in danger of blowing their lead when Hakan Calhanoglu put the Italians ahead in the first half at the Emirates Stadium.
But Welbeck turned the last-16 second leg back in Arsenal's favour moments after Calhanoglu's goal as the striker appeared to dive to win a penalty that he converted himself.
With their nerves steadied, Arsenal eased through 5-1 on aggregate thanks to second half goals from Granit Xhaka and Welbeck.
Welbeck's theatrics were condemned by pundits, while Swedish referee Jonas Eriksson was slammed for being tricked by the play-acting.
"It's a definite dive," former Arsenal defender Martin Keown told BT Sport, while ex-Tottenham star Jermaine Jenas said: "Welbeck doesn't feel any contact apart from his own feet connecting with themselves and he goes over.
"The referee and assistant referee completely buy it."
But Wenger wouldn't be drawn on the criticism of Welbeck and said he would have to watch the incident again on television.
"I haven't seen it again. You want to accuse English players to be divers?" Wenger said.
"Was it a penalty? I don't know, the Italian players were not happy. I can understand that, but I don't know what happened.
"I will watch it again and give you my honest opinion. I will give Danny my opinion as well, no problem."
Milan boss Gennaro Gattuso was certain it wasn't a penalty but he opted against criticising Welbeck.
"I don't want any alibi. In the same way a player can make a mistake, a referee can do a mistake," he said.
"We can't find any bad luck. Welbeck is a striker, he has to do what he does. There is a lot of fair play in England.
"Even myself when I was a player, I would take advantage of individual situations. I'm not going to judge these things."
Following on from Sunday's Premier League victory over Watford, Arsenal's third successive win in all competitions provides a measure of breathing space for Wenger after a miserable run sparked fresh calls for his dismissal.
Looking certain to miss out on a top four finish in the league, Arsenal must win the Europa League to qualify for next season's Champions League – a target that seems essential for Wenger to avoid the sack.
Arsenal's anxiety levels were rising when captain Laurent Koscielny limped off after taking a blow to his back.
Dubious circumstances
The Gunners were vulnerable and Milan took advantage to snatch the lead in the 35th minute.
When Ricardo Rodriguez slipped the ball inside to Calhanoglu, the Arsenal defence backed off just long enough for the Turkey midfielder to rifle a blistering 25-yard strike past David Ospina.
But crucially Arsenal were able to draw level in dubious circumstances four minutes later.
Welbeck's run took him past Rodriguez into the six-yard box and he threw himself to the turf after the slightest contact from the Milan defender.
It was enough to persuade Eriksson to point to the spot and Welbeck, back on his feet, calmly stroked home the penalty for his first goal since January.
Arsenal supporters had stayed away from the Watford game in their droves in protest at Wenger, prompting the manager to admit he was worried about how they would win back the absentees.
But there were far fewer empty seats in the 60,000-capacity arena and more vibrant mood undoubtedly helped Arsenal maintain their momentum.
Arsenal put the result beyond doubt in the 71st minute thanks to a mistake from Gianluigi Donnarumma.
Xhaka's long-range effort should have simple for Donnarumma, but instead he somehow pushed the ball into his own net.
Rubbing salt into Milan's wounds, it was Welbeck who finished them off with a close-range header in the 87th minute.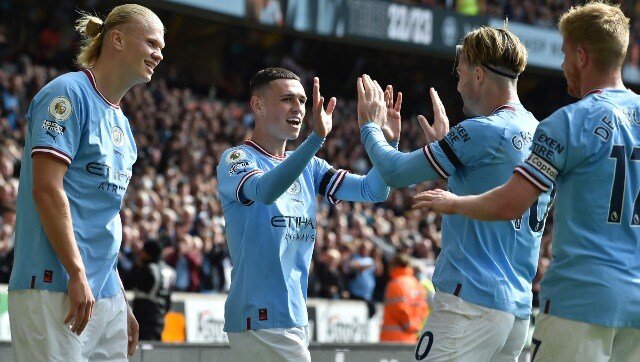 Football
After Jack Grealish scored his first goal in 56 seconds, Erling Haaland doubled City's advantage with his 14th goal in 10 games.
Football
Newcastle have signed former Liverpool goalkeeper Loris Karius on a short-term contract as cover for Nick Pope after an injury to fellow stopper Karl Darlow
Football
Manchester United revaled they have suffered a net loss of £115.5 million ($130.4 million, 132.2 million euros) for the 2021/22 season despite a rise in revenues to £583 million.