Euro 2016 semi-finals: In a weakened Germany, France face their toughest test yet
Only two steps away from glory on home soil, France prepare for their toughest battle yet against Germany in Euro 2016 semi-finals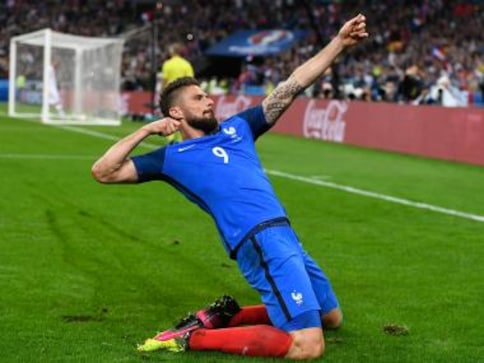 Only two steps away from glory on home soil, France prepare for their toughest battle yet. After facing relatively lesser opponents thus far in Euro 2016 – namely Romania, Albania, Switzerland, Republic of Ireland and Iceland – a semi-final showdown against the Germans will certainly pose a significantly harder set of questions.
No other national team in the world today offers the kind of wit and grit that the world champions do, especially when navigating through major tournaments. If you were handed an option of avoiding one team in any major tournament, you would likely choose the ruthlessly efficient Germans.
This would be even more likely in France's case considering how Germany has proven to be their Achilles heel time and again. The host nation's last three defeats in the knockout rounds of a major tournament – in the quarter-final of the 2014 World Cup and the semi-finals of both the 1986 and 1982 World Cups – have come at the hands of their next opponents.
Prior to Thursday's contest, French coach Didier Deschamps will have to make a big call on how to approach this game. Does he stick to the 4-4-2 (more 4-2-3-1) formula that turned the match around against the Irish and proved a giant success versus Iceland? Or does he revert to 4-3-3, his preferred setup coming into the tournament, which in a way also allows him to play his best eleven players?
The coach hasn't had the most comfortable time in the Euros, tinkering with both personnel and formations throughout the tournament. He hasn't been able to settle on a line-up. Considering that success against France's previous opponents does not really provide him with a template on how to deal with an opponent like Germany, it puts him in a quandary ahead of the semi-final.
But there's at least an upside to this. Flexibility on the pitch has rescued France time and again. In three of the four games prior to the demolition of Iceland, the coach was forced to alter his tactics to achieve a result. In the remaining fixture, he was happy to play out to a 0-0 draw against the Swiss.
In the team's opening game, Deschamps took Paul Pogba off and moved an in-form Dimitri Payet from the left wing to a playmaker's role behind the striker. It worked well as France triumphed at the death via Payet's last-gasp screamer.
In the next game, needing inspiration after being outplayed by Albania in the first half, the coach made the exact opposite switch: Pogba was brought on in the centre of the park as Payet was moved back to the left wing. Again, it worked. France regained control in midfield and won via two late goals.
Against the Republic of Ireland in the quarters, the French had trailed through an early penalty. Defensive midfielder N'Golo Kante was taken off at half time and Antione Griezmann was deployed as a second striker with devastating effect – the forward scoring twice in a 2-1 win. Deschamps continued with the same, attack-minded structure against Iceland – partially because Kante was suspended –and France blew the minnows away in what was the best display of attacking football in Euro 2016.
Kante will slot back into the starting XI on Thursday. The Germans possess too much talent, especially in the form of Mesut Özil, for Deschamps to leave out his high-performing Leicester City midfielder. This implies one of two things. Either Griezmann will shift to the right wing (he has only excelled in the second striker role) or Blaise Matuidi, who has started in all matches, will sit out since there will be place for only two midfielders, Kante and Pogba, in the centre. It's a 50-50 call right now.
What is not a 50-50 call anymore is Olivier Giroud's place in the side and his importance to France's success. As a focal point of the French attack, the Arsenal centre-forward has come into his own in the tournament despite being booed by his own set of supporters. Giroud has taken the criticism in his stride and responded in the best way possible: by making decisive contributions on the pitch with three goals and two assists. His link-up with Griezmann has produced tremendous results.
Giroud has been France's second-best player, behind only Payet. But he could be the team's trump card in the semi, especially in the wake of an injury to Mario Gomez. German coach Joachim Löw knows the significance of a centre-forward. Only the mid-tournament introduction of Gomez upfront had given the German attack some much-needed teeth in front of goal.
Gomez, however, picked up an injury against Italy and was subsequently ruled out of the tournament. Meanwhile, his French counterpart is fit, well rested – Giroud was taken off at the hour mark against Iceland – and high on confidence. This could make all the difference on Thursday.
Not only Gomez but the absence of Matt Hummels (suspended) will aide both Giroud and Griezmann. Add to this the fitness concerns of Sami Khedira and Bastian Schweinsteiger, both of whom are doubtful for the game, and Loew has headaches of his own to deal with.
All this being said, the French defence could finally be tested. In previous games, it hasn't always held up well in the face of minor pressure. Germany may have injury problems now but France had been forced to pick their fourth-choice centre-back pairing heading into the tournament. Could Özil, Thomas Mueller, Götze and Co. exploit this vulnerable area?
France versus Germany promises to be a fascinating battle. It'll be played in front of a raucous French crowd. Considering that the winner of this tie will certainly head into the final as firm favourites, it won't be far-fetched to call this the true final before the actual final.
also read
Football
All India Football Federation President Kalyan Chaubey had recently said that the national team is expected to get 20-25 international matches at the end of the Asian Cup in January 2024 in Doha
Football
Iglesias Villanueva was in charge of VAR during Valencia's 1-0 La Liga win over Real Madrid on Sunday, in which Los Blancos forward Vinicius was racially abused by home supporters at Mestalla.
Football
A Polish group that fights racism and anti-Semitism, Nigdy Wiecej, which means Never Again, drew the European football body's attention to Marciniak's attendance at the "Everest" event in Katowice on Monday