Euro 2016: Germany traded fluency for solidity and were rewarded with deserving semis spot
If Germany versus Italy had been branded the final before the actual final, it certainly lived up to its billing – keeping in mind that major finals are rarely great to watch – and ended in a nerve-wracking penalty shootout triumph for the Germans.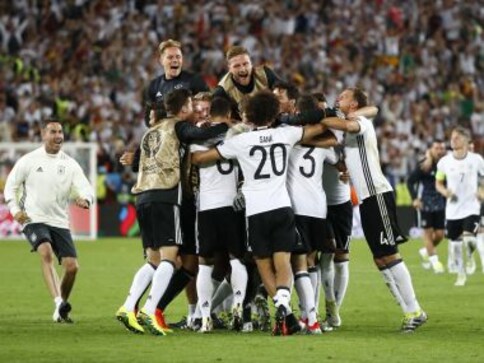 If Germany versus Italy had been branded the final before the actual final, it certainly lived up to its billing – keeping in mind that major finals are rarely great to watch – and ended in a nerve-wracking penalty shootout triumph for the Germans.
It was a contest that was expectedly cagey, unsurprisingly tactical and littered with mistakes committed by a group of nervous footballers.
Defences came out on top. Attacks banked either on errors or sheer luck of the bounce. Chances were few, while stray passes and miscontrols were seen in plenty.
The quarter-final in Bordeaux would've hardly gone down as a classic if it did not have the weight of history behind it – Germany having never beaten Italy before in a major tournament. But fortunately it did. And nobody must have felt it more than German coach Joachim Loew, whose reputation had hung in the balance following a semi-final defeat to the same opponent in Euro 2012.
On that night four years ago, Loew had compromised with his own winning formula in hope of shackling the Andrea Pirlo-led Italian midfield – a move which backfired on him. Germany were outplayed and Loew was accused of overthinking and paying too much respect to his opponents.
Faced with the same dilemma ahead of their Euro 2016 clash, the coach repeated his decision and came out on top. This time, by matching Italy's three-man defence and their numbers in midfield, which had made light work of both Belgium and Spain, Germany went toe-to-toe with the Italians at their own game – one that focuses on discipline and organisation.
It was a brave call at the start of the match. It became a potentially championship-winning one by the end of it. For a world champion side to give respect to its opponent and shift away from its own preferred system takes a whole lot of guts.
Sure, Germany had thrashed Italy 4-1 with a similar system in March but this was a major tournament and the Italians had transformed into a fiercely stubborn team.
Ahead of the game, voices coming out of the German camp had a common theme. All spoke of the importance of not conceding first. Go behind? Go home. So, a little caution from Germany was expected which translated into a night that required a lot of patience.
Loew's men were comfortable in possession with well over 60 percent of it in the early exchanges. They generally looked the likelier of the two teams to score. But it took them an astonishing 41 minutes to even register an attempt at goal – a Mario Gomez header which went well wide. As per statistics giants Opta, it was the latest Germany had attempted its first shot in any Euro match since 1980.
Gomez, a typical centre-forward, dropped deep to receive passes played into him. He even ran the channels on a few occasions, one of which led to the opening goal. Gomez isn't a particularly mobile player but he has made his presence felt in the tournament.
After not featuring in Germany's starting XI for the opening two matches, he has cemented a spot in the line-up by giving the team a much-needed focal point. It was his run down the left, followed by a deft pass to Jonas Hector which proved to be the catalyst for Mesut Ozil's opener.
Loew's triumph should've been achieved much earlier. Germany were fluent in the second half and were rightly rewarded with the opener. Keeping in tune with a tight match, the goal had a couple of fortunate deflections along the way.
For the first time in a meaningful match in the tournament, Italy had gone behind and looked out of sorts. Stunned by the goal, the Azzurri could barely string three passes together and Germany nearly doubled their lead. Only a stunning save by Gianluigi Buffon kept Italy in the game.
But then came the moment of madness from Jerome Boateng, a defender hell-bent on being an internet sensation. With his arms inexplicably high, he handled the ball inside the box. Leonardo Bonucci tucked away the penalty and Italy, against the run of play, levelled the match.
It showed why football is considered a game of fine margins. One individual error can potentially ruin all of the good work that precedes it. If Germany hadn't succeeded in the penalty shootout, would we have considered Loew's decision a strategic success? Would we have blamed the coach even though Boateng's mischief was entirely out of his hands?
Fortunately for Loew and the Germans, they have the giant and ever reliable figure of Manuel Neuer in goal. His two saves, along with two Italian penalties which went high and wide, proved to be decisive.
Germany deserved their semi-final berth. So did Loew. The world champions adapted and traded fluency in favour of solidity to overcome their toughest challenge yet. By doing so, they've installed themselves as clear favourites for the title.
Sports
India's women pistol shooters have made it five gold out of five after the trio of Manu Bhaker, Esha Singh and Rhythm Sangwan trounced Germany 16-2 in the 25m pistol team final in Suhl on Tuesday.
Sports
Germany and Spain join China, Japan, New Zealand, USA, Canada, Mexico, Brazil, Chile, Colombia and hosts India in securing their places for the FIFA U-17 Women's World Cup
Sports
Neuer has just led Bayern to a tenth straight Bundesliga title and will be 38 by the time his new deal expires.