Euro 2016: France rode luck to win on a night when Germany were tactically superior
France rode their luck and overcame their biggest challenge. Now, in Sunday's grand finale, only Cristiano Ronaldo and his Portugal side, who are no strangers to grinding out results themselves, stand in the way of French glory.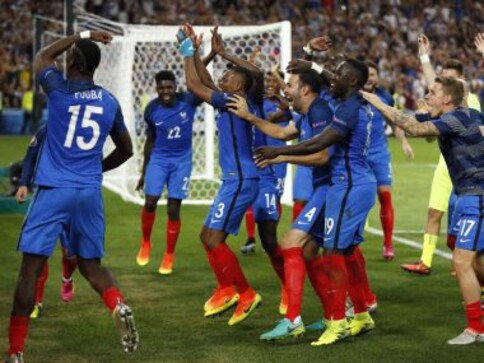 What's French for irony, again?
Germany put on its best attacking display of the tournament; France its worst. Germany dominated the hosts for large parts of Thursday night; France simply hung on. Germany were tactically superior; France were all over the place. Germany failed to score. France netted twice.
Oh, l'ironie.
It was a kind of match that must make believers out of atheists. For you could sense a strong influence of powers beyond anyone's control. You could feel that it was written in stone that the French will triumph, that no matter what the Germans do on the night, they're bound to fail.
Inside a delirious Stade Vélodrome in Marseille, coach Didier Deschamps' men may have been distinctly second best all night, but belief visibly ran through their veins, confidence never took a beating. The French grabbed their chances and booked a place in the final – a dream home final.
A final that has been six years in the making since the humiliation suffered at the 2010 World Cup. A final that has been nine months in waiting since terror had brought gloom to the nation.
Euro 2016 was always going to throw up great stories – such as those of Wales, Iceland and Albania – but there hasn't been one like the journey of the hosts themselves.
In November last year, France was reeling under a series of coordinated terror attacks on its beautiful capital city, Paris. Fear, anger and gloom had descended upon the entire nation. One of the targets of terrorists on that night in November was – as fate would have it – a France versus Germany football match at Stade de France in Saint Denis, a commune in the northern suburbs of Paris.
Now, with a 2-0 win over the world champions, the French national team has accomplished what it had set out to do: return to Saint Denis on 10 July, alter the narrative, invite the nation to its biggest party and hopefully, by the end of Sunday night, spread unconfined joy too.
Such is the power of sport and, more specifically, football – a magnificent tool to unite, inspire and lift the mood of an entire country. Just 22 men kicking a round thing? Perhaps you ought to join in and see. Brazil had set out to achieve a similar feat two years ago – to allow its citizens a momentary escape from miserable conditions back home – but the team had fallen a couple of steps short.
It was Germany who had stopped, or rather destroyed, Brazil in its tracks with a 7-1 demolition in the semi-final of 2014. Bloody cold-hearted Germans, who had never given a toss about home advantage. Since defeat in the 1966 World Cup final to England, Germany had won all of its nine encounters with hosts at major tournaments. They were specialists in breaking hearts.
On Thursday, as the world champions took control of the match following an early burst of pressure by the home side, there were genuine fears that France may suffer a thrashing of their own.
Shots rained in on the French goal. An off-balance Thomas Mueller, still goalless at a European Championship, shot across the face of goal. Emre Can forced goalkeeper Hugo Lloris into a smart, low save. Bastian Schweinsteiger's effort was tipped over. Julian Draxler and Mueller again had efforts from close range but France, led by centre-backs Laurent Koscielny and Samuel Umtiti, defended by hook or crook – they could've easily conceded a penalty for a foul on Toni Kroos.
"This match is a David Luiz away from a 7-1 drubbing," quipped a journalist on Twitter. Such was Germany's supremacy. At half time, coach Joachim Loew's side had 64 percent possession, more than double the number of shots (11 to 5) and nearly double the number of passes too. Antoine Griezmann, France's most involved player, had attempted only 23 passes. Eight Germans had registered a greater tally.
Deschamps had taken a huge gamble with his team selection. N'Golo Kante and Adil Rami, both of whom were suspended for the quarter-final and were expected to return, remained on the bench. The coach started with the same XI who thrashed Iceland in France's best performance of the summer. But this was Germany, not Iceland. It was the first time in Euro 2016 that Deschamps had retained his previous line-up and formation.
Did it really pay off? Score line suggests it did. In reality, it did not. France were expectedly overrun in midfield. Neither Paul Pogba nor Blaise Matuidi is fit to play the defence-shielding Kante role. France's midfield pairing struggled to cope as the German midfielders swarmed all over them. Full-backs Bacary Sagna and Patrice Evra too were given a rough ride with the opposition's organised chaos.
France would've taken a goalless game into the dressing rooms. But German skipper Schweinsteiger, doing his best Clark Kent impression, conceded a needless handball which allowed Griezmann to convert from the spot – a goal against the run of play, if there ever was one.
In fact, even France's second, late in the game, came directly from German errors. Joshua Kimmich gifted the ball to Pogba in his own penalty box and from the ensuing cross, the ever reliable Manuel Neuer dropped the ball right at the feet of a grateful and sharp Griezmann who poked it into the net. If you did not already know it was France's night, you certainly knew then.
Two German errors, two goals. A game of small margins indeed. Till then, the second half had followed the same script as the first: a battered and bruised France had clung on. Even after going 0-2 behind, the Germans plundered the French goal. Leroy Sane headed inches wide. Benedikt Howedes headed inches over. Shkodran Mustafi volleyed over from close range.
The world champions desperately missed the services of an injured Mario Gomez, who was the only certified finisher in the German squad. In stoppage time too, Kimmich's head and Mueller's shoulder combined to produce an astonishing save from Lloris and a few seconds later another headed chance went narrowly wide of the target.
On another day, the Germans could've easily scored seven and Deschamps could've been crucified for a rather dodgy team selection. On Thursday, the Germans scored none and Deschamps escaped. No Frenchman would be bothered though. Performances rarely matter in the knockout stages. In the end, it is the result that counts.
France rode their luck and overcame their biggest challenge. Now, in Sunday's grand finale, only Cristiano Ronaldo and his Portugal side, who are no strangers to grinding out results themselves, stand in the way of French glory.
also read
World
The International Rescue Committee in its report accused the EU leaders of "staggering neglect" of the refugees with many remaining trapped in "prison-like" conditions on Greek islands
World
After Moscow pushed troops into Ukraine in February of last year, relations between Russia and Germany froze
World
Pistorius on Tuesday said that the process relating to India's proposed procurement of six submarines is yet to be completed and that the German industry is at a "good place" in the race for the contract