Euro 2016: France appear to be pushing into fifth gear, right in time for semis
It took a while but France finally appear to be clicking into gear at Euro 2016.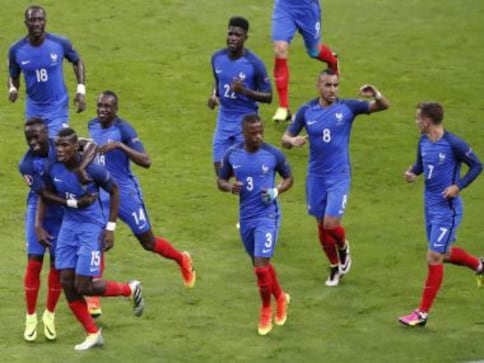 In a major tournament, success is often all about peaking at the right time. As France ruthlessly plundered minnows Iceland 5-2 in Paris, in order to set up a mouth-watering date with world champions Germany in the semi-final, you couldn't help but wonder: have coach Didier Deschamps' men timed it right?
It's a tough question to answer. France's next opponent will be the strongest the host nation would've faced in this tournament by quite some distance. With all due respect to Romania, Albania, Switzerland, Republic of Ireland and now Iceland, facing the shrewd Germans will be a whole different ball game. A magical display versus Iceland may go on to count for very little when preparing for a contest with Germany.
Nonetheless, Sunday night's dominant, fluent, near-perfect performance was hard to ignore. It was at times an exhibition of sumptuous one-touch football by the French, who carved out geometric shapes at will on the rain-soaked, slick surface of the Stade de France – the kind of champagne football that has largely been missing from this tournament. It even prompted a friend to drop a message: "Finally some football!"
The team's show was decorated with superb individual displays.
Olivier Giroud, a typically wasteful centre-forward who had been booed by his own fans earlier in the tournament, tucked away his first chance with aplomb and scored another in the second half too. He played a key role in unsettling the defence for France's third and followed it up by cleverly dummying a pass to allow Antoine Griezmann through on goal for the team's fourth. On the night, Giroud emphatically reiterated his significance to the national side, making the so-called boo-boys crawl back into their holes.
Paul Pogba, the midfield beast who had been the subject of criticism back home for his mediocre form, was finally at his authoritative best in the N'Golo Kante role – which he assumed for one game following the Leicester City midfielder's suspension. Pogba rose high above the rest to power in an unstoppable first-half header from a corner which was his first goal of Euro 2016.
Griezmann, hurt from being dropped in the second group-stage game along with Pogba, continued his roaring form by scoring a beautifully dinked finish over the Iceland goalkeeper. It was Griezmann's fourth of the event, making him the top-scorer.
Dimitri Payet, the latest darling of the nation, buzzed around with supreme confidence and notched up his first goal in three matches. Skilful battering ram Moussa Sissoko combined well with his teammates and was a menace down the right, thereby vindicating Deschamps' selection.
Blaise Matuidi too, who had been a shade off colour thus far in the tournament, set the ball rolling with an excellent through-ball assist to Giroud and displayed glimpses of his club form for Paris Saint-Germain (PSG).
Such was the impact of France's aforementioned front six that the game was virtually over at a score-line of 4-0 just before half time. It gave Deschamps enough room to bubble-wrap his players.
Off went Giroud to a standing ovation and with a rueful smile for not being allowed a shot at a national team hat-trick. But he was rightly rested by the coach, who couldn't afford any injury to the focal point of his attack. With German forward Mario Gomez now ruled out of the tournament, the French centre-forward could easily make the difference in the semi. Laurent Koscielny and Payet too followed Giroud back to the dugout.
Meanwhile, the excellence in attack allowed 22-year-old debutant Samuel Umtiti, who was deputising for the suspended Adil Rami, to settle in without any pressure. A nervous Umtiti's first challenge was a clumsy and overeager one inside the box. Fortunately, he did not make enough contact with his opponent. What could've been a tough and challenging night for the centre-back proved to be a relatively easy one.
If you were to cite any little negatives in the French performance, it would be the concession of two goals although you could also say that both were scored after the hosts had eased off in the second half. Still, the two goals came from crosses into the box which should've been dealt with as routine.
Looking ahead to the semi-final, Deschamps, who has regularly switched between formations and personnel in a few positions, will have to make another tough call. Should he continue using a 4-2-3-1 set up (instead of a 4-3-3) which helped thrash Iceland and down the Republic of Ireland (in the second half)?
It would mean only two of Kante, Pogba and Matuidi would feature in the starting XI and seeing the threat posed by the world champions, Kante will most definitely slot back into his defensive midfield role.
Against Iceland, France let go off the handbrakes. The Pogba-Matuidi midfield duo is offensively sound but defensively vulnerable. Against the world champions, Deschamps will not be this ambitious or naïve. He would remember how the Germans made a complete mockery of home advantage the last time they played against the hosts in the semi-final of a major tournament – the infamous 1-7 drubbing of Brazil.
A semi-final berth was the bare minimum for the French national team heading into Euro 2016. Now that is achieved they are only two matches away from a dream triumph on home soil. Expectations are high and the confidence seems to be soaring. It took a while but France finally appear to be clicking into gear.
also read
World
India is a regular guest at the annual G7 summit of the world's wealthiest democracies. At this year's gathering in Hiroshima, the focus will be on Russia and China, both nations with whom New Delhi shares complex ties. Prime Minister Narendra Modi will be playing the balancing act once again
Explainers
Taiwan on Tuesday passed an amendment that permits same-sex couples to adopt children they are not biologically related to. The other countries where such adoptions are legal are Israel, France, Germany, Norway, Portugal, Spain, Australia, New Zealand among others
World
If Germany provides the missiles, it will be following in the footsteps of Britain, which was the first nation to formally send long-range cruise missiles to Ukraine earlier in May