Euro 2016: England need to be un-England to go against weight of history and make a mark
To go against the considerable weight of history, England need to abandon every thing English about themselves and play with a hitherto unseen vigour and belief.
It's hard to quite pin down the feeling around England ahead of a major international competition like the World Cup or the Euros. Is it hope, optimism, expectation? Or is it despair, pessimism, and doubt? Do you call them underdogs, underachievers? Or do you call them favourites, dark horses?
The truth is, whatever feeling you're getting around the Three Lions in a World Cup or a European Championship, you need to flush it down a toilet. No hope, no expectations, no pessimism, and no doubt. Just the truth, that they are not going to win it. And more often than not, you can put your money on them exiting the tournament on a penalty shootout.
But don't underestimate them. They can go ahead and eliminate their nemesis, the penalty shootout, out of the equation by taking the exit in the group stage, like they did in the 2014 World Cup. Sayonara, Auf Wiedersehen, totsiens and Tchau, we'll go back to "earn" our six-figure weekly salaries in the Premier League.
And no label suits them either. You can't call them underdogs. Underdogs don't have the kind of press England have; a thousand pieces on why this could be their tournament. They are not underachievers, because to be an underachiever you first have to be good. People must expect great things out of you because you are capable of that, but you somehow never quite overcome the final hurdle. Spain was an underachiever till 2008, Netherlands still remains one. England are definitely no dark horses. Because dark horses actually gallop far, and England, historically, have not. And do not dare call them favourites. You'll put pressure on them and then they'll blame their failure on you.
So what are England? Quite simply, a very average football team. Mediocre at best, and abysmal on chosen days. And also, somehow, the most popular, most talked about, written about, romanticised about football team in the world.
Euro 2016 is here, and despite studied and recorded history, the chatter around England isn't any different than it has been in the past. A quiet optimism about its young bunch of Premier League performers. No rallying expectations, a semi-final run would be enough to make the fans happy. But a mere throwback to past showings should help you know better. Quick to qualify and quicker to exit, England suffer from PTSD in tournaments. They usually have excellent qualifying campaigns (where they face world class teams like San Marino, Lithuania and Estonia), they beat actual world class teams like Germany and France in friendlies ahead of the big tournament and then show their original colours when the tournament comes about.
Roy Hodgson's England squad for the Euro sure is a lot different, and a lot younger, from the one that went to Brasil two years ago. Only 12 out of 23 from that team are making the trip to France. England is proudly exhibiting its top two Premier League goalscorers; Tottenham's Harry Kane and champions Leicester City's Jamie Vardy. The two scored an astonishing 49 goals put together in the league this season. Wayne Rooney is no longer the linchpin in the attack, and most will take that as a good sign. Kane is 22, technically gifted and has proven that he is not a one-season wonder by giving back-to-back excellent seasons to Tottenham. Vardy, one-season wonder or not, is a wonder alright. His story of rising from obscurity and scoring 24 goals in the Premier League to help Leicester win the title is inspirational.
England's erstwhile main man Rooney, on the other hand, was overshadowed by 20-year-old Anthony Martial at Manchester United, and he's likely to be overshadowed by Kane and Vardy at the Euros. The duo have threatened to put Rooney out of the starting XI. Vardy scored in friendlies against Germany and Netherlands. To complicate the matter further, we have an 18-year-old Marcus Rashford, United's prodigy, who has put Hodgson in a selection dilemma of the good kind.
But the bad news for England is that Rooney will inevitably start, and Vardy will be used as a second-half substitute when Hodgson realises that you need goals, not names, to win matches.
England's midfield has another Spurs youngster who has performed beyond expectations. Dele Alli, 20, netted 10 and assisted nine of Tottenham's goals this season, and will be a sure start for England in the midfield, simply because there aren't many options available. Veteran James Milner, who racked up 11 assists to add to his five goals in the league, will be in competition with his Liverpool midfield partner Jordan Henderson for a spot in the XI. I would nominate Milner, who has had an excellent 2016 for club and brings a calm reliability in the midfield, of the two.
Spurs' Eric Dier has been a revelation in defensive midfield for his club in the past season, but it seems highly unlikely that Hodgson will start two defensive-minded central midfielders in France. He is more likely to favour a three-man midfield, comprising of Henderson/Milner, Dier, and Alli. Raheem Sterling is also in the mix, but the less said about him the better. The 50 million pound-man had a disappointing season, to say the least, with Manchester City.
England's back-four will feature two more Spurs players, full-backs Kyle Walker and Danny Rose, flanking Gary Cahill and Chris Smalling in the heart of the defense. Joe Hart will invariably be England's man between the sticks.
Somehow, England's fortunes at the Euro 2016 depends on how much they can emulate Tottenham, with at least five Spurs players in the starting XI. They start their campaign against Russia, a side which is banking on its old dogs to come through. It won't be a walk through the park, but should England's young blooded side face problems in dispatching the Russians, it will be because of their own designs. Slovakia and Wales round up Group B, the latter of which will be England's only tough competition in the group. We could say England should advance from their group fairly easily, but we really shouldn't. It's England after all. And if they do advance, they will face quality sides against whom they will be clearly unmatched, and there's the slight issue of penalty shootouts as well.
History shows it is not wise to expect much from England. I predict another quarter-final run, but they might prove me wrong and take an early exit. But to go against the considerable weight of history, England need to abandon every thing English about themselves and play with a hitherto unseen vigour and belief.
Find latest and upcoming tech gadgets online on Tech2 Gadgets. Get technology news, gadgets reviews & ratings. Popular gadgets including laptop, tablet and mobile specifications, features, prices, comparison.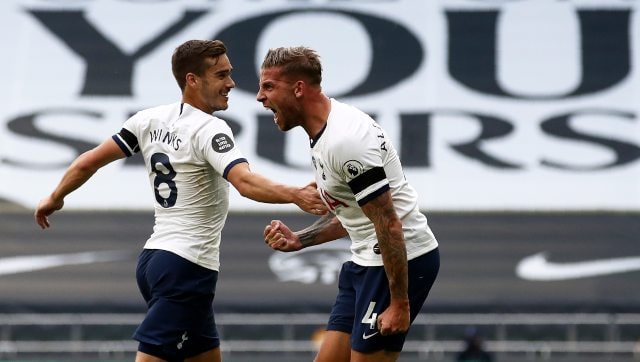 Sports
A 4-1 capitulation at relegation-threatened Bournemouth on Sunday summed up Leicester's form since the Premier League returned from its three-month coronavirus-enforced shutdown.
Sports
Greenwood took his goal tally in all competitions for the senior team to 15 in his breakthrough season at United, while Vardy scored his 100th Premier League goal for Leicester City
Sports
Speaking at the World Football Summit, Italian Pierluigi Collina also stressed the importance of on-field referees using pitchside monitors during games to review decisions.