EurAsia Cup: Lahiri, Bhullar paired vs Fernandez-Castano and Gallacher
Lahiri, who has three Asian Tour titles, said, 'You're playing for your country and you're playing for Asia. These are the two biggest things you can do as a professional golfer.'
When Anirban Lahiri and Gaganjeet Bhullar tee off at the inaugural EurAsia Cup on Thursday, they will add yet another team competition to the long list of appearances they had together.
Paired together for the fourth match against European veterans, Gonzalo Fernandez-Castano, a seven time winner on European Tour, and Scotsman Stephen Gallacher, who has tamed the star-studded field in Dubai Classic last two editions, Lahiri and Bhullar, are confident that their understanding of each other and the excitement of such a big stage will hold them in good stead.
Lahiri, who has three Asian Tour titles, said, "You're playing for your country and you're playing for Asia. These are the two biggest things you can do as a professional golfer.
"It's a fantastic opportunity to have the Indian flag stamped out there and hopefully dominate proceedings when we start."
Five-time winner on Asian Tour and once on European Challenge Tour, Bhullar added, "I've played against them in Europe before and I know it's going to be an exciting match: "Both of them have won on Tour but if you look at us, we are both very aggressive and are very hungry to go out there to make a name for our country and continent. I wouldn't be surprised if we go on and create some upsets."
Lahiri and Bhullar have played a lot of golf together since their junior days. They have played on the same team as amateurs in Nomura Cup, Eisenhower Cup and the Asian Games. As professionals, they figured together in the World Cup last year: "So we have a fair understanding of each other and it is always useful," said Lahiri.
The Indians have stayed relaxed with the banter in the Team room, where table tennis and billiards have figured prominently on their off-course activity.
"It's quite cool. We compete against each other very often on the Asian Tour and every week, we see different faces and nationalities but we are pairing up as a team for the first time. We're getting really comfortable with each other and are just waiting for the tournament to start. Off the course, we joke, pull each other's leg and generally stayed relaxed," said Bhullar.
When the action begins tomorrow, skippers, Thongchai Jaidee of Asian and Miguel Angel Jimenez of Europe have decided to lead from the front, as they go up against each other in the first fourball match.
Jimenez, who at 50, loves his cigars and wines, but has 20 European Tour titles, will partner fellow Spaniard Pablo Larrazabal, winner of the Abu Dhabi HSBC title this year, while Thongchai will partner fellow Thai, Kiradech Aphibarnrat, winner of the Asian Tour Order of Merit in 2013.
Danes Thomas Bjorn and Thorbjorn Olesen will face Japanese duo Koumei Oda and Hideto Tanihara in the second showdown, followed by the third fourball match between Frenchman Victor Dubuisson-Dutchman Joost Luiten and Thailand's Prayad Marksaeng and Bangladeshi Siddikur Rahman.
In the last fourball, the lone local golfer, Nicholas Fung of Malaysia will team up with Korea's Kim Hyung-sung against Graeme McDowell, the 2010 US Open winner, and Jamie Donaldson.
Three-time Asian Tour number one, Thongchai hopes to inspire his team by winning his match with Kiradech: "I have to see every group, that's the most important. Our team is ready to play. We'll try to win some points but it's difficult to tell. We'll be trying our very best. We'll have to do it for our team. We want to win the trophy."
The veteran Thai believes all the fourball matches will be closely-fought affairs: "I think tomorrow, the match is very close. I think it will be a good chance for both teams."
Jimenez, a 20-time winner on the European Tour, hopes to land the first blow for his team: "It's going to be a tough match. You know, Pablo and myself, we are playing well and we know how they are playing, and with Kiradech, they are playing very solid. I think to put myself in the first group, I can see how the rest of the groups are doing. Obviously, Thongchai is thinking the same thing and we are face to face tomorrow."
Jimenez believes his European side will rise to the occasion and continue the continent's success in team events where they are also the reigning Ryder Cup holders: "When you play a team event like this one, you know, like this EurAsia Cup, you play with a partner; you play for yourself; you play for your team; and you play for your continent. The pressure is different. When you miss a shot, it's not only you, it's about your family."
Local hero Fung, a captain's pick for Team Asia, was excited after being drawn against Major winner McDowell and Donaldson, the current Race to Dubai number one.
Fung, 24, said: "When they announced the draw, I was so excited to play against G Mac and Donaldson. Kim has been playing well and I am feeling good. I want to thank Thongchai for putting me in the last match."
PTI
Sports
De Villiers and Barty will team up in the inaugural Icons Series golf event in Jersey City from 30 June to 1 July.
Sports
Jack Nicklaus, 82, an 18-time major winner said he turned down the offers out of loyalty to the PGA Tour.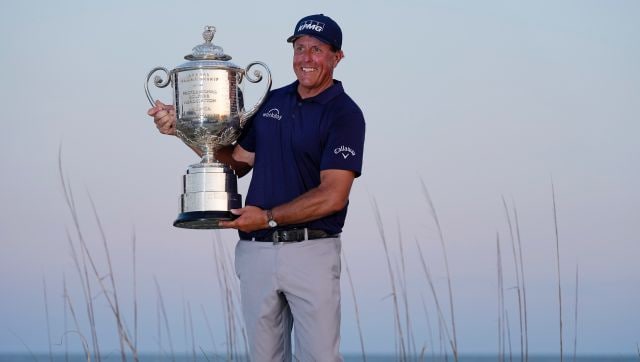 Sports
Phil Mickelson did not play in last month's Masters for the first time since 1994 and is missing the PGA Championship for the first time since he made his debut in 1993