EurAsia Cup: Bhullar, Lahiri win as Asia fightback to tie with Europe
Bhullar outplayed Europe's upcoming star and World No. 66 Thorbjorn Olesen 4 & 3 while Lahiri won his second point of the event, edging aside World No. 23 Victor Dubuisson.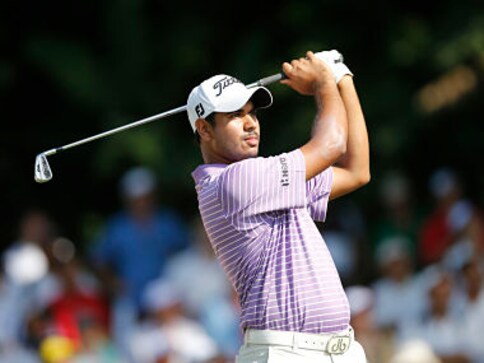 Gaganjeet Bhullar and Anirban Lahiri played inspirational golf and won their respective matches as Team Asia produced a dramatic 10-10 tie against Europe in the inaugural EurAsia Cup in Kuala Lumpur today.
Bhullar outplayed Europe's upcoming star and World No. 66 Thorbjorn Olesen 4 & 3 while Lahiri won his second point of the event, edging aside World No. 23 Victor Dubuisson the second highest world ranked player in the rival team 2 & 1.
The Asians came back from 0-5 on the first day and 3-7 on the second day, winning six of the 10 singles, losing just two and halving the other two for a 7-3 verdict in singles. That led to a 10-10 result, bringing in memories of Europe's own comeback from four points against United States at the 2012 Ryder Cup at Medinah.
Lahiri, draped in an Indian tricolour on the 18th while waiting for the final pair to come, won two points for Asia: "I thought we could do a Europe on them this year (Europe coming back to beat US in Ryder Cup). Maybe, do a Medinah in Malaysia. Yes, it was absolutely superb that we could fight back like this," he said.
"I think Thongchai masterminded the draw, I think that was one of the key factors today. When I was on the back nine, it was inspiring for me to see how the rest of the team was fighting. And I think that brought the best out in me coming down the stretch."
Bhullar summed up the team feeling aptly, saying, "There was a time that guys used to say that we were from Asia, do you have a tour. Now people know that the Asian Tour players are the players from Asian continent are going to be the next superstars."
He added, "I think it's a great moment for Asian golf because it's put us on the map and I know a lot of people will now take notice of ten of us and the Asian Tour."
Thongchai started the stunning fightback by beating Ryder Cup hero Graeme McDowell 3 and 2 and after five further wins for Asia, the entire contest came down to the match between Spain's Gonzalo Fernandez-Castano and Japan's Hideto Tanihara.
After Thongchai's win McDowell, the 50-year-old Jimenez drew on all of his experience to a win over 23-year-old Malaysian wild card Nicholas Fung with a birdie on the 18th.
Kiradech Aphibarnrat recovered from one down with four to play to birdie the next two holes and a par on the 17th was enough to seal a 2 and 1 victory over Thomas Bjorn.
Kim Hyung-sung defeated an off-form Pablo Larrazabal 4 and 2 and Prayad Marksaeng, who at one point was 4-down rallied superbly and then almost snatched a remarkable win over Jamie Donaldson with a birdie on the 18th.
Bhullar brought in another point for Asia with a 4 & 3 win over Thorbjorn Olesen and when Lahiri won the 16th and 17th to beat Victor Dubuisson 2 and 1, the match was tantalisingly tied at 8 1/2 points each.
Siddikur and Gallacher stayed all square till seventh after which the Bangladeshi pulled ahead of the two-time Dubai Classic winner. He won four of the next five holes, four of which he birdied. Gallacher's end came when he lost the ball off a wild tee shot and it sealed his fate.
Apart from Jimenez's win, the only other full point for Europe was from Joost Luiten who allowed a 3-up lead to reduce to one but held his nerve to hole a five-foot par putt and beat Japan's Koumei Oda to level the match scores.
It all came down to Fernandez-Castano and Tanihara. In a neck-and-neck match, the Spaniard missed a short par putt on the 15th to fall one down. But a stunning eagle on 16th after Tanihara piled on the pressure with a birdie from 20 feet, saw him all square.
Tanihara saved par from ten feet on the 17th to keep the match even and with neither player really threatening a winning birdie, Europe's players held their breath as Fernandez-Castano held his nerve from under four feet and then conceded an 18-inch putt to Tanihara for a sensational tie.
The European skipper, Miguel Angel Jimenez, who was taken to the 18th by Fung, before losing by one hole, smiled and said, "Nobody is happy, nobody is unhappy, flat. It's nice, the tournament, it's the first one and it will carry on."
On being asked what he felt after being 5-0 up and then this tied result, he added, "Yeah, we are thinking that we are going to do a lot of things, that we are going to win. I think it's good for both teams at the end."
Saturday's singles: Fung lost to Jimenez 1-up; Thongchai bt Mcdowell 3&2; Kiradech bt Bjorn 2&1; Marksaeng v Donaldson All Square; Kim bt Larrazabal 4&2; Lahiri bt Dubuisson 2&1; Bhullar bt Olesen 4&3; Oda lost to Luiten 1-dn; Tanihara v Fdez-Castano All Square; Siddikur bt Gallacher 4&3.
Fourballs: 0-5 for Asia; Foursomes: 3-2 for Asia; Singles: 7-3 for Asia; Final match score: 10-10.
PTI
Sports
De Villiers and Barty will team up in the inaugural Icons Series golf event in Jersey City from 30 June to 1 July.
Sports
Jack Nicklaus, 82, an 18-time major winner said he turned down the offers out of loyalty to the PGA Tour.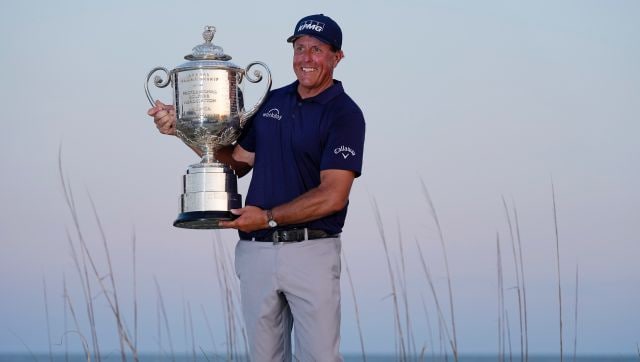 Sports
Phil Mickelson did not play in last month's Masters for the first time since 1994 and is missing the PGA Championship for the first time since he made his debut in 1993