England vs Afghanistan as it happened: England get second win, go home on a high
LIVE NEWS and UPDATES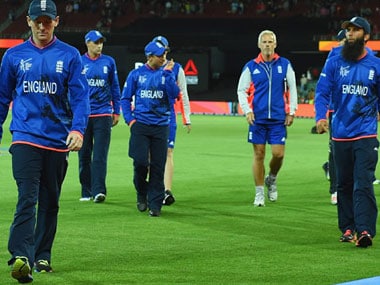 17:03 (IST)

That's it from us for today. Join us again tomorrow for Ind vs Zim at 0630 IST.

17:01 (IST)

Great that AFG were in the WC. Shenwari amazing, quicks impressed but generally I don't think AFG had a particularly good tournament

— CricketAtlas (@CricketAtlas) March 13, 2015

16:56 (IST)

"We learn a lot from the tourament, and we will try our best for the next tournament we hope" Afghanistan's Mohammad Nabi.

16:46 (IST)

The ICC say their World Cup slogan of 'Greatness is Contagious' probably needs a rethink. 'England couldn't catch it'

— Dennis Does Cricket (@DennisCricket_) March 13, 2015

16:43 (IST)

And England have their second win of the tournament. They can go home on a high. They have beaten Afghanistan by 9 wickets. That is also the end of Afghanistan's World Cup but we hope the Afghans will be around in the next World Cup too.

16:39 (IST)

Bell now averages 52 at this World Cup. Has there ever been a more hollow 50 plus average? SR is 76.

— Nick Hoult (@NHoultCricket) March 13, 2015

16:23 (IST)

Rambo strikes. Eng 83-1. Alex Hales walking back, straight edge to the keeper. Hamid Hassan deserved that -- perfect length and the batsman was neither forward nor backward.

Hales c †Afsar Zazai b Hamid Hassan 37 (33)

16:08 (IST)

After 10 overs, Eng 59-0 and they are somehow even managing to make this boring. Only they could. Given the kind of cricket they are playing, it is probably a good thing that they aren't making it to the quarters.

16:03 (IST)

Afghanistan and other Associate nations deserve a fair go at future World Cups Please sign this petition so they can https://t.co/My3lg6O17S

— Rick Eyre on cricket (@rickeyrecricket) March 13, 2015

15:59 (IST)

If this is the last time we see most of these #AFG cricketers at a World Cup, at least they've put in a phenomenal effort.

— Alt Cricket (@AltCricket) March 13, 2015

15:46 (IST)

Eng 31-0 after 5 overs. Two chances have been dropped at point. The worst thing Afghanistan could have done to themselves. England though are trying to finish this quickly. They want to go home... then again, on second thoughts, maybe not.

15:32 (IST)

After 2 overs, England are already cruising. Way to kick things off after a long rain break. But this is exactly the kind of opposition that England like to dominate these days. Eng 17-0.

15:23 (IST)

And after that long wait, the England vs Afghanistan match has restarted,

15:14 (IST)

England will have 25 overs to bat and the target is 101 for victory.

15:03 (IST)

Afghan team warming up in the outfield.

— Rick Eyre on cricket (@rickeyrecricket) March 13, 2015

14:45 (IST)

Rain has stopped. It looks as though covers are coming off as well.

14:39 (IST)

They have finally announced that Afghanistan's innings is finished. 7/111 (36.2).

13:35 (IST)

Rain has stopped but there are puddles of water on the edge of the covers. Afghanistan's innings must surely be over. #AfgvEng

— Rick Eyre on cricket (@rickeyrecricket) March 13, 2015

13:34 (IST)

If Afghans innings is done, Englands adjusted target would be 124 off 36, 113 off 30, 88 off minimum 20 overs... #cwc15 #engvafg

— Innocent Bystander (@InnoBystander) March 13, 2015

12:51 (IST)

And it's raining again. AFG 111-7.

12:46 (IST)

Drizzle starting again

— Rick Eyre on cricket (@rickeyrecricket) March 13, 2015

12:46 (IST)

BBC saying how flat & meaningless England playing Afghanistan is. True in cricketing sense. But in wider context what a triumph for Afghans

— Richard Ingham Evans (@Ringham7) March 13, 2015

12:45 (IST)

WICKET! S Shafiq (30) is out, c Ravi Bopara b James Tredwell. AFG 101/7 -- but will they at least get past 123 -- so far England's lowest total in the tournament? Tredwell picks up a deserved wicket -- he has bowled well and Bopara in the deep took an excellent diving catch.

12:31 (IST)

WICKET! AFG 93-6

Bopara strikes again. Nabi perishes going for a wild slog. This is poor cricket from them. Their batting has been a weakness throughout the World Cup and nothing has changed today. A bit of a shame considering how good their bowling has looked.

Mohammad Nabi c Tredwell b Bopara 16 (17)

12:28 (IST)

England doing well against the Afghans, so expect the Americans to come in at half-time and screw it all up...

— Alt Cricket (@AltCricket) March 13, 2015

12:11 (IST)

WICKET! AFG 65-5

Jamal goes immediately after play resumes. He made 17 but this is going downhill very fast for the Afghans. Bopara was the bowler.

Nasir Jamal c †Buttler b Bopara 17 (52)

11:44 (IST)

Rain has stopped. No sign of umpires, or anyone really

— Rick Eyre on cricket (@rickeyrecricket) March 13, 2015

11:30 (IST)

And it's raining again. Play has been stopped, the groundmen are running in and the covers are on.

11:29 (IST)

After 25 overs, Afghanistan are 62-4

It has been slow going -- the run-rate is just above 2 -- but Afghanistan have run out of options now. They are just looking to bat for as long as possible and the approach really doesn't matter.

"Under Pressure" playing on the PA at the SCG. Not exactly the vibe this match conveys to be honest... 60-4 after 24 overs. #ENGvAFG

— Test Match Special (@bbctms) March 13, 2015

11:14 (IST)

It's taken a while (21 overs in fact) but Afghanistan have their 50. Lost 4 wickets though. #AfgvEng #CWC15

— Rick Eyre on cricket (@rickeyrecricket) March 13, 2015

11:10 (IST)

After 20 overs, Afghanistan are 45-4

This really is a question of survival for Afghanistan from this point on. Jamal and Shafiqullah will need to bat for a long time to see their side to safety.

11:04 (IST)

England roaring back into this World Cup in Sydney. Afghanistan 34-4. Peaking just in time for the knock-out phase, as planned.

— Andy Zaltzman (@ZaltzCricket) March 13, 2015

11:02 (IST)

Shenwari of #AFG has failed only twice in his 6 innings (33%) in #CWC15. That's akin to a consistency of 67% #AFGvENG

— scorewithdata (@scorewithdata) March 13, 2015

10:51 (IST)

Afghanistan 34/4 (15.1/50)

This is not looking very good for Afghanistan. Not good at all. At the current rate, it might get over very quickly.

Samiullah Shenwari c Morgan b Jordan 7 (11)

10:05 (IST)

Rain has stopped. Umpires making an inspection.

09:46 (IST)

Rain has stopped play. The covers are on. Afghanistan are 24-2 after 8.5 overs.

09:39 (IST)

WICKET! AFG 20-2. Broad gets in on the act. Another wide ball, another slash, another wicket. Easily caught by Joe Root at first slip. Ahmadi made 7 and just couldn't resist the temptation.

Javed Ahmadi c Root b Broad 7 (15)

09:34 (IST)

WICKET! Mangal could resist for so long. It was not a great ball and it was a poor ball. He hung his bat out, like slip catching practice. It was the widest ball bowled by Anderson in the spell. Mangal made 4 off 28 balls. Afghanistan 17/1 (6.3/50)

Nawroz Mangal c Root b Anderson 4 (28)

09:28 (IST)

After 5 overs, AFG 13-0 (Mangal 4, Ahmadi 3)

It's been pretty slow going but Afghanistan are looking to play out Anderson and that is good thinking. There is the odd slash but on the whole, disciplined stuff from the Afghans.

In the #AFG #CWC15 squad, @nawrozmangal48 has the 2nd highest Strike-Rate #Impact after Nabi. Can he stay till he can afford to attack?

— scorewithdata (@scorewithdata) March 13, 2015

09:17 (IST)

After 2 overs, AFG 10-0 (Mangal 2, Ahmadi 3)

Lots of nicks and edges but so far nothing has gone to hand. Afghanistan need to be careful here. If they can get through the new-ball pair, things will get easier.

09:14 (IST)

Under way at SCG. Afghanistan bat. Remember, a tie or No Result will be good enough for England to clinch that crucial 5th spot in Group A.

— Andy Zaltzman (@ZaltzCricket) March 13, 2015

09:10 (IST)

My advice to Afghanistan is to pretend that England are the USSR. #ENGvAFG

— Dennis Does Cricket (@DennisCricket_) March 13, 2015

08:51 (IST)

Eng XI: Morgan*, Bell, Hales, Taylor, Root, Buttler, Bopara, Jordan, Tredwell, Broad, Anderson.

08:51 (IST)

Afg XI: Nabi*, Mangal, Ahmadi, Zazai, Jamal, Shenwari, Shafiq, Najibullah, Dawlat, Shapoor, Hassan.

08:38 (IST)

England win the toss and elect to bowl first. It rained a bit in the morning and the bowlers should get some help.

08:32 (IST)

Afghanistan v England

- A defeat in this match would make give England the same number of ODI wins and losses (won 308, lost 307. Seven ties, 21 no results).

- Four players have at least 1,000 ODI runs at a strike rate above 100 and an average of least 30: Glenn Maxwell, Virender Sehwag, David Miller and Jos Buttler.

- Chris Woakes needs three wickets to reach 50 ODI scalps; the 23rd player to reach the milestone for England.

- Asghar Stanikzai is 96 runs short of becoming only the fourth batsman to record 1000 ODI runs for Afghanistan.

- The last six ODI matches involving England at the SCG (as a neutral venue) have been won by the side batting first.
Afghanistan believe they've still "got a scare" left in them ahead of their World Cup finale against England in Sydney on Friday.
Remarkably, both sides will go into the match with exactly the same number of points after enjoying a win apiece over Scotland, like Afghanistan a non-Test side.
While Afghanistan's one-wicket defeat of Scotland was the latest chapter in a remarkable rise that has taken them from the lowest rung of international cricket to the game's showpiece tournament in barely seven years, for England victory over their neighbours couldn't salvage another wretched World Cup.
Australia (111 runs), New Zealand (eight wickets) and Sri Lanka (nine wickets) all inflicted thumping Pool A defeats upon Eoin Morgan's team, while Monday saw Bangladesh display greater nerve and skill in a winner-takes-all clash for a quarter-final place with a 15-run victory in Adelaide.
Now Afghanistan coach Andy Moles wants his free-spirited side, featuring pacemen Hamid Hassan and Shapoor Zadran, as well as several hard-hitting batsmen, to pile on the agony.
"They (England) are not in the best of nick at the moment and we still believe that, if at the top of the order with the bat especially, we just need to show a bit more composure, we've still got a scare in us," said Moles.
"If we can play well and hold our nerve on Friday, and we need to be at our very, very best and we need England not to be at their best, we can get a shock," the former Warwickshire batsman added.
England looked anxious during a run-chase that ended with them all out for 260 trying to overhaul Bangladesh's 275 for seven.
Freedom of play 
By contrast, Moles said his players' unrestrained approach held the key to an upset.
"I think it's just the freedom of play. It's one thing I've tried to allow to happen and enhance.. they must play the Afghan way."
Victory in Afghanistan's first one-day international against England would be a feather in Moles's cap.
"I suppose inevitably it is," he said.
"Coaching is a thankless task at times and when things don't go well it is a lonely place to be," he said in an acknowledgement of the criticism engulfing England counterpart Peter Moores.
Afghanistan suffered a World Cup record 275-run defeat by Australia last week but England have no fast bowlers to compare with Mitchell Starc and Mitchell Johnson, who shared six wickets between them in Perth.
England will be without opening batsman Moeen Ali (side strain) and all-rounder Chris Woakes (foot) after the pair injured themselves in Adelaide.
Their absence should see off-spinner James Tredwell and all-rounder Ravi Bopara making their first appearance each of this World Cup.
Recent experience shows just how dangerous the last match of a tournament can be for an already knocked-out England side.
England, in a display of rank incompetence even by their standards, were dismissed for just 88 in a 45-run World Twenty20 hammering by the Netherlands in Chittagong last year -- a defeat that cost Ashley Giles his position as England's limited overs coach
Now Afghanistan are looking to follow in the footsteps of their fellow non-Test nation, albeit in a different format.
"First and foremost, because of the (Bangladesh) result the other night, you want to get back on the horse quite quickly and put in a performance," said England all-rounder Chris Jordan.
Recalling the Dutch debacle in Chittagong, Jordan, who played in that game, added: "It's times like those that help you get up in the morning and get back on that horse.
"They (Afghanistan) don't have anything to lose. It's not a game we will be taking lightly at all."
AFP
Find latest and upcoming tech gadgets online on Tech2 Gadgets. Get technology news, gadgets reviews & ratings. Popular gadgets including laptop, tablet and mobile specifications, features, prices, comparison.
Updated Date: Mar 13, 2015 17:03:47 IST